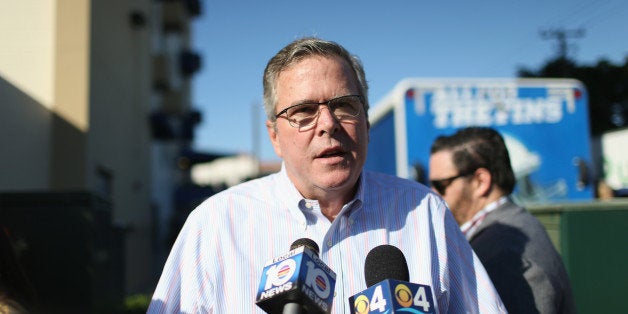 Once again many in the media have fallen for GOP strategists' attempts to make a candidate seem moderate -- "soften" and "softening" seem to be the words of choice for CNN and others -- while he's not changed his hardcore right-wing position at all.
Here's what happened: Jeb Bush was playing golf on Sunday while the earth in Florida shifted beneath him. Judges had been hearing desperate last-minute arguments and handing down rulings as Florida's gay marriage ban was on its last leg, and Florida, within 24 hours, would see its first gay and lesbian couples marrying, another tipping point in the national movement.
The Miami Herald caught Bush off guard as he came off the Coral Gables course, and -- in an example of how he is not ready for prime time, since a would-be presidential candidate should have had a plan -- Bush gave an old, tired answer that doesn't work anymore, and also seemed a bit confused: "It ought to be a local decision. I mean, a state decision. The state decided. The people of the state decided. But it's been overturned by the courts, I guess."
Thud. So, what transpired after that was probably a lot of frantic phone calls with GOP strategists, and by midday Monday Bush pressed reset and sent out a polished-up 2015 line that seeks to appeal to bigots in code words while seeming like he's "softening" -- or at least, it could be peddled that way to the media -- on an issue about which he's out of step with the majority of Americans.
"We live in a democracy, and regardless of our disagreements, we have to respect the rule of law," Bush said in a statement that was put out to the media. "I hope that we can show respect for the good people on all sides of the gay and lesbian marriage issue -- including couples making lifetime commitments to each other who are seeking greater legal protections and those of us who believe marriage is a sacrament and want to safeguard religious liberty."
In other words, please respect that I and others don't support your civil rights because of our religious beliefs. Sorry, but that doesn't cut it. This was no change -- no softening -- in Bush's actual position on gay marriage, though he did tell us that we all should respect the law in America, something about which we're supposed to be impressed. The Democratic National Committee was right to blast Bush. "It took Jeb Bush 69 words to say absolutely nothing - 69 words not to say, 'I support marriage equality.' Nothing's changed," DNC spokesman Mo Elleithee said. "At the end of Bush's statement, he still had the same position: He opposes the right of gay and lesbian Floridians -- and all LGBT Americans -- to get married and adopt children."
Bush's newly-fashioned statement was meant not to scare off younger voters, suburbanites, and some wealthy fiscal conservative donors, while still dog whistling to the Christian right with the "safeguard religious liberty" bit -- three words we will hear ad nauseum in the 2016 presidential race.
Curiously, the Human Rights Campaign, the largest LGBT group, actually worked up a bit of praise for Bush's comments, with the group's Fred Sainz telling Metro Weekly:"[H]is own conflict is encouraging. The vast majority of Republican politicians only express their adamant opposition to marriage equality. Bush acknowledges gay married couples and encourages respect for them. The fact that he's struggling with this issue is something that many Republicans will understand."
It certainly was very odd that the DNC was more out front in defending gay equality and pointing to Bush's anti-LGBT record than an actual LGBT group. And that should make all of us concerned, as GOP legislators in states across the country now move forward on "religious liberty" bills meant to blunt LGBT rights. A bill was also introduced in Congress last year that would allow religious groups getting federal money to deny adoptions to gay and lesbian couples based on "religious liberty." Giving any legitimacy to this language by not commenting on it, while the media is already beginning to use it exactly in the way Christian conservatives desire, is flat out dangerous.
Popular in the Community