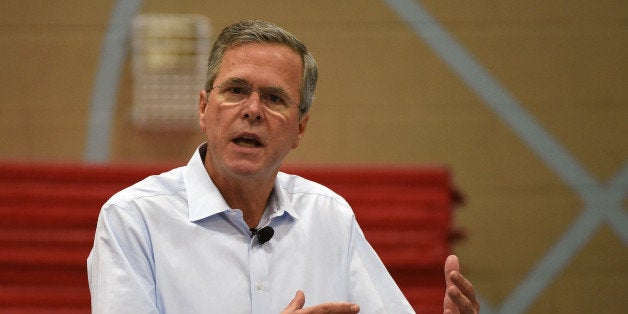 WASHINGTON -- Funds should be withheld from jurisdictions that don't work with immigration agents, Republican presidential candidate Jeb Bush said Wednesday in the wake of a fatal shooting, allegedly by an undocumented immigrant in San Francisco.
Bush said San Francisco is "the worst form" of a sanctuary city for refusing to notify Immigration and Customs Enforcement before releasing individuals who have served their time.
"That is outrageous," Bush said in an interview with the New Hampshire Union Leader editorial board. "And the way to solve that is to withhold funds."
He joined Republican lawmakers who say jurisdictions need to either cooperate with Immigration and Customs Enforcement or lose federal grants for police -- regardless of arguments by local officials that working too closely with ICE breeds mistrust of police in the community and even violates the law.
Sen. Tom Cotton (R-Ark.) introduced legislation on Wednesday that would block so-called sanctuary cities from federal immigration and law enforcement grants.
"It is unacceptable that cities would issue ordinances that explicitly aim to frustrate federal immigration laws that are supposed to keep illegal immigrant felons off the streets," Cotton said in a statement. "U.S. taxpayers shouldn't be expected to support such misguided local policies that put their safety in jeopardy. No matter their political affiliation, local officials should support the rule of law and protect the safety of all Americans."
Rep. Duncan Hunter (R-Calif.) said Tuesday he plans to introduce legislation with the same goal.
Other presidential candidates have criticized sanctuary cities as well. Republican candidate and former neurosurgeon Ben Carson said they should be banned. Democratic presidential candidate Hillary Clinton said San Francisco "made a mistake."
Policies against local law enforcement cooperation with Immigration and Customs Enforcement are coming under increased scrutiny after Juan Francisco Lopez-Sanchez, a previously deported undocumented immigrant, was charged with fatally shooting 32-year-old Kathryn Steinle last week.
Critics have blamed San Francisco's sanctuary city policies, which instruct law enforcement not to get involved in immigration matters. The San Francisco Sheriff's Department did not hold Lopez-Sanchez at ICE's request or notify the agency he was set to be released after prosecutors declined to pursue a 20-year-old marijuana charge. The sheriff's office has said ICE should have gotten a judicial warrant if it wanted to keep Lopez-Sanchez in detention.
There are more than 300 other jurisdictions with policies against law enforcement cooperating fully with ICE. But the degree of interaction the policies allow varies widely from jurisdiction to jurisdiction. While many will not hold a person on ICE's behalf without a court order when they would otherwise be released, some interact with the agency in other ways, such as notifying it before releasing certain individuals from jail.
If legislation like Cotton's were to become law, it would complicate matters. His proposal states that it would apply to jurisdictions that have statutes, policies or practices that prohibit law enforcement "from assisting or cooperating with Federal immigration law enforcement in the course of carrying out the officers' routine law enforcement duties."
It's unclear how far that would extend, since policies vary on how much jurisdictions interact with police. The entire state of California limits its cooperation with ICE to some degree through a law called the Trust Act, under which only individuals with certain crimes are transferred to immigration agents.
Bush acknowledged in his remarks that there are different types of sanctuary cities, but did not go into detail on how he would decide which would be blocked from receiving funding.
In Los Angeles County, the sheriff's office follows the Trust Act in determining who to turn over to ICE. Chief Eric Parra with the Los Angeles County Sheriff's Department's Custody Division said the agency notifies ICE when those individuals are set to be released from jail, and the agency can pick them up before then.
Parra said blocking counties like Los Angeles from federal grants over those policies would not be reasonable because there are two ways of looking at it: Some might say they don't fully cooperate, but they're "making good faith efforts to work with our federal partners to ensure that violent criminals do not remain in the streets."
"To take federal funding away from an agency that's working in good faith with the federal partner, I don't see the law enforcement benefit or the public benefit of that," Parra said.
Calling all HuffPost superfans!
Sign up for membership to become a founding member and help shape HuffPost's next chapter
BEFORE YOU GO
PHOTO GALLERY
11 Ways Immigration Reform Helps The Economy