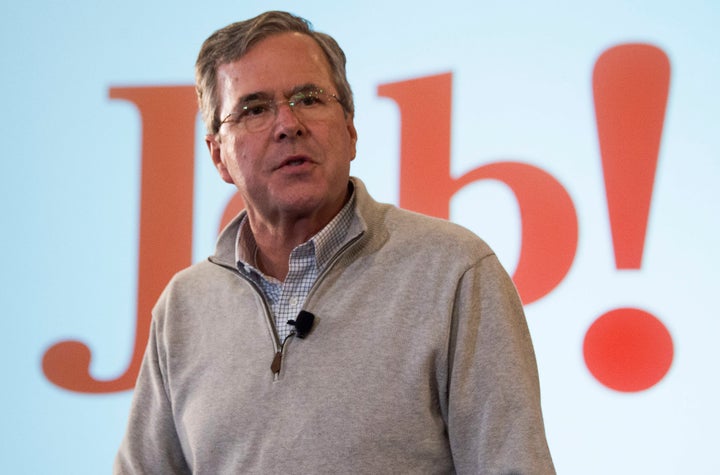 Republican presidential candidate Jeb Bush was not in Iowa on caucus night, but his cash certainly was. The former Florida governor spent more money in Iowa than any other candidate and still lost big in Monday's state caucuses.
According to ad-buy data collected by Morning Consult, Bush and his super PAC, Right to Rise, have spent about $14.1 million on ads in Iowa. That's more money than any other presidential candidate has spent in the state. And ultimately, the return on investment for Bush was dismal.
Since he received just 2.8 percent of the vote in Iowa Monday night -- and walked away with just one delegate -- Bush ended up spending about $2,800 per vote.
That's about 18 times as much money as first-place winner Ted Cruz spent for each vote he received. It's also 34 times as much as silver medalist Donald Trump spent, and 10 times the amount spent by third-place winner Marco Rubio.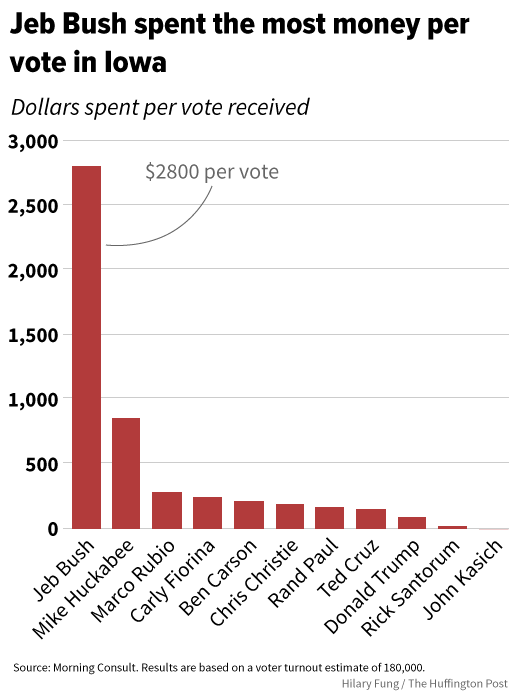 According to MSNBC, the various Democratic and Republican candidates have spent a total of $70 million on ads in Iowa. That nears the record $74.6 million that candidates and outside groups spent in the state in 2012, the most expensive election ever held, according to The Des Moines Register.
In 2012, Rick Perry broke the record on media spending per vote in Iowa, spending about $480 per vote, followed by Mitt Romney, who spent $155 per vote.
Calculations on money spent per vote are based on a projected estimate of 180,000 voter turnout as of Monday night. This article has been updated with results as of Tuesday morning that give Bush one delegate.
Popular in the Community