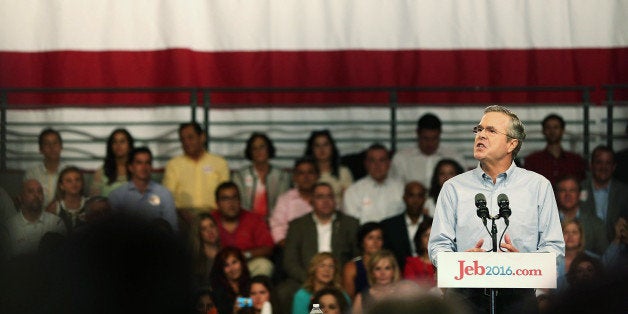 Several months ago, it was reported that former Florida Governor Jeb Bush had once described himself as "Hispanic" on a voter registration form. Bush and his supporters laughed it off as an honest mistake, which it probably was.
However, still uncorrected is the perception that Jeb Bush is a friend of the Latino community. Because he speaks Spanish and tells the story of his immigrant family, it's assumed that Bush has a more favorable record than his fellow Republicans on issues of importance to Hispanic families. But Latinos in Florida know that Jeb isn't, and never has been, on our side.
Nowhere is this clearer than on immigration reform. Millions of immigrants and their families live in fear of deportation. But Jeb Bush has expressed opposition to DACA and DAPA, executive actions taken by President Obama to provide immigrant children and parents peace of mind. In the Florida Senate, I've been proud to fight to help keep immigrant families together. We need a President who shares the belief that we should be strengthening our families and communities, not one who will rip them apart.
Jeb Bush is wrong for Latinos who've fought their way into the middle class, or are still struggling to get there themselves. For many Latinos, the surest path to the middle class is a quality education. Jeb Bush has long attacked classroom size reductions and supports a budget that would gut education funding -- from early education to Pell Grants for college students. I wouldn't be where I am today without the education I got at Rutgers and George Washington University - but I'm still paying for it because of student loans. Making it even harder for students to afford college irresponsibly shuts the doors of opportunity for future generations.
Bush's policies are also hurtful to many Latinas in the workplace. You've likely heard that women are paid just a fraction on the dollar compared to their male colleagues. For Latinas, the difference is even greater. Latinas who work full-time, year round are paid just 56 cents for every dollar paid to white, non-Hispanic men. The Paycheck Fairness Act is legislation that would help address this discrepancy, but Jeb Bush said he'd never even heard of it. We can't expect Jeb Bush to fight with us on the issues that matter when he isn't even aware of them.
We all remember how hard Florida was hit by the economic recession. Well, Jeb Bush supported his brother's policies as President that helped cause it. As Governor, Bush slashed taxes by the billions to benefit the wealthy and corporations ahead of the middle class. He supported his brother's plan to privatize Social Security and endorsed a budget that would end Medicare as we know it -- crucial safety nets necessary to protect those hit hardest by the downturn. And while Florida families suffered through the recession, Jeb Bush cashed in on Wall Street after leaving office.
It's not just Latinos who won't find an ally in Jeb Bush. Bush says there are "very strong justifications" for the Republican voter ID laws he defends, even though these laws disproportionately disenfranchise minority voters. Bush also opposes marriage equality, which Florida finally achieved this year after years of struggle. Not only has he said that he does not believe same-sex marriage is a constitutional right, he's made it clear that he thinks businesses should have the right to discriminate against LGBT Americans. He's also said that traditional marriage is the path out of poverty - which might explain why he's so willing to cut the programs and services that many struggling families actually rely on.
It seems that the only friends Jeb Bush actually cares about are the conservative Republicans with whom his views are aligned, and the wealthy people like him who stand to benefit from his economic policies. Jeb Bush isn't a member of the Latino community, and he doesn't share our priorities either. Like the rest of the GOP, he's out-of-touch with the American people, and shouldn't be our next President.
Popular in the Community