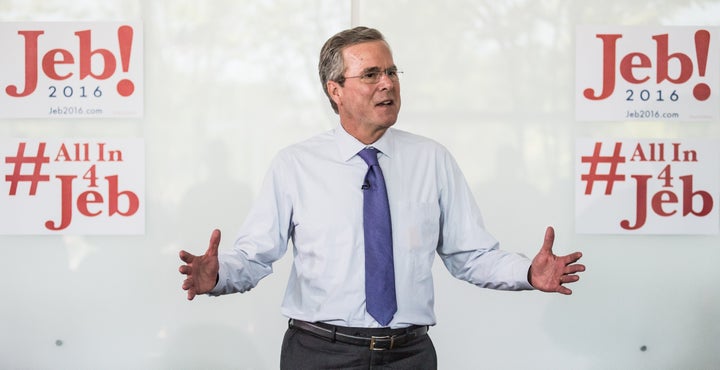 Twenty-four donors gave more than $1 million to the Bush super PAC to account for 27 percent of group's total haul. Unlike most other super PACs, Bush's did not rely on a small stable of megadonors, but brought in a broad haul from some the country's wealthiest people. In total, donors contributing $100,000 or more accounted for 71 percent of all contributions or $72.7 million.
The Bush haul is indicative of the central role super PACs will play in the 2016 campaign. Super PACs -- which played a major, albeit smaller, role in the last presidential campaign -- were created after the Supreme Court's 2010 Citizens United decision and subsequent lower court ruling opened the door to unlimited corporate, union and individual contributions so long as the spending remained independent from candidates. Those supposed lines of independence have been blurred to the point of invisibility by candidates like Bush who directly raised money for his own super PAC.
The largest donation to Right to Rise, some $3 million, came from Florida health industry investor Mike Fernandez.
The list of donors is heavy on former supporters of the presidential campaigns of Bush's father, George H.W. Bush, and brother, George W. Bush. Hushang Ansary, the national finance director for the 2004 Bush reelection campaign, and his wife Shahla Ansary combined to give $2 million. Former ambassador to Portugal Alfred Hoffman, appointed by George W. Bush in 2005, gave slightly more than $1 million. Hoffman was one of 25 former ambassadors appointed by prior Bush presidents who gave a combined $3.8 million.
Bush received more help directly from his family. American Pacific International Capital, a real estate venture by brother Neil Bush and Singaporean businessman Gordon Tang, gave $1.3 million. The former presidents George H.W. Bush and George W. Bush contributed $125,000 and $95,000, respectively. Cousin George H. Walker IV, chairman of New York investment firm Neuberger Berman, gave $100,000.
Other seven-figure donations included $2 million from the Florida-based holding company Rooney Holdings, $1.5 million each from Helen Schwab (the wife of Charles Schwab) and California investor and charter school supporter William Oberndorf and more than $1 million from the operator of Florida's main electric utility, NextEra Energy. Investors Louis Bacon, Julian Robertson, Bradford Freeman and Robert Day each chipped in $1 million and so did San Francisco Giants owner Charles B. Johnson. Texas oil men Ray Hunt and his wife Nancy Hunt, Richard Kinder and his wife Nancy Kinder and Trevor Rees-Jones and his wife Jan Rees-Jones gave $2 million per couple. Bernard Marcus and Raul Rodriguez also gave $1 million each.
The only other $1 million contribution to the super PAC came from Jasper Reserves, LLC, a unknown corporate entity with an address traced to the West Virginia law firm Bailey Glasser.
Wall Street, as well as the broader hedge fund and private equity investment community are huge backers of Bush.
Six-figure donors include Apollo Management's Leon Black, Appaloosa Management's David Tepper, Bank of America COO Thomas Montag, Barclays managing director Stephen Lessing, Bluff Point Associates Thomas McInerney, Cerberus Capital Management CEO Stephen Feinberg, CIT Group CEO John Thain, Citadel's Ken Griffin, Kohlberg Kravis Roberts partner Alexander Navab, Satter Investments' Muneer Satter, Blackstone Group CEO Stephen Schwarzman and Blackstone senior managing director Michael Chae, Third Point Capital's Dan Loeb and Tudor Investments chairman Mark Dalton.
The super PAC also received large corporate donations from U.S. Sugar, the lobbying firm Southern Strategy Group and the political fund of the private prison operator GEO Group.
To raise these funds, Bush declared in December 2014 that he would "actively explore the possibility of running for President of the United States." This carefully worded statement was intended to fall short of a declaration that would have placed Bush under campaign finance laws that restrict the amount of money prospective candidates who are "testing the waters" of a campaign can raise from donors.
Popular in the Community