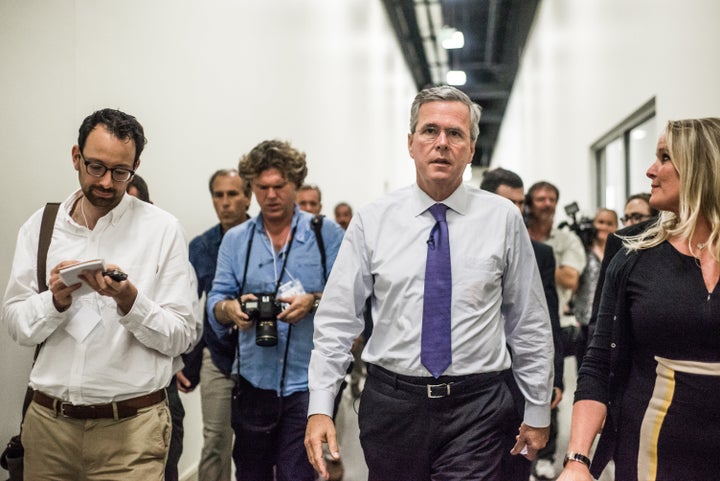 WASHINGTON -- A number of donors giving eye-popping sums to a super PAC supporting former Florida Gov. Jeb Bush's presidential campaign are also major players in Washington's corporate lobbying scene. These groups and individuals are pushing the executive branch on a variety of issues -- including federal contract approval, loosened regulations and decreased scrutiny of their activities.
At least 43 donors who have given $100,000 or more to Bush's Right to Rise super PAC are connected to companies employing lobbyists in Washington. Another five are members of industry lobbying organizations with a presence in the capital. Dozens more donors from big companies that are lobbying the White House have also pooled large sums to contribute to the Bush super PAC.
Since the Supreme Court's 2010 Citizens United decision opened the door for unlimited donations from corporations, unions and wealthy individuals, the universe of groups accepting these contributions has increasingly crossed over with the universe of Washington influence-peddling. The ruling produced this effect, despite Justice Anthony Kennedy's assertion in that decision that independent spending would not "give rise to corruption or the appearance of corruption."
"These are precisely the kind of contributions that the Supreme Court has long held can corrupt government decisions," said Fred Wertheimer, president of the campaign finance reform advocacy group Democracy 21. "What we face here with the Bush super PAC and other PACs is donors with important economic interests in government decisions buying in early to establish their ability to obtain government policies they desire if the candidate they support wins."
Bush's super PAC fundraising stands out, according to Wertheimer, as the candidate personally raised these funds before announcing his presidential bid. During this period, Bush claimed he was not a candidate as a strategy to evade campaign finance laws.
"It's always most dangerous when candidates are directly soliciting huge contributions because that creates a direct potential corrupting nexus between the candidate and the donor," Wertheimer said.
The Bush campaign did not respond to a request for comment.
Bush's donors include Matthew Rose, the head of BNSF Railway, who donated $100,000 to Right to Rise. Michael Ward, the head of CSX Corporation, gave $125,000. Both railroad companies are engaged in a lobbying campaign targeting Congress and the executive branch, with the goal of stopping or slowing regulations on crude-by-rail trains that have experienced a high number of explosive crashes across the country.
In 2014, the Federal Railroad Administration proposed a rule requiring two-person crews for crude-by-rail trains. The railroad industry opposes the rule, and the next president will be able to appoint new leadership at the agency that could halt the implementation of the regulations.
The U.S. Sugar Corporation's charitable trust donated $505,000 to Bush's super PAC, while lobbying to continue federal sugar subsidies. The group has joined with other companies that use sugar and other sweeteners in their products to run a broad public relations campaign aimed at convincing policymakers and the public that sugar intake is not to blame for the nation's epidemic of obesity and diabetes. Coca-Cola chairman and CEO John Brock gave $50,000 to the Bush super PAC. The company has also funded studies that aim to shift the blame for obesity away from diet.
Private equity investors like Perelman also take advantage of a tax code that favors them through a low carried-interest tax rate and incentives for leveraged buyouts. And Perelman is by no means the only private equity investor giving to Right to Rise.
Stephen Schwarzman, head of the Blackstone Group, the largest private equity investor in the world, gave $100,000. The firm's senior managing director, Michael Chae, gave $150,000. Kravis Kohlberg Roberts' Alexander Navab and Joseph Plumeri combined to give $750,000. Cerberus Capital Management head Stephen Feinberg donated $200,000, and Apollo Management's Leon Black gave $100,000. All have hefty lobbying operations in Washington to support the companies they own and to push for low investment taxation and looser financial rules.
Big Wall Street financial firms that benefitted from the 2008-2009 bailouts and have since found themselves under constant Department of Justice investigation are also huge donors to Bush's super PAC.
Forty-five bankers and executives at Barclays, the British bank that pleaded guilty to rate manipulation in May, contributed $541,261 to Right to Rise. Managing Director Stephen Lessing, formerly of Lehman Brothers, led Barclays with donations totaling $276,763. Nine high-level executives at Goldman Sachs contributed $291,000 to the Bush super PAC. Bank of America Merrill Lynch Chief Operating Officer Thomas Montag gave $100,000, while another 19 high-level directors chipped in an additional $109,500. Executives from J.P. Morgan Chase, including former Chairman and CEO William Harrison, contributed $55,760, and those from Morgan Stanley gave $48,250.
These banks have all been lobbying to loosen Dodd-Frank regulations on the banking industry. Bush supports repealing the law passed in the wake of the 2008 financial meltdown.
Right to Rise has also received $100,000 from the Florida-based private prison operator The GEO Group. During his two terms as governor of Florida, Bush was a big supporter of the privatization of prisons, aiding the company's growth. The GEO Group is now lobbying at the federal level on criminal justice reforms pursued by both parties. The company states that it advocates for public-private partnerships for prisoner reentry, rehabilitation and diversion programs.
At the same time, the company tells investors that it's profits would take a hit from laxer criminal enforcement. An investor filing by The GEO Group, first noted by FirstLook's Lee Fang, states that the company's profits "could be adversely affected" by "the relaxation of criminal or immigration enforcement efforts, leniency in conviction, sentencing or deportation practices, and the decriminalization of certain activities that are currently proscribed by criminal laws or the loosening of immigration laws." This includes "the decriminalization of drugs," any reduction in crime rates and the passage of immigration reform laws.
This is not the only area where Bush's policies run counter to the lobbying agendas of some of his big super PAC donors.
CIT Group CEO John Thain donated $200,000 to Right to Rise. The company has lobbied in 2015 in support of the reauthorization of the Export-Import Bank. Bush stated in May that he opposed funding the federal bank.
Carnival Cruise Lines CEO and Miami Heat owner Micky Arison, a $500,000 donor, and Royal Caribbean Cruises head Richard Fain, a $100,000 donor, are both seeking to gain cruise boat access to Cuba as the Obama administration ends the decades-long travel embargo on the communist country. Carnival's Cuba-bound cruises have already been approved by the U.S. government, while Royal Caribbean is looking into the prospect. Bush is a fierce opponent of normalizing relations with Cuba.
Some of the policy agenda of NextEra Energy, the parent company of Florida Power & Light, is also aligned against Bush's stated priorities. The utility company lobbies in support of wind production and renewable energy tax credits, but Bush has called for phasing out all energy tax credits -- including those for renewables like wind and solar, and those for traditional energy sources like oil and gas.
CLARIFICATION: This story has been updated to include a statement from The GEO Group and to more clearly reflect its lobbying activities.
Popular in the Community