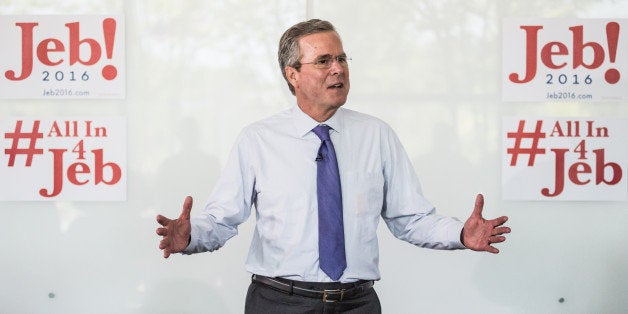 WASHINGTON -- The key number in the Bush campaign's Thursday announcement that it raised a combined $114 million in the first half of this year was just how much of that total came from Right to Rise PAC. The super PAC created to support Jeb Bush's presidential ambitions pulled in over $103 million.
This immense haul was made possible by the former Florida governor's new approach to campaign finance. For most of the first half of the year, he simply denied he was a candidate for the 2016 GOP presidential nomination, which allowed him to coordinate with and raise money directly for super PACs. Bush's very public evasion of rules requiring those "testing the waters" to abide by campaign contribution limits led other Republican candidates, like Wisconsin Gov. Scott Walker and Ohio Gov. John Kasich, to follow his lead.
According to Right to Rise, it raised that $103 million from more than 9,900 donors and ended June with $98 million cash on hand. More than 400 of those donors gave over $25,000 each. The super PAC did not disclose how much of its total came from the largest donors. In previous election cycles, the wealthiest donors have dominated super PAC fundraising. Right to Rise and other super PACs will file their official fundraising reports on July 31 with the Federal Election Commission.
"We are grateful for the overwhelming response from the thousands of donors who have been drawn to Jeb's optimistic message of conservative renewal and reform," Right to Rise general counsel Charlie Spies said in a statement.
Based on earlier media reports, the largest donors to the super PAC are expected to include Kohlberg Kravis Roberts' Henry Kravis and Alex Navab; New York Jets owner Woody Johnson; Chicago investors Muneer Satter, John Canning and Craig Duchossois; natural gas tycoon T. Boone Pickens; oilman Trevor Rees-Jones; cellular technology billionaire Craig McCaw; Florida investor Miguel Fernandez; beer distributor John Nau; and Washington lobbyists Dirk Van Doggen, Richard Hohlt and David Beightol.
By raising more than $100 million in just the first six months of the presidential campaign, Bush has set a new standard and is showing how certain candidates can exploit the loose regulation of fundraising following the Supreme Court's 2010 Citizens United decision. That decision allowed corporations, unions and, ultimately, individuals to give freely to supposedly independent groups and led to the creation of super PACs.
Still unknown is the total raised by Right to Rise Policy Solutions, a 501(c)(4) nonprofit also created to support Bush's campaign. Unlike the similarly named super PAC, the nonprofit is not required to publicly disclose its donors. It is unclear if the group will voluntarily name those who are supporting the former governor's presidential bid.
REAL LIFE. REAL NEWS. REAL VOICES.
Help us tell more of the stories that matter from voices that too often remain unheard.