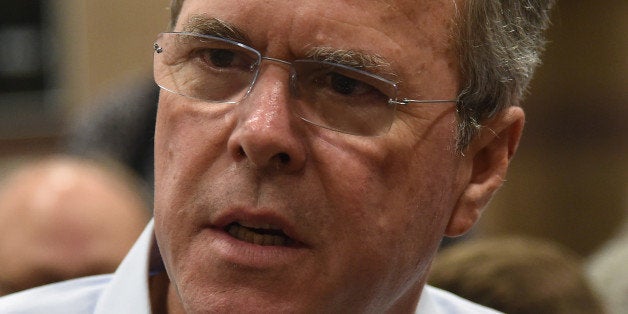 WASHINGTON -- Republican presidential contender Jeb Bush on Tuesday released 33 years of tax returns that reveal almost nothing about his controversial Wall Street business dealings since he left office as governor of Florida in 2007.
Over those 33 years, Bush reported total income of $44.3 million in 2014 inflation-adjusted dollars, while paying $14.9 million in taxes -- a 34 percent tax rate. That tax rate fluctuated over the years as Bush's income rose and fell, topping at nearly 40 percent in 2013 as his income soared to $7.5 million, thanks to hefty consulting and speaking fees. Only the financial documents dating from the end of Bush's tenure as governor are wholly new to the public. He had filed older tax returns during his gubernatorial campaign, and had made personal finance disclosures during his term in office.
Bush accrued the vast majority of his income after leaving public office. He has earned $30 million in adjusted dollars since the end of his second term as Florida governor, vaulting from a six-figure public servant to a multi-million-dollar earner.
The Bush campaign voluntarily disclosed details about the candidate's speaking and consulting fees to select reporters, telling Bloomberg News that he earned $1.3 million a year from failed investment banking titan Lehman Brothers, and $2 million a year from British banking giant Barclays. Both firms have been embroiled in scandal since the 2008 financial crisis, with Lehman filing for bankruptcy and Barclays pleading guilty to manipulating key interest rates and being fined by U.S. regulators for rigging energy markets. The Bush campaign also told reporters that Bush has reaped $9.9 million in speaking fees since leaving office.
None of those figures can be verified from Bush's tax returns. That's because the payouts were routed through a company he heads called Jeb Bush and Associates. While Jeb Bush the candidate reports annual payments from that firm to the Internal Revenue Service, he does not detail the original sources of that income. The maneuver was confirmed to HuffPost by a Bush campaign spokesperson.
The finances disclosed by the campaign provide a window into Bush's dealings before he launched his political career. In 1989, Bush signed on with a water pump company, MWI Corp., to market the company's products through his consulting firm co-founded with MWI founder David Ellis, dubbed Bush-El Corp.
Bush-El Corp. earned little in its early stages of operation -- just $815 in 1990 and $349 in 1991. But that income soared in 1992, after MWI Corp. secured $74.3 million in loans from the Export-Import Bank of the United States. The contract greased the wheels for water pump sales to Nigeria that would soon become the subject of controversy. According to Bush's tax return from that year, Bush reported $150,074 in earnings from Bush-El Corp. that year. The deal would ultimately result in an FBI bribery investigation, followed by a decade-long court battle that ended in 2013, when MWI was found to have made dozens of false statements in pursuing government loans at a cost of millions of taxpayer dollars. The company has appealed the ruling.
In addition to the Nigerian pump deal, Bush was closely involved with Miami businessman Miguel Recarey Jr., who eventually fled the country after being charged with defrauding Medicare.
Some of Bush's post-gubernatorial endeavors also have been scrutinized. And his tax returns reveal nothing about those operations. In 2013, Bush agreed to pay back $270,000 he received from work with convicted fraudster Claudio Osario and his company InnoVida, which Bush began dealing with in 2007 (Bush was paid $468,901 for his efforts). The InnoVida payments are not directly mentioned in Bush's tax returns.
Bush's early disclosure of decades worth of tax returns likely reflects a desire to avoid the criticisms that plagued 2012 Republican presidential nominee Mitt Romney, who was pilloried by Democrats as an out-of-touch plutocrat for shielding his tax returns from public scrutiny. Romney eventually published his 2011 tax return, revealing an effective tax rate of only 14.1 percent on millions in income.
The Bush returns, moreover, serve as a broadside against Democratic presidential candidate Hillary Clinton. In a post on his campaign website, Bush writes about his business successes and calls for tax reform. But his campaign cleverly includes charts and graphs comparing his average federal tax rate to the average tax rate paid by Clinton. In another section of the website, he touts speaking fees (as high as $40,000) he earned after in the years after he left office.
"I made less than Chelsea Clinton," Bush says, referring to a reported $65,000 speaking fee paid to Clinton's daughter.
Much of Clinton's tax record, from her long career of public service, is already public record. Her husband, former President Bill Clinton, released 12 years of joint tax returns when he ran in 1992 (as noted by Bush in his chart) and each year of his two-term presidency. When Hillary Clinton ran for president in 2008, she disclosed tax returns for herself and her husband from 2000 to 2006. If she releases her tax returns for the years 2007 to 2013, she will have disclosed 33 years of tax records, the same as Bush.

Before You Go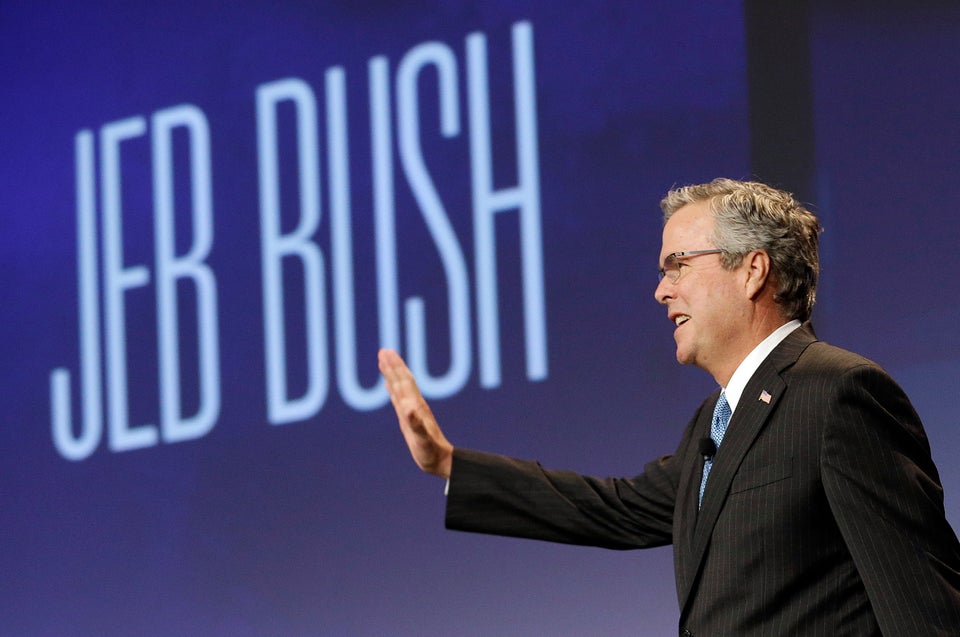 Jeb Bush
Popular in the Community