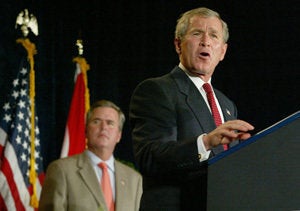 During a Florida town hall event with John McCain, Jeb Bush appeared to throw his brother George under the bus. Bush gave a rousing talk about throwing the bums out of Washington. Perhaps he forgot that his brother is the chief bum? Read more here. See the excerpt below:
"Reform becomes contagious," former Florida Gov. Jeb Bush, brother of the current president, said at a McCain town hall meeting this week in Orlando. "If you start to dream bigger dreams and you start challenging the basic assumptions, you can change how things work, and we've done it in Florida, and the Good Lord knows we need to do it in Washington, D.C., and John McCain is the right guy at the right time to make that happen."
Katharine Zaleski can be reached at zaleski@huffingtonpost.com.
Popular in the Community