A world of money and storied family ties could not lift Jeb Bush to his party's nomination, as the former Florida governor announced Saturday night that he was dropping out of the presidential race after a disappointing finish in the South Carolina GOP primary.
Here are some of our favorite moments of his campaign:
The exclamation point, of course. "It connotes excitement," as Bush said.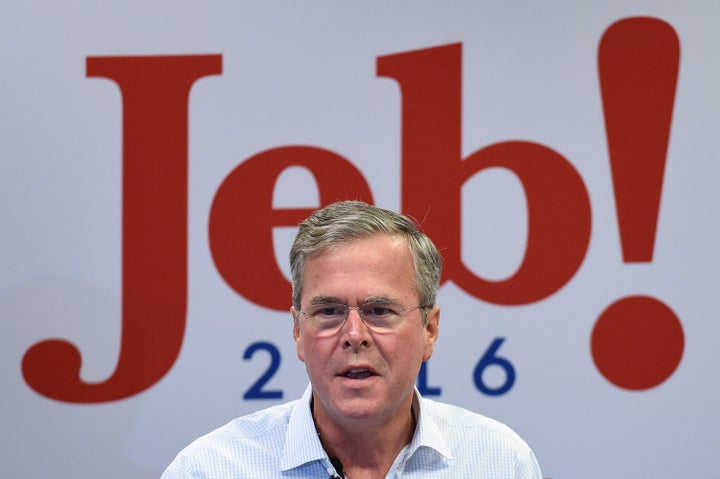 This sad billboard, which represents a whopping $100 million lit on fire spent by his super PAC. Of that amount, just $9 million was spent against Donald Trump.
This awkward Vine of Bush struggling to put on a hoodie:
This clip of Bush asking his audience to "please clap," which was emblematic of the difficulties he faced in gaining traction among more conservative, outsider candidates like Trump and Texas Sen. Ted Cruz.
This video where a delighted Bush runs to hug a swing voter when he finds out the man might support him.
But Bush had his better moments, too. He was one of few candidates to stand up to Trump throughout the entire campaign -- on the real estate mogul's proposal to ban all Muslims from entering the U.S., for example.
"This policy is a policy that makes it impossible to build the coalition necessary to take out ISIS," Bush said during a debate in January. "The Kurds are our strongest allies. They're Muslim. You're not going to even allow them to come to our country? The other Arab countries have a role to play in this."
"We don't have to have refugees come to our country, but all Muslims?" he added. "Seriously?"
Bush was also one of few candidates to call out Trump for mocking a reporter with disabilities.
"When anybody -- anybody -- disparages people with disabilities, it sets me off. That's why I called him a jerk," Bush said.
"What kind of person would you want to have in the presidency who does that?" he said of Trump's rhetoric. "At what point do we say enough of this? Let's start solving problems."
But even when he would make an excellent point, like how raising tariffs would hurt American consumers, Bush would somehow find a way to meekly back down. This moment, in particular, stands out for Bush's retort: "Come on, man."
In the end, Bush's inability to slay the Trump dragon had far more devastating consequences than just the end of his presidential aspirations -- his family legacy was tarred in the process. High five.
Popular in the Community