WASHINGTON -- Former Florida Gov. Jeb Bush on Wednesday addressed the debate over vaccinations, an issue that has tripped up several of his potential presidential rivals in recent days.
"Parents ought to make sure their children are vaccinated. Do we need to get into any detail on that?" Bush said bluntly in a speech before the Detroit Economic Club. "Parents have a responsibility to make sure their children are protected. Over and out."
New Jersey Gov. Chris Christie and Sen. Rand Paul (Ky.), both possible candidates for the Republican nomination in 2016, have been criticized for saying earlier in the week that parents should have some choice about whether to vaccinate their children.
Wednesday's address was Bush's first unpaid speech since he announced his interest in running for president. The former governor, who has not run an electoral campaign in twelve years, spoke with the aid of a teleprompter, though his rushed pace created a somewhat stilted delivery. He appeared much more natural in a short Q&A session that followed.
In addition to the vaccination debate, Bush's speech also discussed conservative policies aimed at lifting up the middle class, immigration reform and President Barack Obama's foreign policy.
While he gave no specifics, Bush promised a "new vision" for the country, one "rooted in conservative principles and tethered to our shared belief in opportunity and the unknown possibilities of a nation given the freedom to act, to create, to dream and to rise." He spoke about lagging wage growth in the United States, noting that far too many working-class families have yet to feel the effects of a growing economic recovery.
"The American Dream has become a mirage for far too many," Bush said, saying that the country should aim to reach an optimal growth rate of 4 percent GDP growth per year.
Bush acknowledged job losses in the auto industry that were felt particularly hard by Detroit residents following the 2008 recession. "In a sense, the troubles of Detroit ... are an echo of those facing Washington, D.C.," he said.
Democrats called Bush's credibility on the matter into question by noting he had opposed the auto bailout.
"Jeb Bush has an interesting sense of humor going to Detroit to talk about urban revitalization, after opposing the auto rescue that is helping Detroit and Michigan rebound from the recession," Democratic National Committee Chair Debbie Wasserman Schultz said in a statement. "But it shouldn't come as a surprise. This is the same guy who supports massive tax breaks benefitting the wealthiest Americans and biggest corporations at the expense of working Americans."
In an attempt to portray himself as an outsider to Washington -- an image he is likely to cultivate should he run for president -- Bush took aim at Congress and the Obama administration for their inability to move forward with badly needed reforms. Obama, Bush said, "proposes making laws on the Internet using laws written in the 1930s," a veiled reference to the Federal Communications Commission's decision to use its authority under Title II of the Communications Act to protect consumer broadband Internet.
The former governor also said he was vexed by the state of the nation's immigration laws, which he lamented as having been "written a half a century ago."
"Government policy seems frozen, incapable of change," he said.
Bush, once an education reformer in Florida, also criticized Obama for proposing a tax on 529 college savings accounts. The administration dropped the controversial proposal after it prompted immediate backlash from Republicans and Democrats in Congress. It was "no surprise people hated his idea," Bush said.
On foreign policy, Bush faulted Obama for being disengaged on the world stage, and blamed the U.S. withdrawals from Iraq and Afghanistan for contributing to the rise of the Islamic State in the Middle East.
"Being engaged doesn't have to mean launching attacks, but it does mean that engagement creates the possibly of dealing with this in the long haul," Bush said.
Before You Go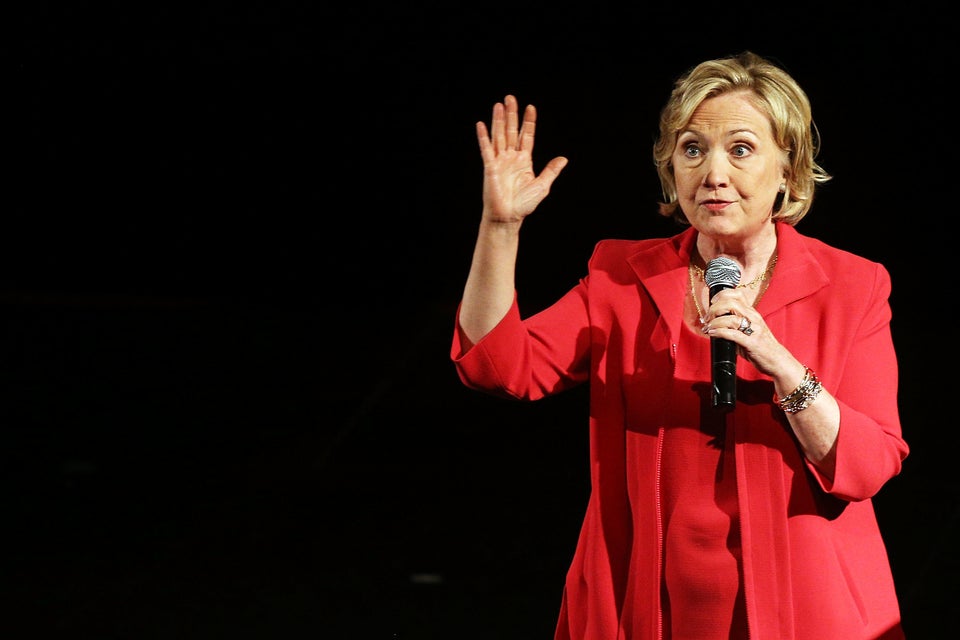 Potential 2016 Presidential Contenders
Popular in the Community