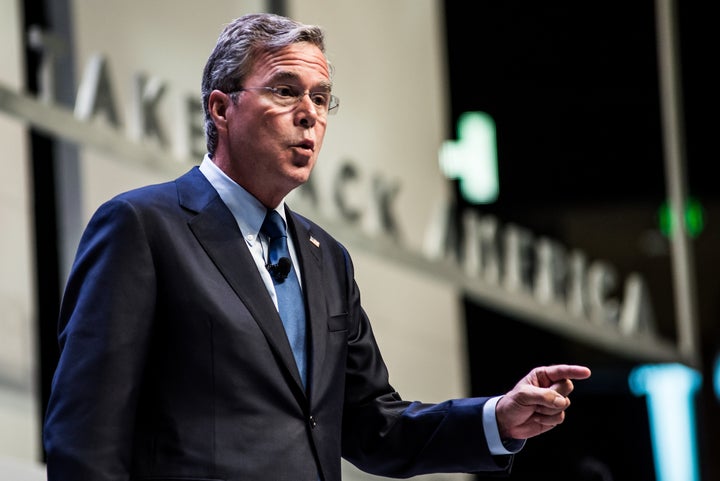 Republican presidential hopeful Jeb Bush doesn't think Washington's NFL team should change its name, despite calls from critics and Native American activists who object to the racial slur.
"I don't think [they] should change it," Bush said on the "The Arena" radio program, according to ABC News. "But again, I don't think politicians ought to be having any say about that, to be honest with you. I don't find it offensive. Native American tribes generally don't find it offensive."
The former Florida governor cited an NCAA decision allowing Florida State University to retain their nickname, the Seminoles, to explain his reasoning.
"We had a similar kind of flap with FSU, if you recall, the Seminoles. And the Seminole tribe itself kind of came to the defense of the university and it subsided," he said. "It's a sport, for crying out loud. It's a football team. Washington has a huge fan base -- I'm missing something here, I guess."
The "Seminoles" is the name of an actual tribe -- which endorsed the nickname in 2005, according to The New York Times. But the Seminole Nation of Oklahoma passed a resolution in 2013 condemning "the use of all American Indian sports team mascots in the public school system, by college and university level and by professional teams," The Nation reported.
President Barack Obama and Senate Minority Leader Harry Reid (D-Nev.) last year called on Washington's NFL team to change its name. A federal judge also ordered the cancellation of its federal trademark registrations, calling the name offensive to Native Americans.
While a majority of Americans agrees with Bush that the team should keep its name, young people are significantly more likely to find the moniker disparaging to Native Americans.
Bush's statement that Native American tribes "generally don't find it offensive" has also been called into question. The team's owner, Dan Snyder, frequently cites an Associated Press survey from 2004 to make the same point. But other studies have since found that Native Americans do indeed find the name offensive.
Calling all HuffPost superfans!
Sign up for membership to become a founding member and help shape HuffPost's next chapter