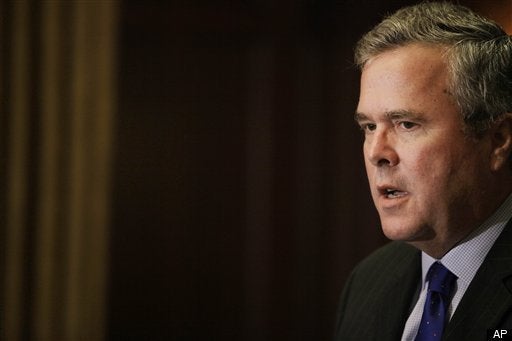 When former Florida Governor Jeb Bush hosts a fundraiser on behalf of Senate candidate Rand Paul on Monday it will symbolize, in more ways than one, the uncomfortable union of opposite poles of Republican ideology. Bush's brand of pragmatic conservatism stands in contrast to Paul's Tea Party temperament. The Kentucky Republican, likewise, often touts his independence from the GOP, citing the antiquated Republicanism of the Bush clan as an example.
And so it seems almost appropriate that the two would team up, of all days, on the 20th anniversary of the Americans with Disabilities Act.
ADA, which made it illegal for employers to discriminate against the disabled, was a signature piece of domestic legislation for Jeb's father, former president George H.W. Bush, and not merely because Congress forced it down his throat. The 41st president pledged his commitment to the bill starting with his acceptance speech at the Republican Convention. "I am going to do whatever it takes to make sure the disabled are included in the mainstream," he said.
Indeed, when the legislation was celebrating its 19th anniversary, last year, the elder Bush put out a statement, congratulating President Obama "for taking some time today" to commemorate its significance.
"We can all take pride in how much the ADA has accomplished, which is evident every time you attend a sporting event, ride the subway, or go to work," the statement read.
Then there is Paul. The Tea Party candidate caused a stir the day after winning the Republican primary when he wavered on saying whether he would have supported landmark civil rights legislation had he been in office at the time. Tucked away in that same interview was a similar question about ADA. Did the legislation go too far, asked NPR's Robert Siegel.
"I think a lot of things could be handled locally," Paul said. "For example, I think that we should try to do everything we can to allow for people with disabilities and handicaps... I think if you have a two-story office and you hire someone who's handicapped, it might be reasonable to let him have an office on the first floor rather than the government saying you have to have a $100,000 elevator. And I think when you get to solutions like that, the more local the better, and the more common sense the decisions are, rather than having a federal government make those decisions."
It stands to reason that Paul's skepticism about the reach of ADA won't be a major topic of discussion when Jeb helps usher in $500 to $2,400 fundraisers. An invitation for the event, obtained by the Huffington Post, shows that Senate Minority Leader Mitch McConnell (R-Ky.) and Jim Bunning (R-Ky.) will also be in attendance.
But that doesn't mean the topic won't be discussed at all. Paul's opponent in the Senate race, Attorney General Jack Conway, is hosting a press event at the state's capitol to mark ADA's 20th anniversary. Asked to preview the event, Conway's press secretary, Allison Haley, said the candidate didn't have prepared remarks. But, she added, "Jeb Bush is certainly on our radar screen today."
HERE IS A COPY OF THE BUSH-PAUL FUNDRAISER INVITATION: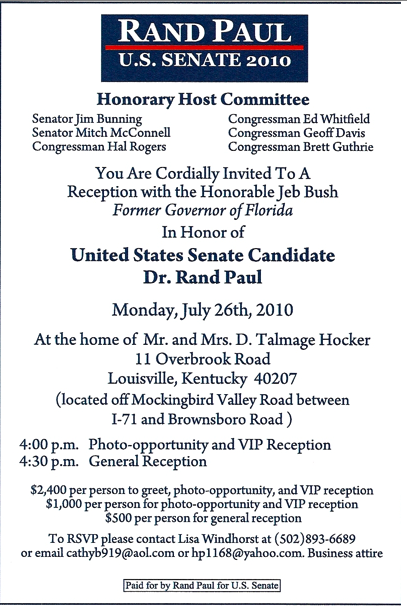 Popular in the Community