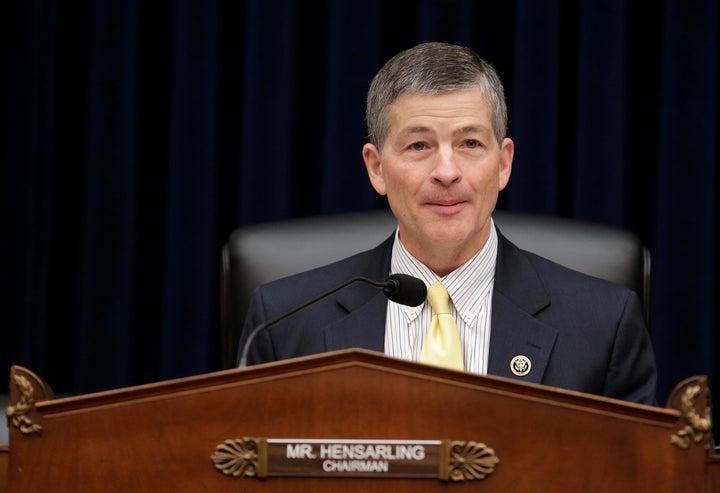 WASHINGTON ― Rep. Jeb Hensarling (R-Texas), the current chair of the House Financial Services Committee, announced Tuesday that he will not seek re-election in 2018.
As first reported by The Dallas Morning News, the eight-term congressman wrote to supporters that he never intended to make service in Congress a "lifetime commitment."
"I have already stayed far longer than I had originally planned," Hensarling, 60, wrote.
Hensarling mentioned that he is term-limited as chairman of the Financial Services Committee, and because he must give up his gavel, "the time seems right for my departure."
He noted that there are still 14 months left in his term, and said he would continue to fight for the causes he's passionate about: "individual liberty, free enterprise, and limited constitutional government."
Hensarling has long toyed with the idea of running for a GOP leadership position, repeatedly declining to challenge anyone. He served as the GOP conference chairman ― technically the No. 4 spot in leadership ― for two years before giving up the position to become the Financial Services chairman in 2013.
He was often combative in that role, refusing to reauthorize the Export-Import Bank in 2015 and repeatedly taking on flood insurance to the delight of conservatives. But he also frequently aligned with Republican leaders and was a reliable vote for most of leadership's priorities for his 14-plus years in Congress.
Hensarling's southeast Dallas district is safely Republican, and there's apt to be a fierce GOP primary to replace him. The filing deadline is less than two weeks away, and the primary is in March.
Hensarling interviewed with President Donald Trump last year to become Treasury secretary. Trump ultimately passed, though he reportedly offered Hensarling a consolation prize of being director of the Office of Management and Budget. Hensarling declined.
The congressman said Tuesday that, with his remaining time as Financial Services chairman, he looks forward to continuing work on "housing finance reform, regulatory relief, cyber security and capital formation to name just a few."
Hensarling is the 19th Republican this term to either resign or announce that they won't seek re-election.
Popular in the Community