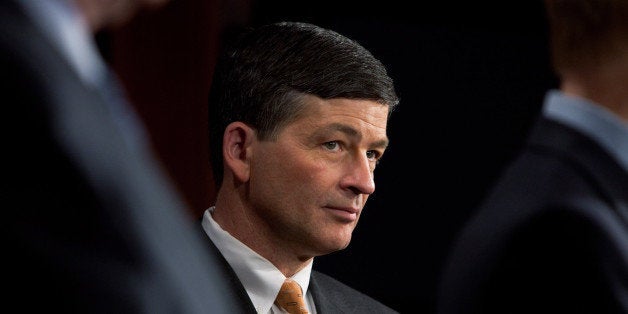 WASHINGTON -- When Rep. Jeb Hensarling walked into the Lehrman auditorium at the Heritage Foundation in late May, it was ostensibly to give a speech on the perils of crony capitalism and the Republican Party's troubling relationship with big business. But everyone in attendance knew the event was serving double duty as the Texan's leadership pitch to the hardcore conservative wing of the GOP.
"Regrettably, a great deal of economic activity that masquerades today as free enterprise is not. For the sake of our republic, our movement had best unmask the imposters and come down clearly on the side of free enterprise," Hensarling said. "With crony capitalism, success is arranged through government-granted favors to those with the best political connections. ... It can breed corruption."
The surprise primary defeat of House Majority Leader Eric Cantor (R-Va.) -- after a campaign that attacked his support for bank bailouts and lambasted his association with corporate lobbyists -- alerted the Beltway to a phenomenon brewing since 2008: the rise of the anti-corporate conservative. Hensarling has been making the anti-crony capitalist crusade the central tenet of a leadership run that will have to win over Washington insiders long dependent on corporate largesse.
But as the hours after Cantor's June 10 loss turned to days, Hensarling stayed out of the contest to replace him as majority leader, putting off the chance to turn his shadow leadership campaign into a real one until after the November elections. The decision has left his backers disappointed and raised questions about the depth of his support. If he's to make a comeback, Hensarling's anti-crony credentials will be critical to winning over an essential conservative bloc in any future race for majority leader or speaker.
A closer look at Hensarling's own path to power so far suggests that the Texas congressman doth protest too much. His own rise reads almost like a caricature of crony capitalism at work. And as a legislator, he's been willing to hand out corporate favors when influential conservative groups like the Club for Growth and Heritage Action aren't looking.
Although nobody in Washington seemed to notice, a week before Hensarling gave his Heritage speech, a jury convicted one of Hensarling's key supporters, onetime billionaire Sam Wyly, of insider trading and securities fraud. Sam and his late brother Charles had orchestrated an offshore trust scheme that hid hundreds of millions of dollars worth of assets from regulators and the public, reaping nearly a half-billion dollars in ill-gotten gains over 13 years. The U.S. district court must now assess damages in the case brought by the Securities and Exchange Commission.
Hensarling fell into the Wylys' orbit the old-fashioned way, through political connections. After a brief stint as a corporate lawyer following law school, he changed course to work for his old college economics professor, Sen. Phil Gramm of Texas. He spent eight years with Gramm, eventually helming the senator's successful 1990 reelection campaign and handling fundraising for the National Republican Senatorial Committee. The Wylys were NRSC donors who had been strong financial backers of Gramm's congressional career, and in 1993, Sam Wyly tapped Hensarling to shepherd investors into their new hedge fund, Maverick Capital.
The Wylys established Maverick with proceeds from a byzantine network of offshore trusts in the Isle of Man that were managed by an accountant in the Cayman Islands -- a scheme that would ultimately bring down their business empire. By hiding assets offshore, the Wylys were able to secretly buy and sell shares of their own companies while they were running them and without telling investors, thereby engaging in massive insider trading violations.
Hensarling went back to help Gramm in 1996 when his former boss ran for president, but also signed up the Wylys for his short-lived political consulting firm, San Jacinto Ventures. When he returned to the private sector, it was again to work for the Wylys at another company set up with capital from their offshore network, Green Mountain Energy. The Wylys (and others) successfully lobbied governments in several states, including California, to deregulate their electricity markets, which allowed Green Mountain to start selling to consumers.
California's deregulatory experiment, coupled with the federal energy trading deregulation that Gramm authored in 2000, would lead to months of rolling blackouts and brownouts for consumers -- but would benefit companies like Enron, where Gramm's wife Wendy, a former energy trading regulator, served on the board of directors. Green Mountain, meanwhile, was a disappointment. The company changed its name to GreenMountain.com in 1999, looking to cash in on the Internet IPO bubble. The gambit failed, and by 2002, Hensarling was running for Congress with support from the Wylys and Gramm.
The Dallas Morning News detailed Hensarling's relationship with the Wylys in 2010, but in a more recent article incorrectly stated that Hensarling had stopped working for the brothers by the time their illegal scheme began. The Wylys set up the offshore trusts the year before he joined Maverick, and the bulk of the fraudulent transactions took place between 1992 and 1999, according to the SEC complaint.
Hensarling, whose office declined to comment for this story, told the Dallas Morning News in 2010 that the Wylys had a good reputation when he went to work for them. But Sam Wyly had already had at least one run-in with the law. In 1979, he settled Securities and Exchange Commission allegations that he made improper undisclosed payments in a bond deal for a faltering firm he owned. He did not admit or deny guilt under the agreement.
Hensarling isn't named in the 2010 SEC complaint that led to the Wylys' May conviction, however, and there is no evidence that he was aware of their fraud. But the Wylys made him a rich man. By the time Hensarling filed his first personal financial disclosure form as a congressman in 2003, he listed assets of between $1,249,027 and $2,960,000, including between $450,003 and $1 million in direct investments in Wyly enterprises.
The Wylys were exactly the sort of well-connected kingpins who leaned on government to rig the rules in their favor that Hensarling now rails against in his quest for House leadership. They donated heavily to George W. Bush's 2000 presidential campaign and financed an attack ad against opponent Sen. John McCain (R-Ariz.) through a shadow group called Republicans for Clean Air -- a groundbreaking money-in-politics tactic a full decade before the Supreme Court's Citizens United decision would make such activity commonplace.
Hensarling's ties to the Wylys, while unseemly, are fairly conventional by Capitol Hill standards -- evidence of what Hensarling now criticizes as the "Washington Insider Economy." He has been able to avoid scrutiny of his anti-crony capitalist gospel because on several top priorities for the Club for Growth and Heritage Action, he has practiced what he preaches. As a result, his tenure as chairman of the House Financial Services Committee has frustrated not only panel Democrats but fellow Republicans, including former committee Chairman Spencer Bachus (Ala.) and Reps. Peter King (N.Y.) and Michael Grimm (N.Y.). (Grimm resigned from the committee this year after being indicted on charges related to a restaurant business.)
Hensarling opposed a bill to ease flood insurance rate increases, arguing that the flood insurance program's government backstops encourage development in unsafe areas. The committee's top-ranking Democrat, Rep. Maxine Waters (Calif.), eventually went over his head, cutting a deal with Majority Leader Cantor to get the bill through the House. Committee members expect similar showdowns over reauthorization of the Terrorism Risk Insurance Act and the Export-Import Bank later this year. Hensarling has also thoroughly rejected a plan to deal with Fannie Mae and Freddie Mac, backed by both Wall Street and the Obama administration, that would give government guarantees to private sector banks that extend mortgages to consumers. His alternate plan -- getting the government out of the mortgage business -- has no hope of passing the House, but is one of 10 bills that Heritage Action featured on its "reform agenda" at this year's Conservative Policy Summit.
Those programs are also undisputed subsidies for corporations. As a result, some progressive Democrats grudgingly acknowledge that Hensarling's anti-corporate streak is an improvement over prior GOP leaders of the Financial Services Committee.
"Hensarling is ... terrible," said one House Democratic aide. "But I'd rather have someone with libertarian leanings running things on Financial Services than a true-blue bank shill."
But when the Club for Growth isn't highlighting certain votes as key, Hensarling's record is different. In May of last year, he threw his support behind a bill authored by a Citigroup lobbyist to reinstate taxpayer backing for many financial derivatives -- the complex products at the heart of the 2008 financial meltdown. When that bill went to the floor last fall, it again had Hensarling's blessing.
Last month, he backed a bill to raise the interest rates that mobile home lenders can charge their customers while qualifying for preferential regulatory treatment. It was essentially a giveaway to billionaire investor Warren Buffett: Only a handful of lenders finance mobile home purchases, and Buffett owns not only the two dominant lenders but also Clayton Homes, which makes the homes themselves. In June, Hensarling led the charge against an amendment barring special beneficial regulatory treatment for companies convicted of fraud and insider trading.
Sometimes even big-ticket corporate assistance gets Hensarling's vote. In June 2003, he voted for the Medicare Part D prescription drug bill, which was blasted by Democrats and populist Republicans for providing government subsidies without giving the government the power to negotiate pricing. That criticism was amplified when one of the legislation's chief champions, Rep. Billy Tauzin (R-La.), left Congress to become the top lobbyist at PhRMA, the drug industry's trade group.
This Texas two-step has been fantastic for Hensarling's fundraising. While the benefits of being a straightforward corporate benefactor are obvious, savvy lawmakers can sometimes achieve even better results when their position is in question. Banks, for example, know they're not going to win Hensarling over on Fannie and Freddie, but they can't afford to sit on the sidelines while the rest of his legislative agenda moves.
Fundraising muscle is traditionally a major boon for leadership candidates. Spreading the wealth can generate loyalty, which can then be called on in a tight contest. While it took a few years for Hensarling to get his own money machine fired up, it is now an undisputed juggernaut. His Jobs, Economy & Budget Fund is basically a pass-through for the National Republican Congressional Committee, with the occasional donation to a state GOP party or the Tom DeLay Legal Defense Fund. He gave more than $1.5 million to the NRCC in the last electoral cycle and has forked over more than $1.1 million this cycle, according to the Center for Responsive Politics.
Hensarling's leadership pitch has rested on more than money. But it may be that money is all there is.
BEFORE YOU GO
PHOTO GALLERY
Conservatives Pointing Fingers