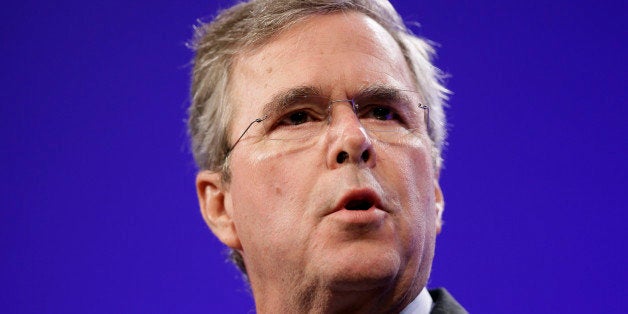 If you've ever seen the movie Dodgeball, starring Ben Stiller and Vince Vaughan, then you'll know the rules guiding Jeb Bush's still-undeclared campaign when it comes to climate change: "Dodge, duck, dip, dive and dodge."
I'm guessing that somewhere a team of pollsters, strategists and PR experts got paid a lot of money to craft every word of Jeb's latest dodge on climate change so that he could avoid the "denier" label. In nearly identical remarks at a house party in New Hampshire and in an interview in Iowa, he gave his position on the human contribution to climate change. In both cases, he started by acknowledging that "the climate is changing" but went on to say that "I don't think the science is clear of what percentage is man-made and what percentage is natural. It's convoluted." He continued by calling it "intellectual arrogance" to say the science is decided.
Jeb surely knows that two-thirds of voters, including nearly half of Republicans surveyed, are more likely to vote for a candidate who acknowledges human-induced global warming is happening. It seems to me that Jeb is trying to carefully calculate precisely how much lip service must be given to climate change to make it seem that he's not extreme, not a denier. But, voters who care about climate change shouldn't be fooled.
To be sure, there is still much to learn. There are plenty of opportunities for new scientific discoveries about the surprising and subtle ways that climate change is endangering our health and disrupting the natural systems on which our food and water supplies, our livelihoods and our safety depend.
But anyone who still questions whether unlimited carbon pollution is causing dangerous climate change is still practicing climate denial and confusion. And that is what Jeb is doing.
According to NASA, "97 percent or more of actively publishing climate scientists agree: Climate-warming trends over the past century are very likely due to human activities." Jeb's carefully crafted talking points are just a fancy dodgeball move calculated to confuse the voters, rather than accept the massive scientific consensus that we must act urgently.
Jeb has been in the denial business for a while now. In a 2009 Esquire interview, Bush said "I'm a skeptic. I'm not a scientist." In a 2011 Fox News interview, he said "It is not unanimous among scientists that it [climate change] is disproportionately manmade."
In April, he said he was "concerned" about climate change, but, at the same time, he dismissed the need for action. Duck! Don't get caught saying you want to act!
Dodging the "Denier" Label
What exactly is it that Jeb's dodging? I think he is trying to escape the "denier" label. He has constructed an extreme strawman in an effort to seem moderate. He addressed the word "denier" in this most recent interview, mocking those (like me, I suppose) who use the word, by saying, "If you don't march to their beat perfectly then you're a denier."
Well, Jeb, you don't need to agree me 100% of the time. I'd love to debate with you about the best approaches to limiting carbon pollution. But if you consistently voice doubts about the scientific consensus for action and clearly oppose making the carbon pollution cuts we need to avert the largest environmental crisis of our time, then, yes, that absolutely makes you a climate denier in my book. If you deny the problem and deny the need to act, you're a denier. No dodging.
REAL LIFE. REAL NEWS. REAL VOICES.
Help us tell more of the stories that matter from voices that too often remain unheard.