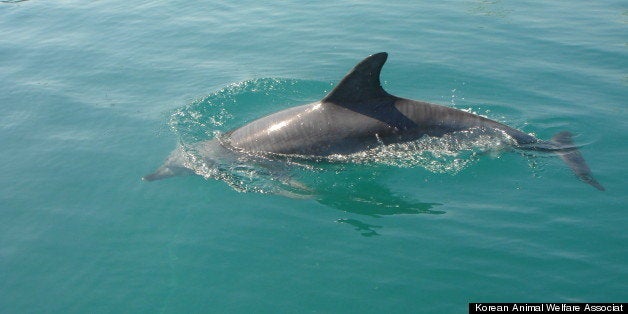 Three dolphins kept illegally in aquarium tanks are finally getting to stretch their fins in the wide open ocean, thanks to the collaborative efforts of animal rights groups worldwide.
The Korean Animal Welfare Association told HuffPost that two of the dolphins were even able to reunite with the very same pods they'd been stolen away from years earlier.
The dolphins, named Sampal, Chunsam and Jedol, were all caught and sold illegally in South Korea. Sampal and Chunsam were kept at an aquarium called Pacific Land on Jeju Island, and Jedol was housed at the Seoul Zoo, according to a blog post by the Earth Island Institute's Dolphin Project, one of the organizations that worked toward the dolphins' release.
After local courts ruled their captures illegal, the Korean Supreme Court and Seoul Mayor Park Won-soon ordered the three dolphins be released. The Korean Animal Welfare Association then went to work with the Dolphin Project to facilitate the rehabilitation process, utilizing the proven methods established by Ric O'Barry, the Dolphin Project's director and star of the 2009 documentary "The Cove."
Story continues after photo.
Chunsam and Sampal being transferred to a sea pen from Pacific Land.
Sampal's story has received the most attention so far. When the three dolphins were moved from the aquariums to a sea pen in May, Sampal found a hole in the net and escaped on June 22. It was only five days until she had rejoined the pod she'd been taken from four years earlier, the Dolphin Project reports.
"Sampal's story lends more credence to the idea that she and her kind should be accorded basic rights and treated with respect -- as thinking, feeling beings," the Dolphin Project's Program Associate Laura Bridgeman told HuffPost, "It's about time we humans begin to see this."
Chunsam, a female bottlenose dolphin, and Jedol, a male, were still in the pen when their official release date came on July 18, and both were given GPS tags to track their locations. At 4:15 pm, the net was cut open so they could swim free, and Jedol left the pen after 18 minutes. It took Chunsam a little longer, but she finally swam for open water at 4:40 pm.
The Korean Animal Welfare Association's campaign manager Hyung Ju Lee told HuffPost that since being released, Chunsam has joined with two female dolphins and a calf -- the two adult dolphins belonging to the same pod Chunsam swam with before capture.
Jedol has yet to join a pod, but the Korea Times reported that while he was still in the pen, a number of wild dolphins appeared three different times to play with him across the netting. Lee also said that Jedol has been seen within 1-2 miles from Chunsam and her new pod, showing natural behavior like leaping and riding waves.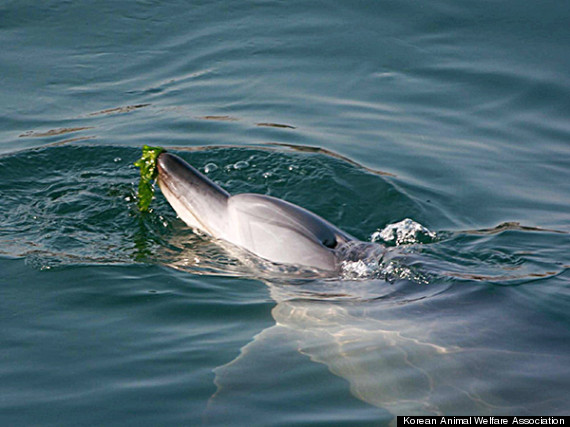 Sampal after she escaped the pen.
Despite their newfound freedom, these dolphins will forever face the risk of recapture, since large fishing nets known to tangle and drown dolphins are used extensively throughout their home in the Korea Strait.
"This successful rehabilitation and release project highlights the feasibility of returning cetaceans to their natural habitat after a time in captivity," Ric O'Barry told the Dolphin Project in a blog post. "The dolphins seemed ready to go – mentally as well as physically."
Before You Go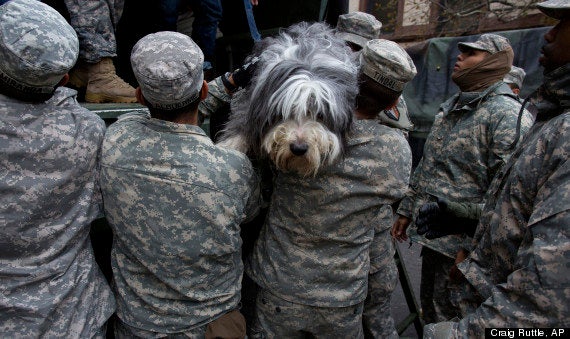 Hurricane Sandy Animals Rescues
Popular in the Community