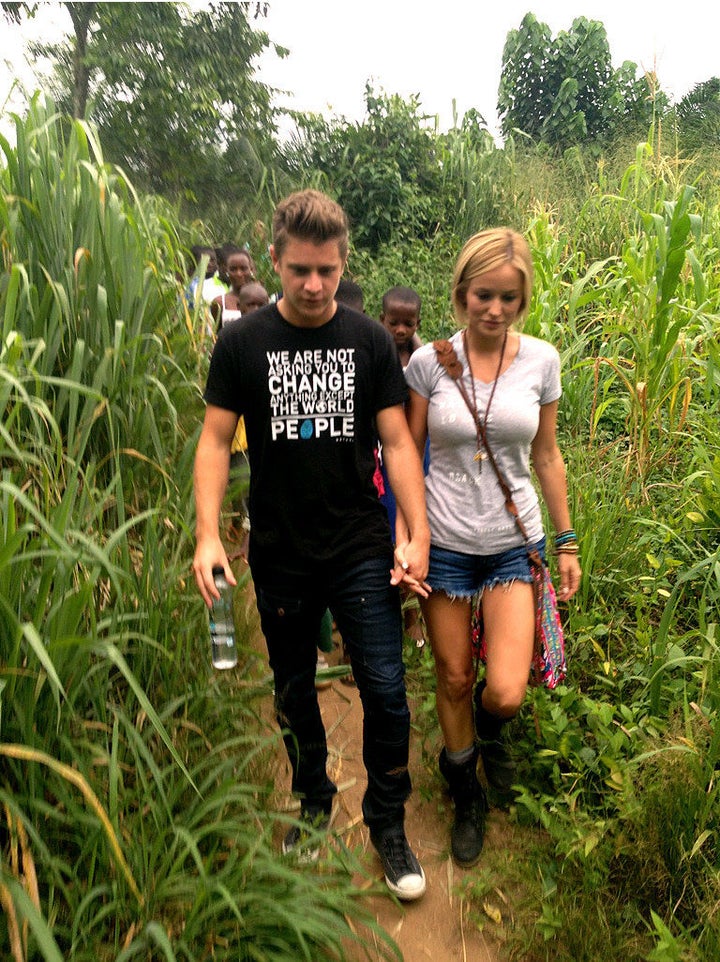 Now in its eighth season, "The Bachelorette" has mostly proven to be little more than a swindling fairy tale. But in many respects, the most recent installment of the reality TV show did feel a little less hoodwinked and a little more real.
Part of it may be the fact that the winner, Jef Holm, and the former bachelorette, Emily Maynard, are pretty darn good people. The two took a trip to Ghana immediately after the show's end to visit wells built by Holm's sustainable bottled water company.
Twenty-eight-year-old Holm, who proposed to the single mom from Charlotte, N.C., in the end, is the co-founder of People Water, which provides an equal amount of clean water to developing countries for every bottle purchased. The company has sponsored wells in Nicaragua and Ghana.
Holm talked to HuffPost after returning from their trip, sharing his thoughts on being a young social entrepreneur, the world water crisis, the guys in the house and the thing he and Emily most have in common.
HuffPost: So we're picturing you and Emily actually digging water wells -- down and dirty. Was that how this trip was?
Jef Holm: [laughs] No, the wells were already built by People Water. We were celebrating with the families, and altogether visiting nine wells on the outskirts of Ghana.
HP: You've done this before, but how did Emily react to being in the villages for the first time and seeing people who lack access to clean water?
J.H.: It was almost a spiritual experience to see these people's need for clean water. It hit Emily hard. She would be crying, seeing how people lived. It was a heavy thing for her, but it was awesome. They had no idea who we were. None of these villages have electricity and nobody recognized us. It was a really welcoming celebration in a good and different kind of way.
HP: Many people know nothing about the gravity of the world water crisis. Do you think the show at least helped raise awareness of the injustice that 1 billion people worldwide lack this basic need?
J.H.: I do think the show was able to spread a message about the lack of access to water and how it affects everything from health to education. I think that's so cool. The show wasn't just centered around love, though Emily and I had an awesome love story, but we also showed people a huge problem and how to get involved.
HP: So this never made sense to us: Emily always said you were a bad boy, but you founded a charitable business! That sounds nice-guy to us.
J.H.: I think I was kind of a bad boy in her eyes. I was kind of standoffish. I didn't really care about the TV show. I was just myself. When people first meet me, they don't think I started a company like this. I'm kind of rough around the edges. Emily actually thought I was talking crap, or that I would end it, or go home early!
HP: You guys are both pretty charitable -- Emily works at a children's hospital. What's the one single thing you have most in common?
J.H.: The one thing we most have in common is...let's see, definitely that we're both grounded. In our personal lives, we see eye-to-eye on the way we want to treat everybody, how we want to be great parents. We want a grounded marriage. We see eye-to-eye on foundational things like that, and it's really important.
HP: People often pass judgement or pose questions about your religious practicings and you being Mormon. Is your desire to give back rooted in religion?
J.H.: I don't think religion has anything to do with people helping people.
HP: So why did you start People Water? Were you always philanthropic?
J.H.: I had been to Guatemala with my dad and brothers and saw a need for clean water and sanitation and knew I wanted to help and do something. I've always been business-minded so I wanted to tie that into it.
HP: We see more young people leaving Wall Street or becoming disillusioned with office jobs who want to become social entrepreneurs. Can they hit you up for some advice?!
J.H.: I get hit up every day by hundreds and thousands of young people who want to do something big or want advice. I try to write them back! I'm honored I've been able to help people. I was definitely inspired by TOMS and a lot of other companies. I love the concept of philanthropic business giving back. We're not a charity, and we don't want to be a charity.
HP: And let's be honest -- how much did the exposure propel your business?
J.H.: This has been a jumpstart for People Water. We've had success, but now we've signed on more distribution companies and more than doubled our sales every single month this last quarter. In the next year, we want to focus on the areas most in need, so India, South America and then go back to Nicaragua.
HP: Do you think your entrepreneurial approach will help encourage Emily? She always said she didn't have a lot of hobbies, and she seems a little timid in the risk-taking department.
J.H.: I think so. She's always said she's a homebody. She wants someone who makes her get out and be adventurous and do the things she's been dreaming of. It's in her, and she wants to do it; I'm just excited to bring that out of her. She comes up with business ideas, ideas for family and all that.
HP: What are some of her ideas?
J.H.: Um, we'll share them when the time comes along!
HP: Is Emily going to keep working?
J.H.: She won't quit her job. She definitely wants to keep working and have a career. She's so passionate about so many things. Everything she does is service-minded.
HP: We have to say we think you had the most depth on the show. Was there someone else you got along with in the house or related to most?
JH: I grew closest with Arie. We never talked about business ideas or charity, but we just were buddies and going through the same thing, dating the same girl! But no, there were few guys involved in philanthropic things or anything.
HP: Many viewers thought you were a little young to get married and take on Emily's daughter, Ricki. But you've got some life experience -- starting a business and all. Are you more of an old soul?
J.H.: A lot of people had preconceived notions about me -- the way I look or dress or act, and I do have a young spirit about me. Emily got to see a deeper side beyond the way I dress or talk. She got to meet my family and see how I was raised and talk about hopes and dreams and viewpoints and vision in life. People do see my being a business founder as a role for maybe an older guy, and maybe I am sort of wise beyond my years. I had a great role model in my dad growing up.
HP: You're moving to Charlotte at the beginning of September. What's next for you, Emily and for People Water?
J.H.: We're going to Haiti in September, and Emily wants to come and bring Ricki and teach her how to get involved and make her aware of everything going on in the world. Oh also, Emily called me and told me I'm going to be the head coach of Ricki's soccer team, The Green Beans!
PHOTO GALLERY
Jef Holm and Emily Maynard
Calling all HuffPost superfans!
Sign up for membership to become a founding member and help shape HuffPost's next chapter