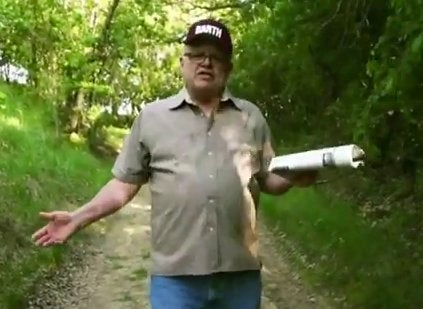 Mike Gravel, that rare presidential candidate who famously stared down viewers before throwing a rock into a pond in a 2007 campaign ad, has finally been outdone.
In a nearly 5-minute-long web ad, Jeff Barth, the Democratic commissioner of Minnehaha County and Democratic opponent to Republican Rep. Kristi Noem of South Dakota, wanders into a forest, and, as fiddle music plays, proceeds to explain why D.C. insiders are a bunch of "horse's asses."
Barth also happens to don a hard hat, gesticulate aggressively with a newspaper and fire a loaded weapon, all while he berates "those idiots running things" in Washington who "do whatever the hell they want." He even works in an anecdote about the time he rode an ostrich and casually mentions that his daughters have husbands and straight teeth.
Mother Jones reporter Tim Murphy has hailed it on Twitter as "the campaign ad we've been waiting for," while MSNBC's Jamil Smith questions whether we should view this as sarcasm or, more likely, as a profound and absurd deconstruction of the art of the political campaign ad.
Popular in the Community