"What a thrill for me to be here. I stood here, in '65 as a tourist, in this very spot, and there was nobody out there. And I never thought I'd ever end up here. But. . .Thank God I did." ~ Jeff Beck
Whether it's a birthday, an anniversary, or a special occasion, 50 years is a big deal. And for Jeff Beck, a celebration to mark the success of his career was a HUGE deal. A milestone of this significance wouldn't be complete unless it was a celebrity-filled concert in California and documented both visually and sonically via a double CD + DVD titled: Jeff Beck: Live At The Hollywood Bowl (available October 6, 2017-Eagle Rock Entertainment).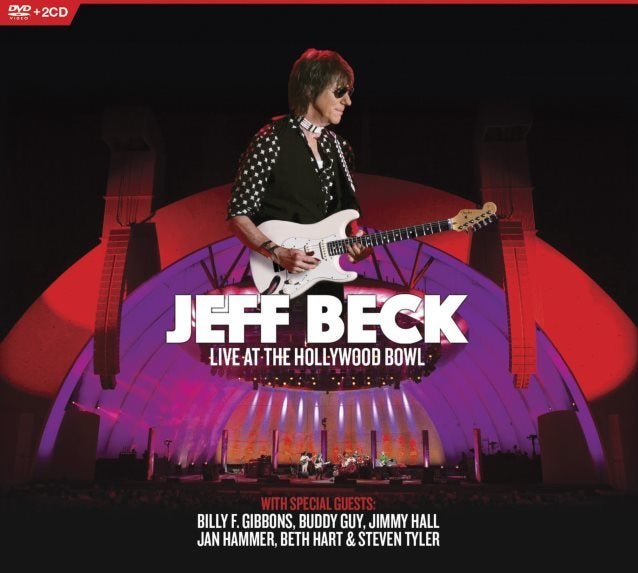 During this iconic concert that took place in August of 2016, Beck essentially conducted a master class in guitar running through songs that have spanned his entire career. He kicked of the night with songs that put The Yardbirds on the map (he was recruited by that band after Eric Clapton's departure) and then marched right into music from The Jeff Beck Group, albums Blow By Blow, Truth, and Wired, as well as songs from his 2016 release Loud Hailer.
To witness the full breadth and brilliance of Beck's playing, look no further than the classic tune, "Cause We Ended As Lovers", a song composed by his friend, Stevie Wonder. The slightest nuances that he makes to the pitch and tone of the notes that he plays are heavily showcased in this instrumental. Beck's ability to manipulate the tremolo bar and volume knob on his white Fender Stratocaster using only his fingers and thumb is unmistakable. There is very little manipulation of tone from Beck other than what he gets from his hands––he rarely uses guitar effects pedals––what you see is guitar into cable, cable into amp. (Students of the guitar––take notice.)
Beck was joined on stage during the evening by the likes of Jan Hammer on keyboards, as well as other special guests including Billy F. Gibbons from ZZ Top, Buddy Guy, Jimmy Hall, Beth Hart, and Steven Tyler from Aerosmith.
He closed out the sold-out show with two masterful instrumentals that span two rather different points of the pendulum in popular music: "A Day In The Life" by The Beatles followed by an inspiring cover of "Purple Rain" by Prince, who passed away only a four months prior to this concert.
Childhood friend Jimmy Page of the band Led Zeppelin who also played with Beck in The Yardbirds once said that Beck's style of playing was "totally unorthodox". As a guitar enthusiast, I have seen many guitar players with the abilities to copy and master songs and solos note for note by some of the greatest guitar players who have ever graced the stage. I have yet to see one guitar player even come close to what Jeff Beck can do with a guitar. . . and I'm not sure that we ever will.