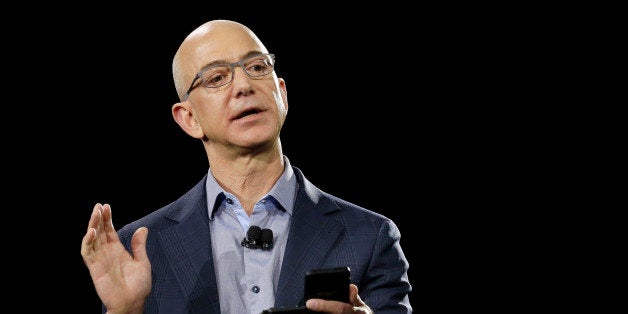 NEW YORK -- A lot of tech companies are famous for perks like massages, fancy snacks and free gourmet meals.
Amazon isn't one of those companies.
But Jeff Bezos, Amazon's founder and CEO, said Tuesday that Amazon employees enjoy several perks, despite the fact that the company isn't providing some of the lavish benefits offered at other top tech companies.
"We could save a lot of money by moving to the suburbs of Seattle," Bezos told Business Insider's founder and CEO Henry Blodget before an audience at the online publication's Ignition conference. "We have chosen instead to build an urban campus, and it is … a spectacular benefit for the employees. I think it's one they enjoy much more than free massages."
Blodget had said he was surprised to find on a recent visit to Amazon's Seattle headquarters that employees have to pay for their own food, which is not the case at many tech companies.
Bezos told Blodget that he "rejects the premise" that Amazon employees don't have great perks. In addition to citing salary and company stock grants, Bezos said that 15 percent of the roughly 20,000 employees who work at Amazon's downtown Seattle campus live in the same ZIP code as the office. Twenty percent of employees who work there walk to work, Bezos said.
As for food? Bezos said that there's "an unbelievable food truck scene around our headquarters."
The Amazon chief also touted the fact that people can open their office windows.
"People, it turns out, really like fresh air, so even though it's complicated to have people have control of their own windows and it complicates the HVAC system, it's worth doing," he said.
Employees can also bring dogs to work, Bezos noted. And in the nearly 20 years that the company has allowed the practice, only a "handful" of dogs have been "banished" for bad behavior, he said.
"If you're ever talking to some college student who you really care about -- maybe a niece or nephew -- you should definitely advise them that the best way to pick a job is who has the best massages," he said sarcastically, eliciting laughs. "It'll really lead them in the right direction for the rest of their career."
As Brad Stone details in The Everything Store, his book about Amazon, the company is notoriously frugal. "Conference-room tables are a collection of blond-wood door-desks shoved together side by side," Stone writes. Employees also have to pay some of the monthly fee to park at the company's headquarters, according to Stone. And when someone leaves Amazon, that person not only has to give back the laptop dock and power adapter he or she got in orientation, but also the backpack, Stone writes.
The idea is that money isn't spent on perks for employees, but instead goes toward giving customers lower prices, the book says.
Of course, corporate perks don't apply to warehouse workers who staff Amazon's dozens of "fulfillment centers" around the country, some of whom have complained about working conditions. There is currently a lawsuit in front of the Supreme Court over whether these workers should be paid for the time after their shifts that they have to wait to be searched for stolen items.
Bezos and Amazon are under intense pressure from shareholders to make a profit. The 20-year-old company's stock is down nearly 17 percent over the last 12 months, and Amazon reported a net loss of $437 million last quarter.
Popular in the Community