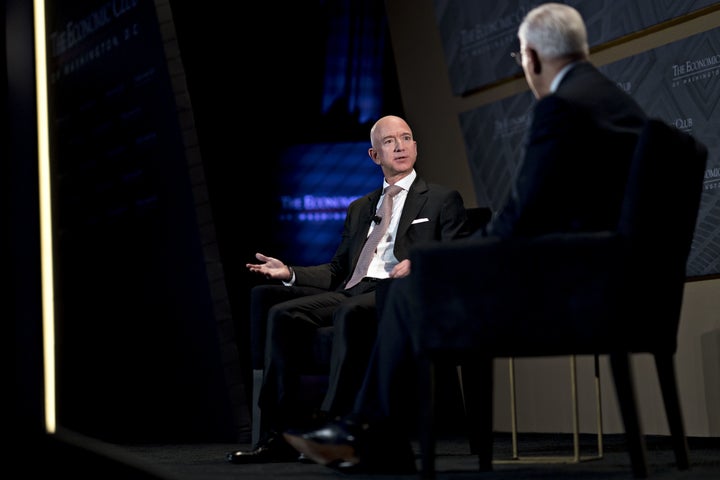 WASHINGTON ― The Economic Club of Washington threw a party for Jeff Bezos, the world's richest man, on Thursday night in the fancy hotel ballroom that also hosts the White House Correspondents' Dinner.
Economic Club president and billionaire private equity investor David Rubenstein interviewed Bezos on a stage for the benefit of lesser rich people who'd paid to attend. At one point near the beginning of the event, Rubenstein asked the crowd if anyone had taken the subway to get there, and everyone laughed.
Bezos is CEO of Amazon, one of the biggest and most controversial companies in America, but the Economic Club exists for business boosterism, not the public interest. So Rubenstein asked the most flattering questions imaginable.
"You have become the wealthiest man in the world. Is that a title you wanted?"
"Is there something in that neighborhood [that Bezos shares with Bill Gates outside Seattle] we should know about? Are there any more houses for sale there?"
"From an early age, were you a pretty smart student?"
"Where did you get that laugh from? You know, it is distinctive."
"How come you decided to go to Princeton?"
"Where did the name Amazon come from?
"Who came up with the idea for Prime?"
"You don't like meetings before 10 a.m., you like to get eight hours of sleep, and you don't like PowerPoints ― explain all that."
"When you buy over the internet, Amazon, do you ever get the wrong order, is anything ever wrong? What do you do? Do you call up and complain?"
At one point, Rubenstein veered into tough question territory, asking whether Bezos feared the U.S. or European governments might decide his trillion-dollar company is unfairly crushing its competition. Bezos said it's good for the public to scrutinize large companies, nonprofits and governments, but that nothing could stop his business.
"We want to live in a society where people are worried about big institutions ― that's OK," he said, before adding that politicians should be nice. "They shouldn't vilify big companies and they certainly shouldn't vilify business in general, for sure."
Amazon has been getting vilified. Experts are increasingly wary of its budding monopolistic power. President Donald Trump hates the company. And in recent weeks, Sen. Bernie Sanders (I-Vt.) has been harshly criticizing Amazon's labor practices. The company employs more than half a million people, with some of them poor enough to qualify for safety net benefits. There were even some protesters outside the ballroom, but Rubenstein decided not to ask about Amazon's labor practices.
Rubenstein did note that Trump has criticized Bezos, Amazon and The Washington Post, which Bezos also owns. Bezos defended the Post but didn't do the same for his other company.
"I don't feel the need to defend Amazon," he said.
Maybe he doesn't feel the need because Amazon has apparently started paying some of its fulfillment center employees to say nice things about the company on Twitter.
"I'm glad I came to work at Amazon," wrote an "FC Ambassador" named Rick this week in one of the dozens of responses to mean tweets about the company. "I enjoy my job here. I get paid well, time off if I need it. As a matter of fact, I just came back from my vacation at the beach. SO I think I'm going good here."
Rubenstein asked, "Do you intend to give away the bulk of your fortune at some point in your lifetime?"
"I don't know how much of it I'm going to give away," Bezos said, adding he would invest a lot in his space travel company. Other billionaires, like Bezos' neighbor Gates, have pledged to give away the majority of their wealth.
"How do you stay in shape?"
Clarification: A previous version of this story referred to Bezos as the owner of Amazon. He is the CEO and owns a percentage of the company.
Popular in the Community