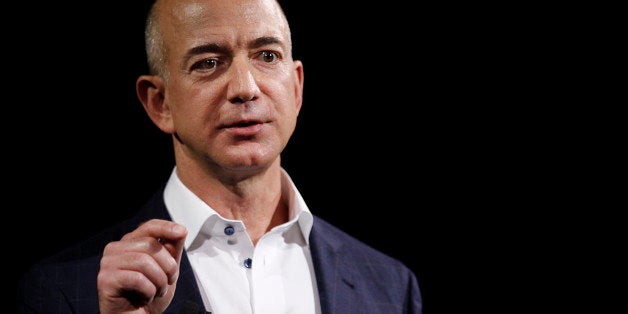 (Reuters) - Amazon.com (AMZN.O) founder Jeff Bezos was airlifted from a cruise ship by the Ecuadorean Navy after suffering a kidney stone attack in the Galapagos Islands on New Year's Day.
"Galapagos: five stars. Kidney stones: zero stars," Bezos said in an e-mail provided by Amazon in response to a Reuters request for comment.
Ecuador's navy said Bezos was aboard a ship traveling between the islands of Floreana and Santa Cruz, both famed for their wildlife, when the attack struck in the mid-afternoon.
A navy helicopter met the ship at Santa Cruz and flew him about 20 miles to his private jet on nearby Baltra island. From there, Bezos was flown to the United States for "emergency surgery", the navy said in a statement.
"He had to be attended to in the shortest possible time," the statement said. The Galapagos lie about 600 miles west off the Ecuadorean coast.
Juan Carlos Ibarra, a lieutenant with the navy's air force, was the helicopter pilot who flew the airlift.
"They informed us when the ship was arriving in Academy Bay at Santa Cruz island," Ibarra told Reuters by telephone.
"We landed our helicopter on a football pitch there ... they told us that a doctor had already gone in boat to treat him onboard the yacht ... They stabilized him and took him to the United States. He was conscious, but he was on a drip."
The navy said in its statement that Ibarra, as well as the helicopter co-pilot and flight engineer, had received messages of thanks from the relatives and associates of Bezos, whom it described as "such a prestigious, world famous businessman".
Galapagos National Park draws many wealthy and famous visitors among the roughly 180,000 tourists who visit every year to gape at the archipelago's rich but fragile biodiversity.
Bezos, 49, is the 19th richest person in the world, according to Forbes magazine, with a fortune of $25 billion.
Since founding Amazon in his own garage near Seattle in 1994, Bezos has built the online bookseller into the world's largest internet retailer, a consumer electronics giant with its Kindle e-reader and is pioneering 'cloud', or internet-based computing.
Last year Bezos made a splash when he bought the Washington Post for $250 million.
(Additional reporting by Yury Garcia in Guayaquil; Writing by Daniel Wallis; Editing by Diane Craft)
Popular in the Community