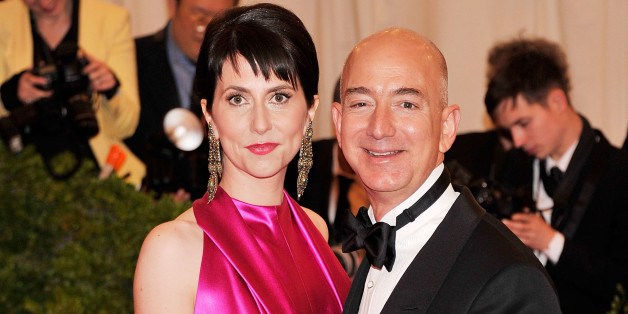 In 12 years, MacKenzie Bezos has written just three book reviews on Amazon.com, the site founded by her husband, Jeff. She gave five stars to novelist Ethan Canin's Carry Me Across the Water, five stars to Carole Glickfeld's novel Swimming Toward the Ocean and one star to The Everything Store, a biography of Jeff Bezos written by Businessweek reporter Brad Stone. This book, according to MacKenzie, is also a work of fiction.
Stone's work contains "too many inaccuracies" and is "full of techniques which stretch the boundaries of non-fiction," MacKenzie wrote in a 922-word review posted Monday, which might be well on its way to becoming the most famous review in Amazon history. The ultimate effect, she said, was a "lopsided and misleading portrait."
MacKenzie's review is noteworthy not only for what it says, but for how it was written: She used the same review system available to everyone else, and let hers stand as just one review out of many. Of course, hers has attracted an unusual amount of media attention. But while any number of publications would have been eager to publish a scathing op-ed by the wife of Amazon's CEO, she chose to let her voice be carried by the same vehicle as everyone else's.
"I am grateful this is the era of the Internet, when characters in non-fiction can step out of books, as [former Amazon employees] Jonathan Leblang and Rick Dalzell have done, and speak for themselves," MacKenzie wrote. "If authors won't admit they've crossed this important line, their characters can do it for them."
It's also a brilliant marketing maneuver that positions Amazon's review section as a powerful platform for subjects and "characters" to correct the record when they find it necessary.
MacKenzie, an author herself, knows a thing or two about stringing words together. Toni Morrison, who was MacKenzie's creative writing professor at Princeton University, has called MacKenzie "really one of the best" students she has ever had in her creative writing classes. And Mackenzie's review stings.
Her quibbles with Stone begin with the first chapter. She takes issue with his timeline of events, saying that Jeff read The Remains of the Day -- a novel Stone claims shaped Jeff's thinking about the company -- a year into the venture and not before starting Amazon. She also faults Stone for failing to include the praise Amazon has received from its customers and employees. And she criticizes him for suggesting, with terms like "Bezos felt" and "Bezos fixated," that he had access to Jeff's internal thoughts and deliberations -- when in fact Bezos did not grant an official interview for the book. (Stone had interviewed him separately during the course of more than a decade reporting on the company.)
Stone has countered that his book relied on more than 300 interviews with Amazon insiders, and said he presents an account far more impartial than one MacKenzie could provide. "I am less biased than Jeff's own wife," Stone told New York Magazine on Monday. John Rossman, a former Amazon employee, called Stone's book "balanced" in a recent review.
In the hours since MacKenzie posted her pan, Amazon readers have been busy reviewing her review, and have spared her none of the vitriol that Internet commenters regularly hurl at one another. One called it "another case of Internet-mogul wife (Facebook) PMSing."
But on the whole, Amazon's army of commenters seems to agree that although MacKenzie is biased, her critique has merits for focusing squarely on facts, which should be consistent no matter whose lens you're looking through. At most recent count, 1,803 of 2,002 people have "found the following review helpful," according to Amazon's ranking system.
"It seems to me that yes there obviously would be bias but she avoids it by sticking to the facts," one commenter wrote. Another weighed in, "The authors are entitled to their own opinions, but they are not entitled to 'their own facts.'"
While MacKenzie might not have been privy to all of her husbands' dealings, her critique has gotten support from two of Jeff's former colleagues, who also questioned the accuracy of Stone's reporting.
"While I found it rather interesting, lots of stories are missing or just inaccurate," Rick Dalzell, Amazon's former chief information officer, wrote in a three-star review. He dubbed the book "an incomplete and somewhat unbalanced telling of Jeff's and Amazon's story."
Blogs and social media have long offered the subjects of stories and books a way to respond to criticism without an intermediary. When The New York Times' Nick Bilton reported last year that Twitter co-founder Jack Dorsey was "difficult to work with," Dorsey answered with a post on his Tumblr blog that intended to "clarify a few points." But using Amazon's platform to correct the facts goes a step further. It closely attaches a kind of digital footnote or correction to the work, and hits the author where it hurts -- in the review system that other buyers use to decide whether they'll buy a book.
Already, many Amazon users who've commented in the more than 70 posts appended to MacKenzie's review said her words have turned them off from buying The Everything Store.
Next up from MacKenzie: a self-published Kindle Single detailing all of the errors she found in Stone's work?
REAL LIFE. REAL NEWS. REAL VOICES.
Help us tell more of the stories that matter from voices that too often remain unheard.
BEFORE YOU GO
PHOTO GALLERY
Inside One Of Amazon's Mind-Boggling Warehouses