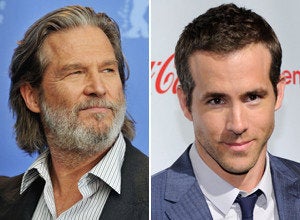 In "True Grit," Jeff Bridges went back in to enforce the law in the wild west. For his newest role, he'll be gunslinging in a whole new frontier.
The Wrap reports that Bridges has sealed a deal to join Ryan Reynolds in the supernatural lawman film, "R.I.P.D.," a big screen adaptation of the graphic novel by Peter Lenkov.
"R.I.P.D." features the story of a police officer, who, slain in the prime of his career, is recruited to join the Rest In Police Department, the ghost world police force. He signs up for 100 years duty in exchange for the chance to find his killer. Bridges would play his ghost police partner, an old pro who's been on the beat since the 1800's.
The deal comes down about a month after reports first came out that Bridges and Universal were in early talks about the role; at one point, Zach Galifianakis was slated to play the part, though he dropped out when Reynolds' scheduling uncertainties threatened to hold up production.
Still, getting Bridges is something of a coup for Universal; in putting together Bridges, a recent Best Actor Oscar winner and a man beloved by indie and mainstream fans, and Reynolds, a current heart throb who is starring in perhaps the summer's biggest film, "Green Lantern," they've assembled a top line pair that can appeal to all viewers.
Popular in the Community