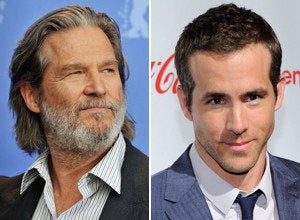 Jeff Bridges, living screen legend, is about to dive into the world of the living dead. There, he'll meet the Sexiest Man Alive. Who is dead, but then alive. Confused?
The Oscar-winner is in talks to join Reynolds in the upcoming film adaptation of "R.I.P.D.," a graphic novel by writer Peter Lenkov. Deadline reports the talks, in the early stages, would place Bridges in a role abandoned by Zach Galifianakis when Reynolds was unsure if he'd be able to do the film.
"R.I.P.D." features the story of a police officer, who, slain in the prime of his career, is recruited to join the Rest In Police Department, the ghost world police force. He signs up for 100 years duty in exchange for the chance to find his killer. Bridges would play his ghost police partner, an old pro who's been on the beat since the 1800's. Coincidentally, Bridges' most recent role was that of an 1800's police officer, Rooster Cogburn of "True Grit."