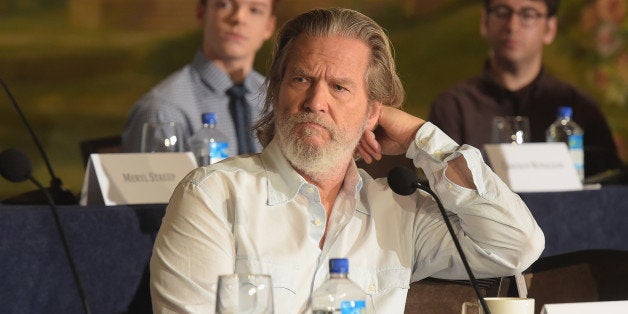 Jeff Bridges is the latest star to eulogize Robin Williams in the wake of the beloved comedian's death. Bridges took a moment at the start of Tuesday morning's press conference for "The Giver" to express his adoration for the late actor.
Bridges and Williams starred in 1991's "The Fisher King," for which Williams received an Oscar nomination and both earned Golden Globe nods. Twenty-three years later, Bridges called the combination of finally bringing the long-gestating "Giver" to the big screen and mourning his friend's death "remarkable."
"It reminded me of what The Giver and The Receiver might have felt," Bridges told a room of New York reporters, referring to the characters in Lois Lowry's 1993 novel. Williams and Bridges shoot a scene from "The Fisher King."
Bridges recalled the previous evening, when he again memorialized Williams at the premiere party for "The Giver." He and his wife pulled up to the Central Park Boathouse, where the event took place, and while gathering themselves, the 64-year-old actor spotted a figure resembling Williams.
"I look out of the window, and I say, 'What? Is that Robin? Is that his ghost?' No, it's Radio Man," Bridges recalled, referring to the nickname of Craig Castaldo, a New York City homeless man who became a celebrity himself by making cameos in dozens of movies and TV shows. Radio Man, who's been said to bear a resemblance to Williams, famously became chummy with the comedian after they met on the set of "The Fisher King." He once attended the Oscars as a guest of Williams, and in other years accompanied Williams' friends Billy Crystal and Whoopi Goldberg to the ceremony.
Bridges stepped out of his vehicle to embrace Radio Man, which he said conjured up a flood of memories.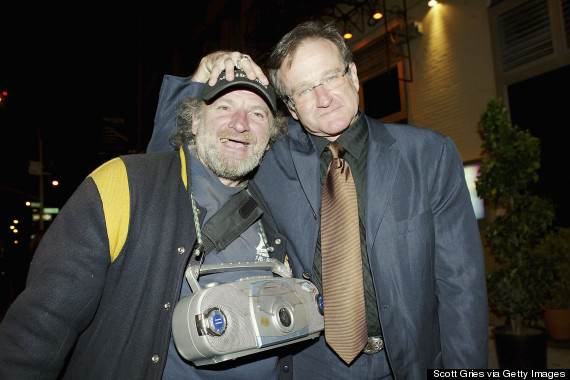 Radio Man and Williams attend the Tribeca Film Festival in 2004.
"It brought back all these wonderful feelings of what an amazing time we had together here in New York shooting 'The Fisher King.' [...] Radio Man, he knows where all the movies are shot somehow -- I don't know how he magically does that. I remember seeing Radio Man, and he could not believe that Robin's character was there in the flesh, in reality. There he was. And so we embraced Radio Man. I felt Robin's spirit as I'm feeling him now in this room with us.
"Just before I came down, I'm looking out my window to Central Park -- my favorite part about New York -- and remembering the last scene of [laughs] me and Robin out there at 4 o'clock in the morning, nude -- naked! -- and Robin is just wild and free. He's just, 'Let the wild pony dance!' He's rubbing his butt on the grass and saying, 'You know why dogs do this? Because they can!' So wild. I just had to share that because that's what's going on so strongly and how much I miss him, and I'm sure you guys do, too. What a gift he was to all of us."
REAL LIFE. REAL NEWS. REAL VOICES.
Help us tell more of the stories that matter from voices that too often remain unheard.
BEFORE YOU GO
PHOTO GALLERY
Robin Williams' Most Memorable Movies