So when the good people of Pittsburgh head out for the Benedum Center later this week to catch the North American touring company of Disney Newsies, will they be seeing an exact duplicate of the Tony Award-winning show that ran for 2 1/2 years on Broadway?
Nope. And you have Thomas Schumacher, the president of the Disney Theatrical Group to thank for that.
"Look, no one ever walked out of a theater saying that a show was too short," said Jeff Calhoun, the director of Disney Newsies. "And Tom Schumacher? He's not a guy who settles. Tom wasn't satisfied with just cloning the Broadway production of this show and then sending it out. So he turned to Harvey (Fierstein, who wrote the book for the stage adaptation of this 1992 Walt Disney Pictures release) and Jack (Feldman, who wrote the lyrics for the film & the stage version of Newsies) and Alan (Menken, who wrote the Tony Award-winning score for this show) and myself and Chris (Gattelli, who also won a Tony for choreographing Newsies) and said 'Listen. This is your shot. If there's anything that you want to do, let's do it now.' "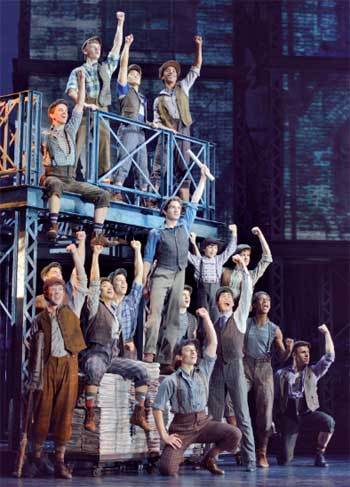 And as it turns out, the Newsies creative team did have a punch list of things that they'd wanted to tweak about this show. Take -- for example -- the character of Crutchie.
"In the original Broadway production of Newsies, Crutchie was front and center in Act One in this show. Which is understandable, given that this character is supposed to be Jack Kelly's best friend. And when Crutchie gets snatched by Snyder and then gets taken back to the Refuge, everyone in the audience feels bad," Jeff explained. "But then this character stayed off-stage for most of Act Two. So when Crutchie came back at the end of in the original version of the Broadway production of Newsies, people were like 'Oh, yeah. I forgot about him.' So we did some work to remind the audience about Crutchie and to complete that character's arc in the second act."
And how exactly did Calhoun & Co. do that? By giving Crutchie his very own number in Act Two.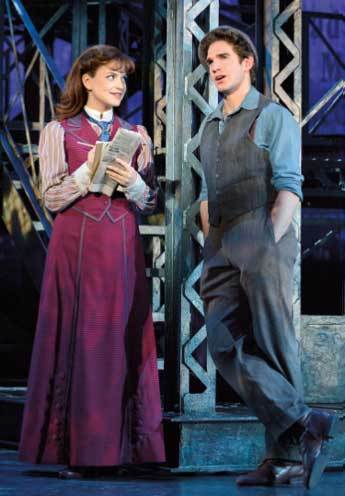 "'Letter from the Refuge' isn't a particularly elaborate number. It's just Crutchie in his bed after-hours at the Refuge writing a letter to Jack. But the new song that Alan & Jack wrote for this character has done exactly what it was supposed to when it comes to the audience on the road," Jeff continued. "It's reminding them that Crutchie actually wound up in that hellhole because Jack Kelly and the newsboys went on strike. More to the point, because Kelly knows from personal experience how terrible the Refuge is, Jack realizes that Crutchie won't last long in an awful place like that. So thanks to this new song, the second act of the North American touring company of Disney Newsies has an emotional urgency that the original Broadway version of this show didn't. The Jack character is now under increased additional pressure to compromise. End the newsboy strike as quickly as possible. Otherwise Crutchie might die in that place."
"That's what I like about all the changes and the trims that we've made to the touring version of Newsies, " Calhoun stated. "So many times when you see the touring version of a musical, it's just this cut-down version of the original Broadway show. But Disney didn't want to do that with Newsies. Tom was adamant about that. He wanted to the touring version of this show to be as good as -- if not better than -- the Broadway version."
Which -- given Newsies mammoth metal set (i.e., 3 three-story-tall movable towers that have to represent everything from the tenement rooftop that Jack & Crutchie call home to Medda's theater to the sub-basement of The World's publishing plant) -- was something of a challenge.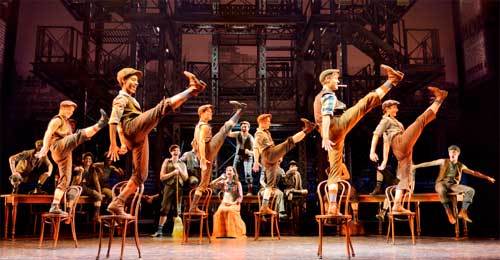 "I actually think that's why Disney held off on touring this show for a few years. They first had to figure out how we travel with six tons of scaffolding. Because each of those towers weighs two tons. And since we didn't want to creatively compromise the North American touring company of Newsies, this version of the show has three towers. We have the same exact footprint as New York," Jeff said. "The only difference between the set for Broadway version & the touring version of Newsies is that the folks at Hudson Scenery made the touring version of those towers so that they could be taken apart and then get put back together very quickly."
"We had some NASA-level brains working on that problem," Calhoun laughed. "Because when you're touring with a full-sized recreation of a Broadway show, the economic reality is that you can only have so many trucks. So you have to find clever ways to make things work. Take -- for example -- all the scenes that are set inside of Medda's theater. The proscenium that we used in the Broadway version of Newsies for that part of the show was a very heavy wooden piece. Which just wouldn't work on the road. So Tobin Ost -- the set designer for Newsies -- took that large wooden set piece and turned it into curtains. And you know what? As a direct result of that weight-driven change, swapping out that heavy wooden proscenium for curtains, Medda's scenes in the touring version of this show are that much more beautiful."
But the changes that have been made to the North American touring company of Disney Newsies haven't been restricted to just the show's songs and sets. Given that most of the performers that Jeff picked for the touring cast are new to the show, he took this opportunity to work with Christopher Gattelli to tweak this acclaimed musical's choreography & blocking.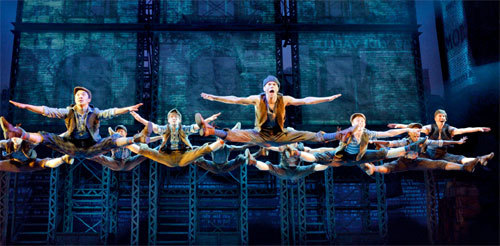 "Look, Chris & I created the blocking and the choreography for the Broadway version of 'Newsies' from the DNA of the original cast. And now with the North American touring version of the show, we have a different cast and a different DNA. And when you ask performers to just duplicate exactly what someone else did ... Well, you're just going to wind up with a pale imitation," Calhoun continued. "Which is why the stage pictures that Chris and I created for the touring company of Newsies will reflect the new company as will the choreography and the blocking. Mind you, we're not looking to destroy what worked about the Broadway version of Newsies. That'll still all be there. We just also want the touring version of this show to make the most of the talents of this particular version of the cast."
That's the real fun of talking with Jeff Calhoun about Disney Newsies. The obvious pride that he takes in having staged a show in NYC that allowed 32 different kids to make their Broadway debuts.
"I mean, when I look up onstage and see the young man who's playing the role of Race in this, I can't help but think that that's how old I was when I first began dancing professionally. I was in 'Anything Goes' with Ann Miller. That's the show I got my Equity card on," Calhoun recalled. "So there's not a day that goes where I don't see myself in these kids. And that -- to me, anyway -- is a huge part of the appeal of Newsies. That, as you're watching this show and seeing all those energetic young people up there on stage, this is the future of live theater right there in front of you. It's very moving. Even talking about it now, I get very moved."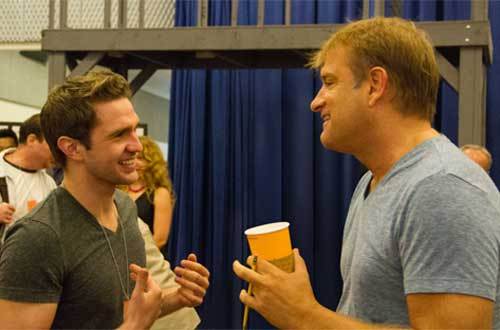 Another aspect of being associated with this Disney Theatrical Production that Jeff really enjoys is the letters & e-mails that he gets from dance studios & instructors from all over the country who share stories about all the boys and young men who have been coming and and signing up for classes. All because they want to someday perform in a show like Newsies.
"You know, I'm of the generation that -- when I was a kid growing up in the suburbs of Pittsburgh -- it was A Chorus Line. That was the show that we all dreamed of going to New York and appearing in. So to have been a part of creating something that excites those kids who are out there now in the suburbs of middle America, makes them dream of coming to Broadway someday ... It's honestly hard to put into words," Calhoun stated.
"But I will say this much: You can already see the impact that Newsies has had. Back when we were initially casting the pilot production of this show -- you know, the one we did at the Paper Mill Playhouse back in 2011? -- we had a very hard time casting this show because no one knew yet what Newsies was all about. So we really had to beat the bushes to find dancers who could do this show," Jeff continued. "But when it came time to put together Newsies North American tour, this time they found us. As soon as that casting call went out, dancers came from all over the country. It was actually kind of heartwarming to see. You can't say that about every show."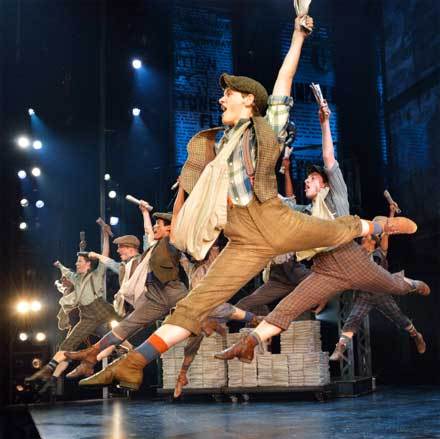 So as Newsies gets ready to make its Pittsburgh debut, will Calhoun be there, playing his local-boy-made-good card? To be honest, given that Jeff needs to get to work on his next project (which will be -- I kid you not -- a 90 minute-long stage revue for the Rio Casino & Hotel in Las Vegas which will based on that A & E reality series, Duck Dynasty), this director / choreographer wasn't sure when we last talked.
"That's just the nature of this business. You really want to be in the moment, to savor the success, but then it's time to move on to your next gig," Calhoun concluded. "There's just no rhyme or reason to this business. The shows where you have high expectations, you're often disappointed. And vice versa. That's why you treat each one the same. You love every show like your own kids and let the chips fall where they may. You work just as hard on the flops as you do the hits. It's a miracle that it ever works, to be candid with you."