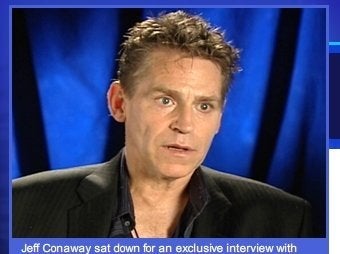 'Celebrity Rehab' fixture Jeff Conaway can't kick his prescription drug habit and wants to die at home, his girlfriend, Vikki Lizzi, tells E! News.
"This is just devastating," Lizzi said. "I tried to save him from himself by trying to get him help...He wants to die at home. He knows the meds are killing him. He can't get off them."
The former 'Grease' star, 59, is even telling Lizzi about what he imagines for his funeral.
"He's talking about being burned on a boat and sent out to sea like a Viking funeral. It sends chills up my spine," she said. "We're all trying to save his life, and he's not listening."
Two years ago Conaway said that Scientology, which his 'Grease' costar John Travolta introduced him to, helped him get clean. Lizzi told E! that Travolta sent Conaway flowers this week and Dr. Drew has been consulting with him, but he is stubborn and needs and intervention.
REAL LIFE. REAL NEWS. REAL VOICES.
Help us tell more of the stories that matter from voices that too often remain unheard.