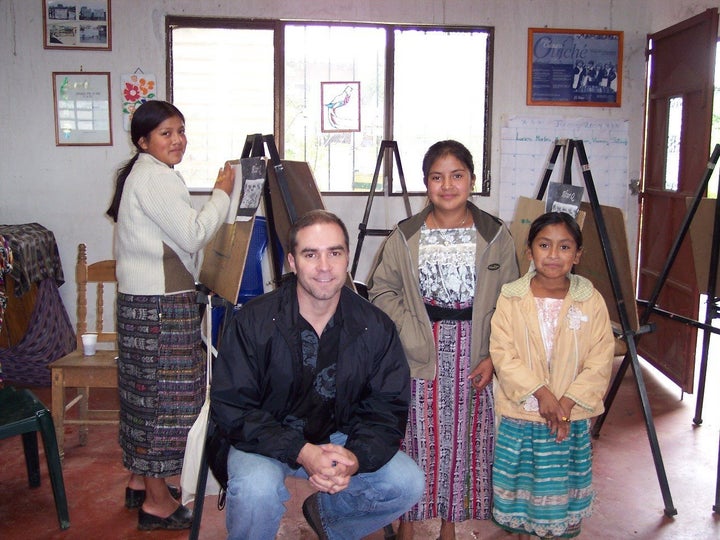 Though he's long been considered a proponent for lesbian, gay, bisexual and transgender (LGBT) rights, Jeff Cotter is the type of activist who prefers to show strength in solidarity.
"I believe we're really living in a time when we need to expand the definition of what 'home' is," Cotter said. "We need to realize that the entire planet is our home and that everyone is our family. It's the belief that we're separate from each other that allows for so much disparity to take place."
Cotter is, of course, describing the principles behind the Rainbow World Fund, his San Francisco-based, all-volunteer LGBT humanitarian service agency. Founded in 2000, Rainbow World Fund's aim is unique in that it emphasizes global philanthropy rather than any LGBT-specific cause -- something which Cotter believes fosters a stronger sense of unity with both rival organizations and the world at large.
"It's not about taking away from the LGBT community; we're giving our community an opportunity to reach beyond its borders," said 48-year-old Cotter, who had just returned from a ten-day group tour of Guatemalan orphanages and schools when he spoke with The Huffington Post. "My hope is that it allows us to express our love and compassion for the world, and connect with the world in a new way … and in doing so, build a lot of bridges and change misperceptions about who we are as a community."
Take a look at Rainbow World Fund volunteers at work, then scroll down to keep reading:
PHOTO GALLERY
Rainbow World Fund
In the eleven years since establishing the organization, Cotter and his team of volunteers have certainly left their philanthropic mark both locally and abroad. Having previously funded projects aimed at improving nutrition and access to drinking water in Haiti, the Rainbow World Fund reportedly donated $50,000 to survivors of last year's devastating 7.0 earthquake in Port-au-Prince. In addition, Rainbow World Fund partnered with disaster assistance group CARE to raise money to provide food and other supplies to Haitian victims. That partnership with CARE is also at the core of one of this year's biggest projects, the LGBT Africa Famine Fund, which is aimed at providing emergency aid to refugees in drought-ravaged Somalia, Kenya, Uganda and Djibouti.
Of course, Rainbow World Fund's work isn't just international -- the U.S. Disaster fund is dedicated to providing assistance to victims of this spring's violent tornado outbreak in various southern states as well as in Joplin, Mo. Additionally, plans for the group's spectacular end-of-the-year project, the World Tree of Hope, are already underway. In what has become a San Francisco tradition, the World Tree of Hope is a 20-foot holiday fir decorated with origami cranes and stars inscribed with contributors' wishes and hopes for the future of the world (both President Barack Obama and U.S. Secretary of State Hillary Clinton have participated in previous years).
"It's a way for both LGBT people and straight people to come together in unity and create something beautiful," observed Cotter, who also works as a psychiatric social worker specializing in trauma recovery and HIV/AIDS case management. "It also helps people think more deeply about their personal role in creating change."
When asked about how his own interest in humanitarian work came about, Cotter, who was adopted in England at just four months old, said he "always wondered what happened to children who weren't adopted." In addition, he noted, "I grew up at a time when we were always told to clean our plates because of the starving children in Africa. So those starving children in Africa … what about them?"
In future years, Cotter said he hopes the group will expand to include full-time staff. He shrugs off the suggestion that the group's donations might not be welcome in regions with limited rights for LGBT citizens. "Our help is not contingent on a region's support of an LGBT rights agenda … we believe aid should be given freely."
For more information on the Rainbow World Fund, click here.
REAL LIFE. REAL NEWS. REAL VOICES.
Help us tell more of the stories that matter from voices that too often remain unheard.