 "The Big Lebowski" tells the story of Jeff "The Dude" Lebowski, a lovable slacker with a taste for the milk cocktail and a habit of hanging out with his two friends Donny (Steve Buscemi) and Walter (John Goodman) at a bowling alley. His life gets turned upside down when he's mistaken for another Jeff Lebowski -- also known as The Big Lebowski.
Dowd is everything a "Lebowski" enthusiast would hope. His speech is muddled and, at times, inaudible. He laughs often and refers to himself as The Dude. He goes on long-winded tangents, speaking with intelligence, but randomness, on everything from the Irish revolution to his past friendship with Jane Fonda to Boy George's given name. Unprompted, Dowd volunteers, "The reason I'm not an actor is because in fourth grade I played a f--king tree in a play and I blew my lines."
It's a good thing that a young Dowd failed in his breakout role as a tree. Had he become an actor, he may have never met the Coen brothers in the capacity that he did and there may have never been a "Big Lebowski." Dowd worked behind-the-scenes with the famed directors on the 1984 crime film, "Blood Simple," during which time Dowd got to know Joel and Ethan Coen. "[The Coen brothers] spent a lot of time with me and I'm a real easy target," Dowd explained on a phone call from his home in California. The directors' experience with Dowd led the duo to write the script for "The Big Lebowski" with a focus on the Dowd-inspired character Jeff Lebowski (Bridges).
"They called me up and said we're doing this movie," Dowd said. "I said, 'Oh, sh-t' because now I've lost some weight, but at that point I was a little heavier and the thought was that it would be [John] Goodman or some larger-than-life buffoon, some Hollywood ne'er-do-well buffoon. They said, 'No, don't worry, Dude. It's Jeff Bridges. We're playing it the other way.'"
While Bridges emulated Dowd in his portrayal of Lebowski, Dowd has taken a point or two from the movie himself. When asked if he would participate in this interview, Dowd said, "Absolutely not," before laughing. "Of course, of course," he said. "As you know, The Dude abides."
As far as Dowd is concerned, it wasn't hard for Bridges to play him. "Lemme say something about Jeff. I'm born on November 20, 1949, Jeff is born on December 3, 1949," Dowd said. (The Dude was just one day off -- Bridges was born on Dec. 4.) "This means, every time he heard a song for the first time growing up, whether it was in sixth grade, or eighth grade, or tenth grade, that was the same day I heard it for the first time. So we're very closely hooked ... and he's a stoner too, so it wasn't a stretch for Jeff to play me. In terms of philosophically, spiritually, all that kind of stuff, that's who he kind of naturally is."
"The body language is one hundred percent me in the movie," Dowd said of Bridges' Dude. "Do I drink White Russians all the time? No. I drank White Russians the same way when you were in college, one month or one season was Tequila Sunrises and the next time was Harvey Wallbangers and then White Russians. The reason it was White Russians is you could have a lot more fun with a White Russian than you can with say, a vodka soda."
As for the bowling? Dowd only partakes in the sport occasionally, "maybe a dozen or a half-dozen times" in his life.
"Things like that are things that Joel and Ethan [Coen] put in there for satire, but barely," Dowd said.
When "The Big Lebowski" was released in 1998, it was in no way the celebrated film that it has become today. The movie was praised by some critics -- The New York Times wrote, "The Coens' ensemble players are as funny and harmonious as they've ever been here" -- but others couldn't get on board with the movie's profanity or the character of Lebowski.
Dowd blames something else entirely. "One of the reasons people had problems with the film when they first saw it is it has an existentialist third act," he said. "The characters don't exactly arc, there's no emotional climax."
So why did "The Big Lebowski" sustain all these years?
"It's a buddy movie at heart, a friends movie at heart," Dowd said. "The thing about The Dude is, I always ask people.. people come up to me and say, 'God, well, thank you, cause the movie's about you.' And I say 'Well, what do you like about The Dude so much? He's a f--king slacker.' They say, 'He tells it like it is and he is loyal to his friends.' That's one of the reasons that movie is a big movie, and survived, is people like that whole thing.'"
"Virtually every actor who's ever met me, from Redford to whoever, they all like to do 'The Dude.'" he said. "Harrison Ford comes up to me at some event and goes, 'Wow, I heard you were here! I want to meet you.'"
Luckily for Dowd, he has no problem living his life tied to The Dude audiences fell in love with in "The Big Lebowski." "Here's my whole take on the whole 'Big Lebowski' thing," he said. "It's a great gift to me. I can go anywhere in the world and when people see me, I'm automatically their friend."
"On a more fundamental level," he added. "it allows me to go to a college campus [to speak]. It allows me to have an audience but also they'll party with me afterwards."
While he developed his adventurous spirit and love of a good time, Dowd's nickname of The Dude dates back to his childhood. "My last name's Dowd so everybody used to riff on it," he explained. When he started getting called "Dude" in one circle of friends, "without telling anybody [else], everybody starts calling me The Dude."
"It came very naturally as a nickname, it is not a self-appointed nickname."
But as we all know, if someone wants to call Dowd "The Dude," The Dude abides.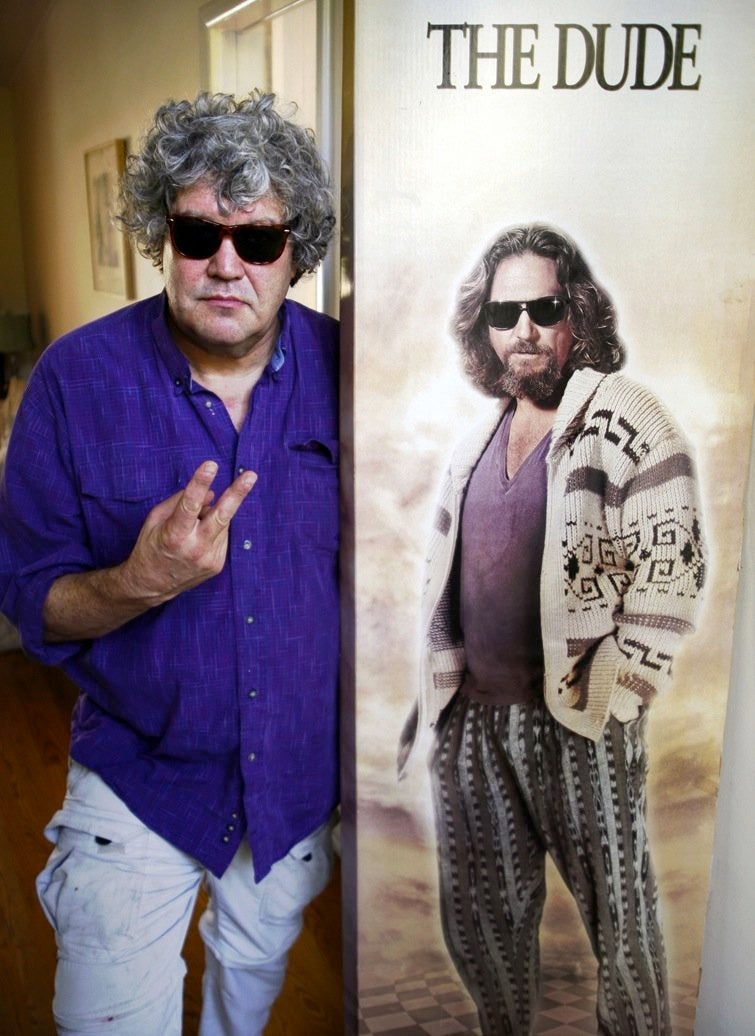 Jeff Dowd
Popular in the Community