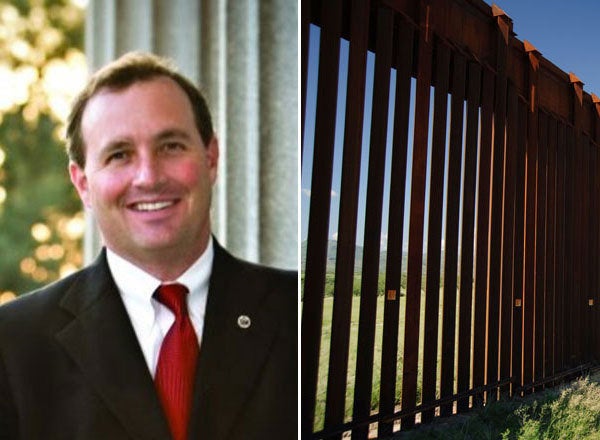 Rep. Jeff Duncan (R-S.C.) is on the defensive after making a controversial immigration comparison.
The South Carolina congressman participated in a Q&A event with Furman University students on Monday evening. The appearance generated national attention after he made an unusual tie between United States immigration issues and a house without doors.
"It's kind of like having a house -- and you're not homeowners, a lot of folks in this room, but your moms and dads are -- taking the door off the hinges and allowing any kind of vagrant, or animal, or just somebody that's hungry, or somebody that wants to do your dishes for you, to come in. And you can't say, 'No you can't come in.' And you can't say, 'No you can't stay all night.' Or 'No you can't have this benefit, using my deodorant.'"
Duncan's camp was quick to clarify the remarks. Spokesman Allen Klump told Easley (S.C.) Patch that the freshman congressman's statement was not intended to link undocumented immigrants to animals:
"Congressman Duncan was simply saying what South Carolinians already know, that securing our borders is just like securing our homes. A border with no fence is like a house with no doors, where anyone or anything can come and go as they please. Congressman Duncan believes we have to secure our borders and enforce our immigration laws. As recently as two weeks ago, the Congressman introduced a bill pointing out the need to secure our Southern border from the terrorist threat coming from Iran."
Democrats were among the critics of Duncan's comments. State Democratic Party Chairman Dick Harpootlian told the AP that the GOP congressman's words warrant an apology.
Passed in June, South Carolina's immigration law is slated to go into effect on New Year's Day. Police officers will have the power to question the immigration status of individuals stopped on suspicion of other offenses. On Monday, the Justice Department filed a lawsuit against the initiative -- a move employed against similar laws in Arizona and Alabama.
CLARIFICATION (11/2/11, 2:15 p.m. ET): An earlier version of this piece noted that Rep. Duncan delivered a speech at Furman University. The congressman's remarks were made at a Q&A event with students.
Popular in the Community