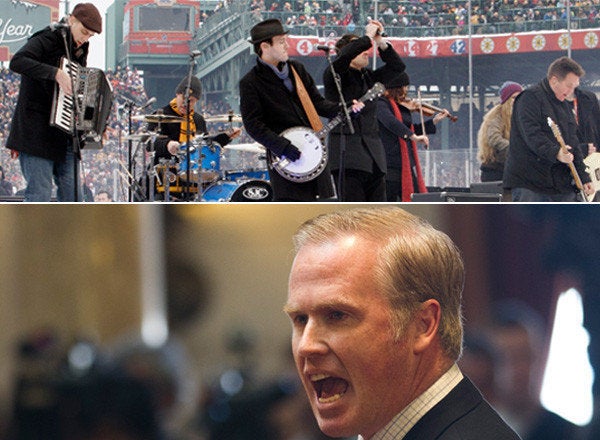 WASHINGTON -- When you're a politician, it's tough enough to pick songs to play at your campaign events that send the right message and rev up a crowd. But if you're a Republican, that task is more difficult, since there are so few conservative musicians who will let you use their music.
The punk rock band is a strong backer of the labor movement in Wisconsin and even recorded a song supporting the protests last year against Gov. Scott Walker (R).
On Sunday, the Dropkick Murphys put up a Facebook message, mocking and condemning Fitzgerald for using the song.
"The stupidity and irony of this is laughable," the band wrote. "A Wisconsin Republican U.S. Senate candidate - and crony of anti-Union Governor Scott Walker - using a Dropkick Murphys song as an intro is like a white supremacist coming out to gangsta rap!"
Fitzgerald told The Huffington Post on Monday that he was surprised the band was even aware that he had used the song at the convention over the weekend, chalking it up to the power of social media. And as a fan of the song with an Irish last name, he said he meant no harm.
"I like their music, and that's the song from 'The Departed.' I always liked the beginning of that song. My last name is Fitzgerald," he said. "We Republicans don't have a lot of songs we can choose from. I thought I'd bring a little energy to the convention, and obviously it's causing quite a stir. So I was a bit surprised by it actually."
He added that he would stop using the song, since it seemed to have caused a fuss.
"If they're that upset by me using it, I don't want anyone to get angry or bent out of shape. So I won't use it anymore," he said.
At the convention, none of the four men vying to be the GOP's nominee for U.S. Senate received enough votes to gain the party's endorsement. Fitzgerald, however, received the most votes. The winner of the August primary will face Rep. Tammy Baldwin (D-Wis.) in the general election.
Fitzgerald said he believed the convention results would help him, especially since former Gov. Tommy Thompson and businessman Eric Hovde -- both of whom were seen as strong candidates -- were knocked out in the first round of balloting.
"I think it's going to help me. Obviously it doesn't hurt," he said. "I think it was something that our campaign kind of needed. It's been tough raising money in Wisconsin right now with all the recalls going on."
Watch "Shipping Up To Boston" by the Dropkick Murphys:
Popular in the Community