"When we band together and tell our stories, we can change the future of this country," Ana Maria Archila said in a statement calling Kavanaugh's confirmation a "sham process."
"We have told the truth about sexual predator Brett Kavanaugh. We have made clear the Republican Party has no respect for our bodies, our choices, or our voices," said Archila, executive director of the Center for Popular Democracy.
She had not spoken out about her sexual assault before the confrontation, which CNN caught on camera. Archila and another woman, Maria Gallagher, a recent college graduate, stopped Flake and his aides before the elevator doors could close and laid into him for potentially supporting Kavanaugh.
"What you are doing is allowing someone who actually violated a woman to sit on the Supreme Court!" Archila shouted at Flake. "What are you doing, sir? This is the future of our country!"
Gallagher demanded Flake not avert his eyes. 
"Look at me when I'm talking to you!" she shouted. "You're telling me that my assault doesn't matter."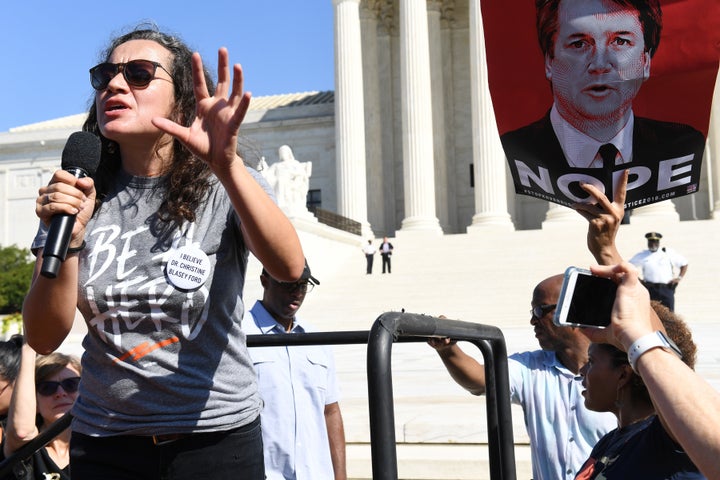 In an unexpected move, Flake, who is retiring from the Senate, pushed his Republican colleagues to ask the White House to open an FBI investigation into the accusations against Kavanaugh late last month. He said that the elevator confrontation "struck a chord" with him and he found the tension between Republicans and Democrats worrisome.
Yet Republicans said the completed FBI report contained no corroborating information, while Democrats blasted it as woefully incomplete because of tight restrictions the White House reportedly placed on the investigation. Flake ultimately voted yes on Kavanaugh.
After Saturday's confirmation vote, Archila said on CNN that she feels "we have elected officials that don't know how to listen," citing the number of people who showed up at senators' offices to speak with them.
"I was in that elevator deadly afraid that my children will have fewer rights than I do today," she added.
Kavanaugh's confirmation was thrown into disarray last month when the first sexual misconduct allegation against the judge was revealed. Christine Blasey Ford, a California professor, soon came forward as the accuser, saying that when they were teenagers in 1982, Kavanaugh pinned her to a bed and tried to remove her clothing while grinding against her. When she tried to scream, he covered her mouth, she said.
Two other women, Deborah Ramirez and Julie Swetnick, later came forward with allegations against Kavanaugh, all of which he denied.
Archila said in an op-ed piece for USA Today that she was inspired by Ford's courage to come forward and subsequently testify before the Senate Judiciary Committee.
"Women will not be silenced. Women will not be afraid. And on election day, women will vote," Archila said after Kavanaugh was voted onto the nation's highest court. "When we cast our ballots this November, we will elect true leaders who respect our bodies and our interests." 
Archila went on to commend those who protested ― many of whom were arrested ― at demonstrations on Capitol Hill and around the country, saying, "We're just getting started."
Kavanaugh's confirmation was all but guaranteed on Friday afternoon when Sen. Susan Collins (R-Maine) announced her support, joining fellow swing senators Joe Manchin (D-W.V.) and Flake. Sen. Lisa Murkowski (R-Alaska) was the lone Republican who joined Democrats in voting against Kavanaugh.
"In our resistance we exemplified the true spirit of popular democracy ― imaginative, informed and sustained participation by all of us," Archila said.
She concluded: "November is coming."
This story has been updated with Archila's comments to CNN.
Calling all HuffPost superfans!
Sign up for membership to become a founding member and help shape HuffPost's next chapter