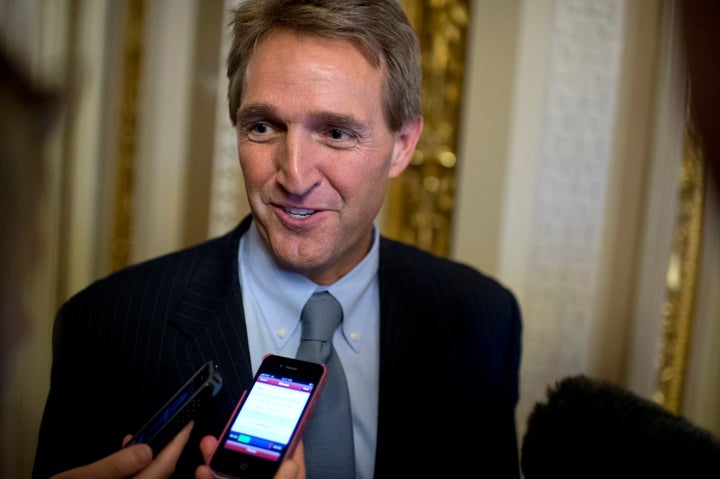 Republican Sen. Jeff Flake of Arizona had never been to a mosque before Friday.
But after GOP candidate Donald Trump called this week for a temporary ban on Muslims entering the country, Flake said he wanted to show the community he doesn't feel the same way. So he and his family, who are Mormons, visited the Islamic Center of North East Valley in Scottsdale, Arizona, where Flake said the people were "extremely welcoming."
Flake told HuffPost that after a sermon and prayers, the mosque's imam allowed him to share a "message of solidarity."
"We don't all feel the way a few politicians are talking," Flake said he told worshippers. He added, "Muslim-Americans have made huge contributions to this country, they've fought alongside people of other faiths in every one of the wars they've fought, they are responders."
Flake said he encountered "a few who said they were surprised that it was a Republican who reached out, but they were just very gracious about the whole thing."
Trump, the GOP presidential front-runner, has long said disparaging things about Muslims and a number of other groups. But he ramped up his rhetoric in the days after two shooters in San Bernardino, California, both Muslim, killed 14 people in what the FBI said it is investigating as an act of terrorism.
Many Muslims immediately decried the shooting, and groups and families around the country raised $100,000 for families of the victims.
Flake said some of the people at the mosque talked to him about the San Bernardino attack and how much it upset them.
"You have to feel for the Muslim-American community, with the suspicion that is cast after a violent event like happened in San Bernardino," Flake said. "They said over and over again, the ones that talked to me there, they are aghast and dismayed and very upset with what happened there."
Flake said he invited the imam to visit his own church services, and the imam promised he would.
 Flake said earlier this week that Trump's comments on barring Muslims from entering the country were "positively awful," but wouldn't say whether he would support Trump if he wins the GOP nomination. 
"He's not going to be the nominee," Flake told reporters at the Capitol on Tuesday.
Democratic presidential candidate and former Maryland Gov. Martin O'Malley also visited a mosque and community center on Friday -- the All Dulles Area Muslim Society in Sterling, Virginia.
By making his first trip to a U.S. mosque, Flake is ahead of another politician. President Barack Obama, according to Rep. Keith Ellison (D-Minn.), has never visited a U.S. mosque during his time as president.
PHOTO GALLERY
Interfaith Community Stands In Solidarity With American Muslims
Calling all HuffPost superfans!
Sign up for membership to become a founding member and help shape HuffPost's next chapter