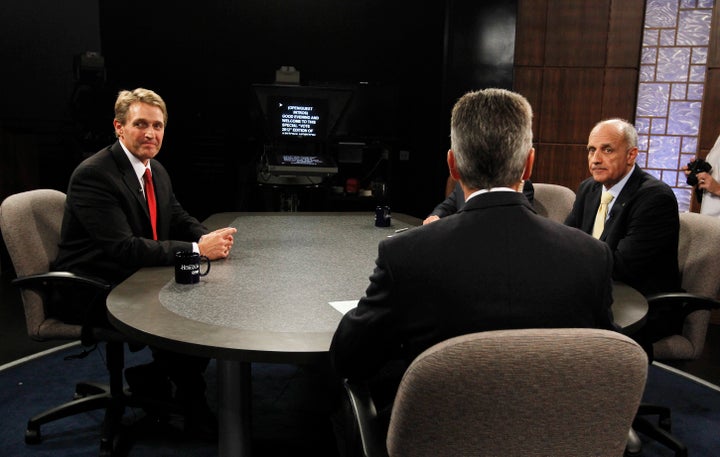 Jeff Flake, an Arizona Republican congressman running for U.S. Senate, said Wednesday he had not and would not sign the no-tax pledge from Grover Norquist's Americans for Tax Reform, even though the group says he already signed.
"The only pledge I'd sign is a pledge to sign no more pledges," Flake said at a debate with Democrat Richard Carmona and Libertarian Marc Victor. "We've got to ensure that we go back and represent our constituents in a way -- I believe in limited government, economic freedom, individual responsibility. I don't want higher taxes. But no more pledges."
Flake is listed as one of the 279 signers of the pledge against new taxes on the website of Americans for Tax Reform. The pledge is a promise to voters to "ONE, oppose any and all efforts to increase the marginal income tax rate for individuals and business; and TWO, oppose any net reduction or elimination of deductions and credits, unless matched dollar for dollar by further reducing tax rates."
But it often gets in the way of legislation, because any attempt to raise revenue can be interpreted as a tax increase -- putting pledge-signers in the awkward position of either thwarting debt-reduction efforts or breaking their word.
The debate showed an effort to shift toward the center for both Flake and Carmona. Flake emphasized his willingness to work with both parties, even though his record shows him consistently voting with his party. He said he is not a member of the Tea Party, although he is proud to have the conservative group's support.
Flake said he worked with Rep. Luis Gutierrez (D-Ill.) on immigration issues, but offered no legislation on the subject. Flake voted against the Dream Act, which would provide legal status to some undocumented young people, but said he supports a "version" of the Dream Act that would give states the option of charging in-state tuition prices to undocumented immigrants instead of out-of-state tuition. He is struggling with Arizona Latino voters, who by and large support immigration reform.
Carmona, meanwhile, emphasized his long history as an independent, saying he became a Democrat for this election because the Republican Party has gone so far right. He said he hopes to go bring change to the Senate.
Carmona said he would have voted against Obamacare as the law stands now, and would have instead encouraged Congress and the president to make adjustments. Republicans quickly pointed out that the statement contradicts previous statements that he would have supported health care reform, although he did say earlier that he would have wanted changes. Carmona said he stands behind the principle of health care for all, but does not view single-payer health care system as workable.
"The way it is, if the president and Congress was not willing to change it, I wouldn't have voted for it as is," Carmona said. "And the reason is I believe that it's unsustainable in the long run. ... But I'm fully behind the aspiration to make sure that every American has access to a basic set of health care benefits."
Calling all HuffPost superfans!
Sign up for membership to become a founding member and help shape HuffPost's next chapter
BEFORE YOU GO
PHOTO GALLERY
2012 Senate Race Polls