Sen. Jeff Flake (R-Ariz.) won't run for re-election in 2018, The Arizona Republic first reported.
Flake spoke about his decision on the Senate floor Tuesday, railing against the "appalling features of our current politics" and arguing that lawmakers should "never regard as normal the regular and casual undermining of our democratic norms and ideals."
"It is time for our complicity and our accommodation of the unacceptable to end," he said.
In a stunning takedown of President Donald Trump, Flake pleaded with his colleagues to "respect each other again in an atmosphere of shared facts and shared values" and called the president's behavior "outrageous" and "dangerous to democracy."
"I will not be complicit or silent," Flake said. "When the next generation asks us, 'Why didn't you do something? Why didn't you speak up?' What are we going to say?"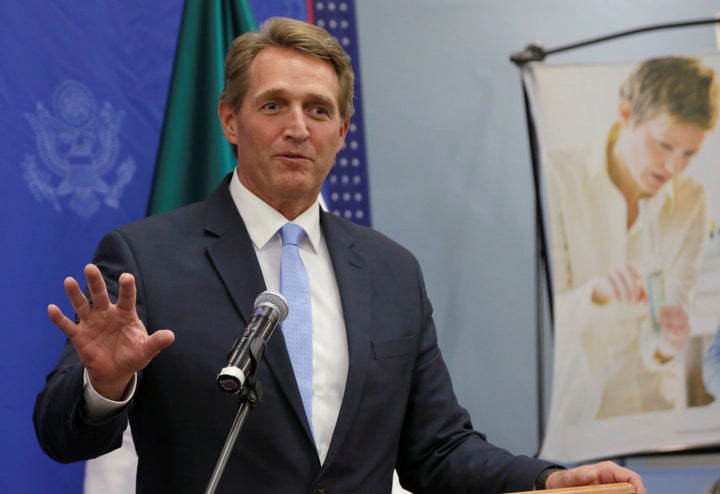 Flake, who said he would serve the remainder of his term, told The Arizona Republic that he feels out of step with today's GOP.
"Here's the bottom line: The path that I would have to travel to get the Republican nomination is a path I'm not willing to take, and that I can't in good conscience take," Flake told the publication. "It would require me to believe in positions I don't hold on such issues as trade and immigration and it would require me to condone behavior that I cannot condone."
"There may not be a place for a Republican like me in the current Republican Party," he said.
Flake was critical of Trump during the 2016 election, although he didn't outright condemn or campaign against the business mogul. Flake said in August 2016 that he had "little faith" Trump would change his ways and dismissed Trump's proposed wall along the U.S.-Mexico border as "a joke."
Flake and Trump have been more explicitly at odds in recent months. The senator published a book this year called Conscience of a Conservative: A Rejection of Destructive Politics and a Return to Principle, in which he takes on the president and the GOP, arguing that "conservatism is indeed in crisis."
In August, Trump attacked Flake in his home state and tweeted praise for the senator's would-be 2018 challenger, Kelli Ward. Flake alluded to the fiery back-and-forth in his speech on the Senate floor, saying "undignified behavior" has become interchangeable with "telling it like it is."
Ward celebrated Flake's announcement, tweeting that Arizona voters "are the big winner."
Flake's decision puts an additional layer of stress on the Republican Party for the 2018 midterm elections. Sen. Bob Corker (R-Tenn.), who has also feuded with the president, already announced he will not seek re-election next year.
Upon hearing of Flake's decision, Corker praised the Arizona senator's work.
"He's kinda quiet, but he stands for all the things that make our nation great and is willing to continue to say that even though we have demagogues and others who end up trying to take us in other directions," he said.
Sen. John McCain (R-Ariz.), who said on the Senate floor that it's been "one of the honors" of his life to serve alongside Flake, told reporters he was "sorry" to hear of Flake's decision.
"I'm very sorry it's happened," McCain said. "He's one of the most honorable men I've ever known."
Sen. John Kennedy (R-La.) told HuffPost that Flake was making "a personal decision."
"I've got a lot of respect for Jeff, and I haven't had a chance to talk to him about what his reason is," Kennedy said.
This story has been updated.
Popular in the Community