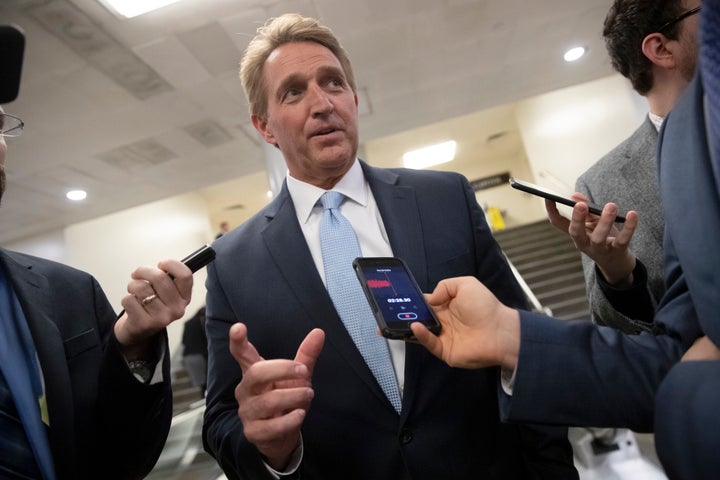 Sen. Jeff Flake (R-Ariz.) said he will not vote to confirm any more of President Donald Trump's judicial nominees until a bill to protect special counsel Robert Mueller and his investigation into possible collusion with Russian officials receives a vote in the Senate.
Flake, who is one of the president's biggest Republican critics in the Senate and is retiring at the end of this year, made the announcement shortly after Senate Majority Leader Mitch McConnell (Ky.) objected to Flake's unanimous consent request to bring the Special Counsel Independence and Integrity Act to a vote on the floor. 
The bill, authored by Sens. Chris Coons (D-Del.), Lindsey Graham (R-S.C.), Cory Booker (D-N.J.), and Thom Tillis (R-N.C.), passed in the Senate Judiciary Committee this year in a bipartisan vote of 14-7. The measure would make it harder for Trump to fire Mueller by requiring officials to have "good cause" to fire the special counsel. GOP leaders, however, have consistently maintained such protections are unnecessary because they do not believe Trump will fire Mueller.
"There has been no indication ... that the Mueller investigation will not be allowed to finish," McConnell told reporters earlier on Wednesday.
The Senate's efforts to shield the special counsel come amid Trump's intensifying attacks on Mueller, who is leading an investigation into Russia's interference in the 2016 presidential election. Trump has reportedly spoken several times about firing Mueller, whose probe Trump derisively refers to as a "witch hunt."
The push to protect Mueller took on more urgency after last week's ouster of Attorney General Jeff Sessions and his replacement by acting Attorney General Matt Whitaker, who is viewed as a White House loyalist and has attacked the Mueller probe. Legal experts and several top Democrats have questioned whether Whitaker's appointment was constitutional, given that he was never confirmed by the Senate.
"With the firing of the attorney general and, in my view, the improper installation of an acting attorney general who has not been subject to confirmation by this body, the president now has this investigation in his sights, and we all know it," Flake said in a speech on Wednesday, adding that he informed McConnell of his decision to oppose the president's judicial nominees on Tuesday.
While Flake will be able to slow down the pace of Trump's judicial nominations, he won't be able to block all of them by himself. Unlike in the Judiciary Committee, where Republicans hold a slim 11-10 majority, Flake's vote is less crucial in the full Senate, where Republicans have enough votes to confirm judges without him. However, if any other GOP senator joins Flake in opposing judicial nominations, the Senate would not see a vote on a judicial nominee before Jan. 3, when the next congressional session begins.
Sen. Susan Collins (R-Maine) last week renewed her call for the Senate to pass legislation that would protect the special counsel, but it's unclear whether she or any other GOP sponsor of the bill will join Flake in blocking nominees.
Twenty-one nominations are pending before the Judiciary Committee, according to Flake. Thirty-two other judicial nominations have already been reported out of the committee and are ready for a vote on the Senate floor.
Trump claimed credit for pushing Flake out of the Senate in a press conference last week. 
"I retired him. I'm very proud of it. I did the country a great service," Trump said at a press conference at the White House after the midterm elections.
Ryan Reilly contributed reporting.
Calling all HuffPost superfans!
Sign up for membership to become a founding member and help shape HuffPost's next chapter