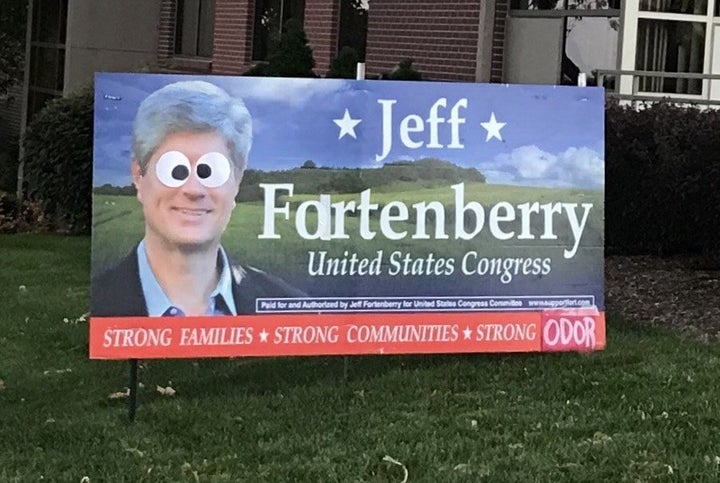 Less than 130 people pressed "like" on a Facebook photo of a defaced campaign sign depicting Rep. Jeff Fortenberry (R-Neb.) with googly eyes alongside a schoolyard reimagining of his name: Jeff Fartenberry.
The post wasn't threatening, nor was the sign itself worth much more than a polite guffaw. But if "Fartenberry" was juvenile, then Fortenberry's response to the post was downright fetal.
The sign was enough of a problem for the congressman's office that his chief of staff personally reached out to and then threatened one person who pressed "like" on the Facebook post depicting it.
That person is Ari Kohen, an associate professor at the University of Nebraska-Lincoln. As the Lincoln Journal Star reports, a Fortenberry campaign staffer took a screenshot of Kohen's dastardly Facebook like last Thursday, then notified the congressman's D.C. campaign office (and also, apparently, Kohen's employers).
The next day, Kohen received a call from Fortenberry's chief of staff.
In a recording of the call later posted to YouTube, Dr. William "Reyn" Archer III can be heard scolding Kohen for liking the post.
"What you're liking is vandalism," Archer says.
"No, I'm not," Kohen responds. "Your argument is that anything I like on Facebook represents an endorsement by me of the thing ― not the post, but the thing ― that is happening in the world?"
Kohen sounds perplexed. He asks why a sitting congressman is focusing his ire on a Facebook photo and why his office felt it necessary to report the act to Kohen's "immediate supervisor, dean and chancellor of the university." (The university confirmed to HuffPost that Archer reached out to all three via email.)
Archer goes on to threaten that he might make the whole thing public:
"We have a First Amendment opportunity to put you out there in front of everybody," he says. "We can do that publicly. Would you like that? That's our First Amendment right."
This week, Kohen decided to make the whole thing public on his own terms. He filed a report against Archer with the Office of Congressional Ethics on Monday and told his side of the story on Twitter on Thursday.
Kohen told HuffPost he's not sure what Fortenberry's office expected him to do after the call to rectify his egregious post-liking. But he does think they had an endgame in mind.
"His intention was to violate my First Amendment rights; to have a chilling effect on faculty speech. That's obviously hugely problematic by itself, and then he threatened me," Kohen told HuffPost by phone. "If you listen to the recording, it's very clear. It's worded as a threat, and the way he says it, it comes off as aggressive."
"If there wasn't this whole attempt to intimidate and threaten, if there wasn't a shooting at a synagogue the day after they called me, I wouldn't have thought anything about it," he said.
In an interview with the Lincoln Journal Star, Archer denied threatening Kohen and doubled down on the apparent criminal nature of the professor's Facebook like.
"He saw it as humorous; we saw it as a slippery slope to liking vandalism," Archer said.
There's no indication that Archer contacted anyone else who liked the post. In the phone call audio, Kohen repeatedly asks why he alone was targeted, and Archer answers that it's because he's a professor.
In an email to HuffPost on Thursday, Archer said the audio Kohen released only represented a small portion of their full conversation.
"In his Twitter post, the professor appears to have redacted large parts of our conversation, since it was 45 minutes long," Archer wrote. "[Kohen] followed up with a lengthy thank you note from him looking forward to future opportunities for dialogue and mutual collaboration."
Numerous other questions HuffPost sent to Archer went unanswered.
Kohen said he did indeed send a thank you email and "also asked why people in positions of authority are using that authority to try and intimidate people." He said he plans to release the full audio of the conversation soon.
Smear campaigns over polarizing social media posts have been a permanent feature of the current political landscape, but the right has been particularly successful in getting opponents ― big and small ― fired or otherwise disparaged for their past social media activity.
Local conservative politicians in Nebraska have had some success in going after the University of Nebraska-Lincoln, too. State senators Steve Halloran, Tom Brewer and Steve Erdman assisted in getting a graduate student fired over a confrontation with a member of the conservative student group Turning Point USA. The national drama that ensued from the initially minor kerfuffle was featured in an episode of "This American Life."
Popular in the Community