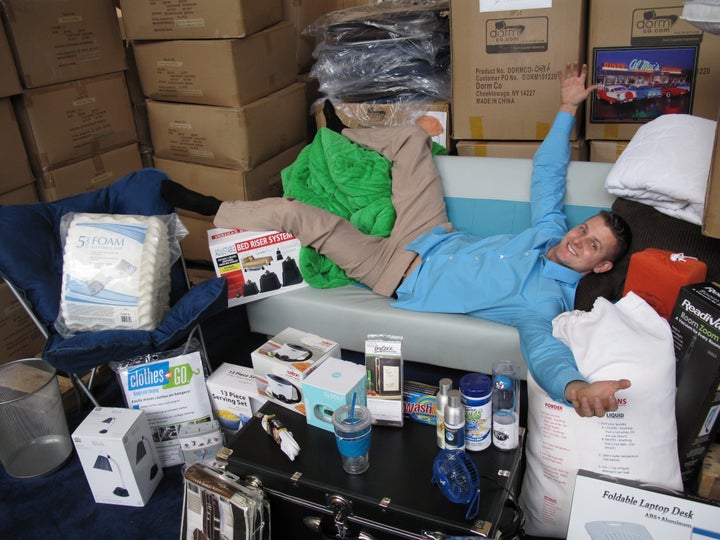 As any parent knows, the price of back-to-school shopping can add up quickly. For entrepreneurs, that means opportunity. Last year, according to the National Retail Federation, consumers spent more than $55 billion on everything from binders and safety scissors to glue sticks and spiral notebooks. And when it comes to college, with furniture and mini refrigerators and all the amenities of young adult life, it becomes an even pricier proposition.
For Jeff Gawronski, back-to-school season is like Christmas. The 32-year-old founded Dorm Co in March 2010 as a one-stop shop for everything needed to equip a college dorm room, and already, he's projecting sales of $1.2 million this year. What does it take to take on the likes of Bed Bath & Beyond? Give the kids everything they want -- all in one place.
How did this idea come about?
Back in college, in 1999, I invented a product -- the patented bedpost shelf. Basically, if you're on the high end of a bunk bed, you need a nightstand, because otherwise, where do you put all this stuff? You've got nothing. I was frustrated and built one out of wood. It worked beautifully, and I wound up making a couple dozen for the next year, and the incoming freshmen snatched them up, even though they looked horrible. And I thought, "Boy, people could really use this." I thought the big stores would have thought of something like this, but they really hadn't, so that got my feet wet. I believed I had to have a career out of college, so I went into pharmaceutical sales, but about a year into it, around 2004, I left to make wooden bed shelves, believing God had a plan for me, and it wasn't going to be a great career in pharmaceutical sales. Long story short, I brought my product, Bed Post Shelf, to the market and then tried to invent other products around it.
And then you started this website?
Not at first. I wanted to supply the big boys, but then I saw how difficult it was to get my inventions in the stores. It was crazy. They want to see proof of sales, but you can't get proof of sales if nobody will take it on, so what do you do? I drove around the country and sold the shelves to college bookstores until I had sold 10,000 units, and proved that it could move, but unless you're selling something like Pillow Pets or another product that's gone really crazy, one product isn't going to pay the bills. I noticed the websites that focused on niche markets like dorm sites were either poorly run or managed, just owned by kids with an idea. Not that I was much more than a kid when I started, but I began with my own website selling dorm-related products in 2006 and then ended up folding for a while, and finally, a little over a year ago, I relaunched Dorm Co. So what's it like going after the same market that Target, Costco, Walmart and a million other retailers are chasing? I mean, this may be your niche, but the market isn't niche.
Well, that's the thing. The market is so incredibly big. I think at one point the dorm supply market was $4 billion. Anyway, we're not talking computer and clothes. We're just talking dorm supplies, so to be successful, you just have to take a sliver of that. You don't have to be Bed, Bath & Beyond or Target to succeed. That said, those companies jump in and sell things for dorms, but I think everyone knows that they aren't going to have everything for dorms. They're going to have the obvious -- the twin sheets for beds, comforters and a few other items -- but none of the auxiliary, niche items that are really successful.
Well, one of the hottest things we sell -- and this is an exclusive Dorm Co product -- is the Bunk Pocket. The last few years, it's just been a fact of life that every freshman has a cell phone, so this pocket goes in the post of your bed. And you can put your glasses or TV remote in there, but ultimately, it's for your cell phone.
That does sound pretty novel, but you're still going up against some stiff competition.
Sure, but I liken it to owning a local burger joint. If you ask anyone who owns a local burger joint that makes really good burgers if they are scared of McDonald's, they're probably going to say no. They still have their niche. You wouldn't believe how much time I spend scouring for these individual products, and a lot of times, if the bigger stores see that one of them my items is doing well, they'll start selling them, too. But they're always a year behind, if not two or three.
Name: Jeff GawronskiCompany: Dorm CoAge: 32Location: Cheektowaga, N.Y.Founded: 2010Employees: 2 including himselfRevenue: 2011 projections of $1.2 millionWebsite: www.dormco.com
Related
Popular in the Community