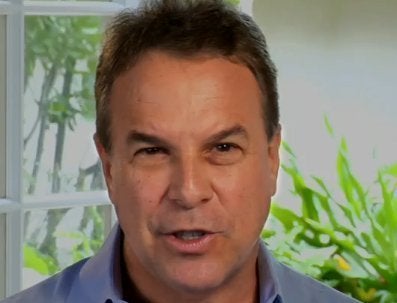 Just hours after Gov. Charlie Crist shook up the Florida Senate race by announcing he'd run for the seat as an independent, another candidate threw a curve ball: billionaire Jeff Greene officially announced that he would seek the Democratic nomination.
A minted member of the Forbes 400, Greene has the type of private wealth that can make him a force (and for national Democrats, a headache) in the primary race against Rep. Kendrick Meek (D-Fla.) Naturally, Democratic officials aren't taking his entree into the race lightly -- expressing moderate frustration with the turn of events.
But the baggage Greene brings to the race is so profound as to eclipse the "outsider" message on which he is running. It's been widely reported that he got rich on the housing market's collapse; that he took investment advise from John Paulson -- the hedge fund manager at the current center of the controversy surrounding Goldman Sachs; that he counted the mercurial Mike Tyson as a best man at his $1 million wedding; and once lived with the notorious madam Heidi Fleiss.
"He's renowned for throwing lavish parties,'' his Rabbi, David Baron, told The Miami Herald in December 2009. "If you were single, it was a great place to hang out. There were a lot of terrific women there."
What is not that well known (at least among those currently chatting about Greene's Senate bid) is that his previous run at elected office was done as a Republican, not a Democrati. Here's the relevant graph from that Miami Herald piece:
"After growing up a rock-solid Democrat, the Harvard Business School had made him a middle-of-the-road Republican in the 1980s. He ran in a Congressional primary in the San Fernando Valley and lost."

Greene did, as reported, return to his "Democratic roots" soon after that election loss. And as his wealth expanded he became a donor to many party candidates. He registered to vote in Florida in March 2008 and did so as a Democrat.
The evolution was completed on Thursday evening when he formally announced his intentions to run against Meek in the Democratic primary.
"Marco Rubio, Charlie Crist and Kendrick Meek - they have had their chance. I am sure they mean well, but where are the results?" he said in an announcement video. "They want to give you the false choice between two life-long Republicans and a life-long Democrat. I want to give you a different choice, between three career politicians on one side and an outsider who is willing to shake things up in Washington on the other."

Watch Greene's video:

"He's a Democrat with Democratic values," said Blank. "After Harvard Business School, he did run for Congress in California as a Republican -- but obviously, since then he has been a Democrat, a supporter of the Florida Democratic Party, a supporter of Barack Obama."

Popular in the Community