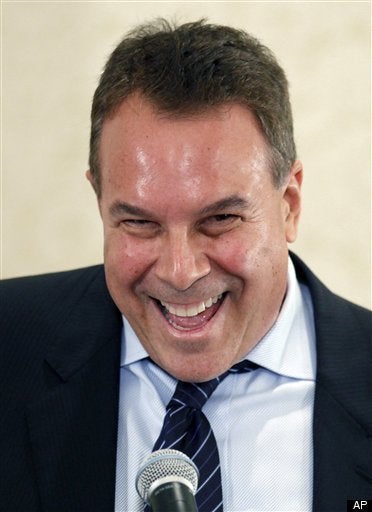 During this time of widespread financial misery, one would hope that the election season would yield a crop of politicians capable of relating to the struggles of ordinary people.
Unfortunately, this year we've seen instead the rise of the yacht-owning buffoon candidates, so America is probably doomed.
The big yacht-politics story of the week comes from Florida, where Jeff Greene -- the titanically wealthy housing-market shorting tycoon running for the Democratic nomination for Senate -- has come under fire for rolling down to Cuba in his 145-foot yacht, Summerwind, on a jaunt that left the decks of said vessel "caked" in "vomit." Greene has changed his story about that trip several times:
So, first Greene wasn't on the yacht when it went to Cuba. Then he was on the yacht, but it was part of a Jewish mission to visit synagogues. Then it was the yacht docking in Cuba because of an emergency related to hydraulics, during which time he took advantage of the aforementioned Jewish mission. And finally, a deckhand on the vessel, Billy Blackwell, says the trip was a party jaunt to Cuba, during which Greene and his squeeze went shopping in Cuba.
The Greene campaign denies all of that, of course. But this flap has tied them up in knots. To wit:
Greene spokesman Luis Vizcaino said Tuesday that the real estate mogul's 145-foot yacht Summerwind docked for two days in Havana's Hemingway Marina in 2007 while awaiting repairs. In Sunday's debate against Democratic rival Kendrick Meek, Greene said he went to Cuba on a Jewish mission.

"During the debate Jeff misspoke," Vizcaino said after receiving media inquiries about the trip. "What he meant to say was that in 2007, he went on the boat from Honduras to the Bahamas, and en route the boat had a hydraulic problem...The captain said we could wait for the part at Hemingway Marina."
Yes: Greene "misspoke," in that an entirely different sentence, containing entirely different facts, related to an entirely different account, failed to emerge from Greene's mouth at the moment that air vibrated his vocal chords and his lips, teeth, tongue, and palate formed words.
Adam Lambert worked as captain of Greene's 145-foot yacht, Summerwind, earlier this year.

"He has total disregard for anybody else,'' chuckled Lambert, who said he was Greene's 20th and 22nd Summerwind captain (No. 21 quit after a few hours with Greene).

"I don't think I ever once had an actual conversation with him. It was always, 'I should just get rid of you, what f------ good are you? You're just a f------ boat driver. You're the third-highest paid employee in my corporation and I should just get rid of you,' '' Lambert, 43, recalled by phone from a yacht in Croatia. "It didn't bother me. I just felt sorry for the man. He doesn't seem very happy."

Harlan Hoffman, 37, was in a Fort Lauderdale yachting apparel store in 2007 when he saw a help wanted ad for Summerwind.

"There were two people from Australia there who said, 'Oh, good luck with that one. . . . We're still waiting to get paid by Summerwind.' I should have listened," Hoffman said.

The deckhand was shocked while buffing Greene's yacht and wound up hospitalized.

A boat's owner is supposed to take care of on-the-job medical costs, but Hoffman said Greene -- whom he never met -- told the insurance company he had never heard of Hoffman and that he didn't work on Summerwind. It took eight months and legal action that included affidavits from other crew members vouching for Hoffman and trashing Greene to get his bills paid.

"This guy Jeff Greene threw tons of money into new diving gear, but the crew's basic equipment -- food and supplies -- he didn't want to spend any money on. Summerwind has a terrible reputation,'' Hoffman said. "Mr. Greene's yacht is known to be a party yacht. When it went to Cuba, everybody talked about the vomit caked all over the sides from all the partying going on."
At first, you might be impressed with Democratic gubernatorial hopeful Dannel Malloy's 28-foot powerboat or with Republican Senate candidate Rob Simmons's J-22 sailboat.

But they're humble dinghies next to the 47-foot "Sexy Bitch," the sports yacht that Republican Linda McMahon's husband docks in Boca Raton, Fla. They'd be swamped in the wake from "Odalisque," Republican Tom Foley's 100-foot ship flagged under the Republic of Marshall Islands and hailing from the port of Bikini. (Odalisque, if you must know, comes from the Turkish for a slave in a harem.)
Apparently, in Connecticut, the wealthier you get, the more demeaning to women your boats become!
Sen. Barbara Boxer has fired a shot across the bow of Carly Fiorina - in the hopes that her Republican rival's ownership of a pair of yachts might sink her with voters.

Boxer has taken to comparing her years of "public service" to Fiorina's choice "to become a CEO, lay off 30,000 workers, ship jobs overseas (and) have two yachts."

Fiorina's 70-foot Alchemy V, a 2001 Dyna Craft valued for tax purposes at just over $1 million, is moored in Sausalito.

Her 56-foot Sea Ray yacht, the 3-year-old Alchemy VI, is docked on the Potomac in Washington, D.C. - not far from the Georgetown condo that Fiorina and her husband own.
I don't know about you but if I'd known years ago that damaging Hewlett-Packard's brand was that lucrative, I would have made a whole different series of life choices.
But 2010's season of yacht-see hasn't just stung candidates for office. Massachusetts Senator John Kerry came under fire after it was revealed that by berthing his family's $7 million yacht in Rhode Island, instead of his home state of Massachusetts, he was sparing himself the indignity of having to pay $500,000 in taxes. The report managed to cast Kerry in a bad light, and likely had the unintended consequence of alerting hundreds of yacht owners to the fact that Rhode Island known as "a nautical tax haven."
Anyway, these are among the people whom America is counting on to solve the unemployment crisis and mitigate widespread structural income inequities, so good luck with that.
REAL LIFE. REAL NEWS. REAL VOICES.
Help us tell more of the stories that matter from voices that too often remain unheard.