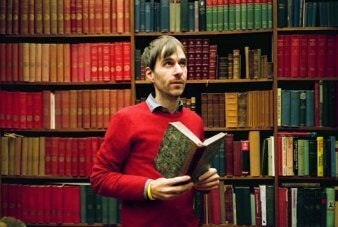 In 1999, Toronto-based photographer Jeff Harris began taking a photo of himself each day as an alternative to all those diaries he started but couldn't keep up. But what began as a self-portrait project has evolved considerably in its 13 years.
Harris' photographs aren't the typical, self-portrait vanity projects that crop up on YouTube now and again. Instead, he used the project to inspire him in his daily life, to go out and do something that would get him off his couch.
"I was very much a 9-to-5 person and the project itself was a challenge for me to get outside and not make it look like I had a cubicle job, but that I actually was running around and doing a different interesting thing each day," Harris said.
You see him in forests, jumping into lakes of frozen water and lunging off speakers at rock concerts (and at the hospital the next day after he fractured his foot). Many of the photos aren't taken by himself, but by everyone from his grandma to celebrities he's met, including Gene Simmons and Michael Moore.
This story becomes even more incredible as it progresses, but it's difficult to explain without cheapening it. So we'd rather you watch now.
Related
Popular in the Community