"If Jeff Koons didn't exist, we would have to invent him," The Whitney's Donna De Salvo proclaimed to an audience of hungry critics last Tuesday.
The Chief Curator and Deputy Director for Programs was one amongst a few voicing their Koonsian exultations ahead of the museum's feature presentation -- the quietly titled "Jeff Koons: A Retrospective." As for the writers and photographers, artists and curators, they were waiting for the man of the hour, Koons himself, to take the podium and explain to us how exactly we should feel about his porn star paintings and glossy inflatable dogs.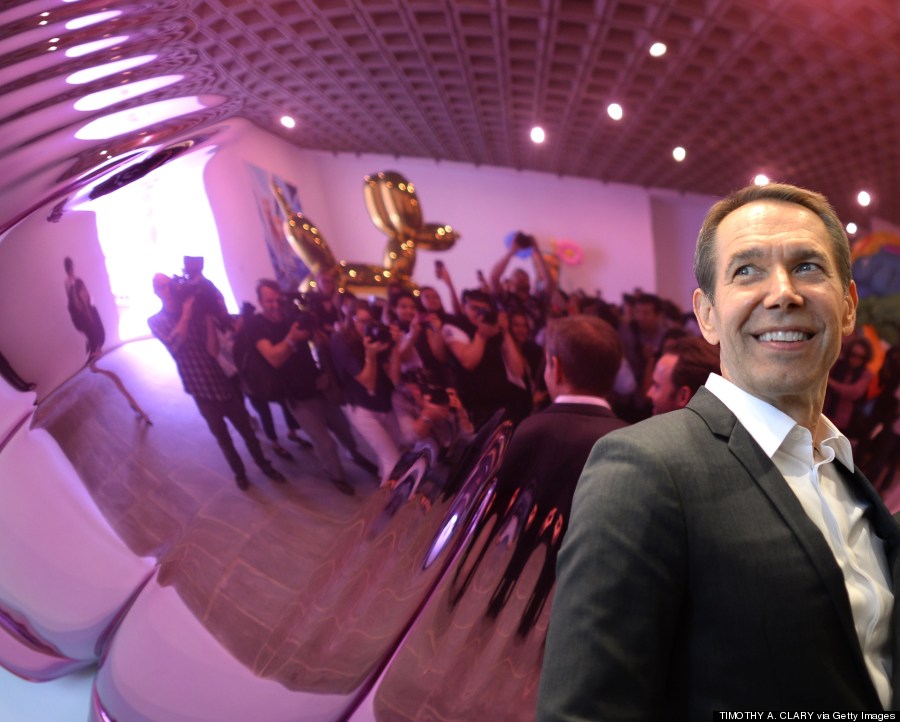 Artist Jeff Koons poses next to one of his sculptures during a press preview of "Jeff Koons: A Retrospective", an exhibition of his work at the Whitney Museum of American Art. The show spans the artist's three-decade career and will fill nearly the entire museum from June 27 through Oct. 19. (TIMOTHY A. CLARY/AFP/Getty Images)
Necks craned and bulbs flashed when the enigmatic artist -- a hologram of a human being, as Jerry Saltz puts it -- finally revealed himself, dressed in a sharp suit and impish smile. He appears more like a giddy politician than a salacious art star. "I really believe in art," he cooed, with his alarmingly sweet voice. "I believe in the transcendence... it makes me a better human being."
Listening to the man wax nostalgic about the beauty of creativity is a strange foil to his visually bombastic collection of works, spanning oversized mounds of rainbow Play-Doh, delicate glass recreations of his own sexual endeavors and gilded Michael Jackson-and-Bubbles figures. "There are so many strange, disconcerting aspects to Jeff Koons, his art and his career that it is hard to quite know how to approach his first New York retrospective," Roberta Smith wrote in the New York Times. And she's absolutely right.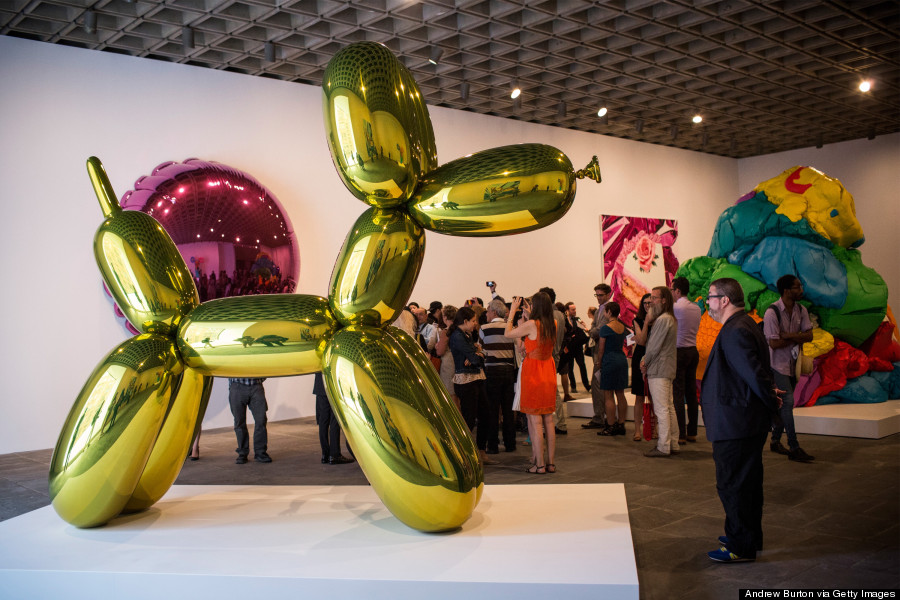 People look at the art work of Jeff Koons during a media preview of his retrospective at The Whitney Museum of American Art on June 24, 2014 in New York City. Nearly the entire museum will be filled with Koons' work; it opens to the public June 27th. (Photo by Andrew Burton/Getty Images)
Koons is the man known to many as the great Creator behind some of the corporate art world's biggest and shiniest sculptures. He's the post-Warhol, a man who made it big with ground-breaking readymades in the 1980s, went broke after a disastrous divorce from his ex-wife and rose from the ashes to make his name and art ubiquitous in high-brow circles. To unsuspecting Vanity Fair subsrcibers, he's the nude man pumping iron somewhere inside the latest issue. To himself, he's a genius.
A cloyingly soft-spoken gentleman who's been known to obsess over every last detail of his exhibitions, most people agree he's a ball of contradictions. We've been introduced to his G-rated, family-friendly, and utterly sincere demeanor when he speaks -- and more than a few profiles have pointed out his mega brood of children and their vehicle of choice, the Koonsmobile. Yet his artworks scream sex, penetration and luxury fetishes, combining the allure of a lingerie-clad lady or an erect penis, with the bubblegum colors of cartoonish puppies and bunnies, wrapped up in varying levels of machismo and insecurity.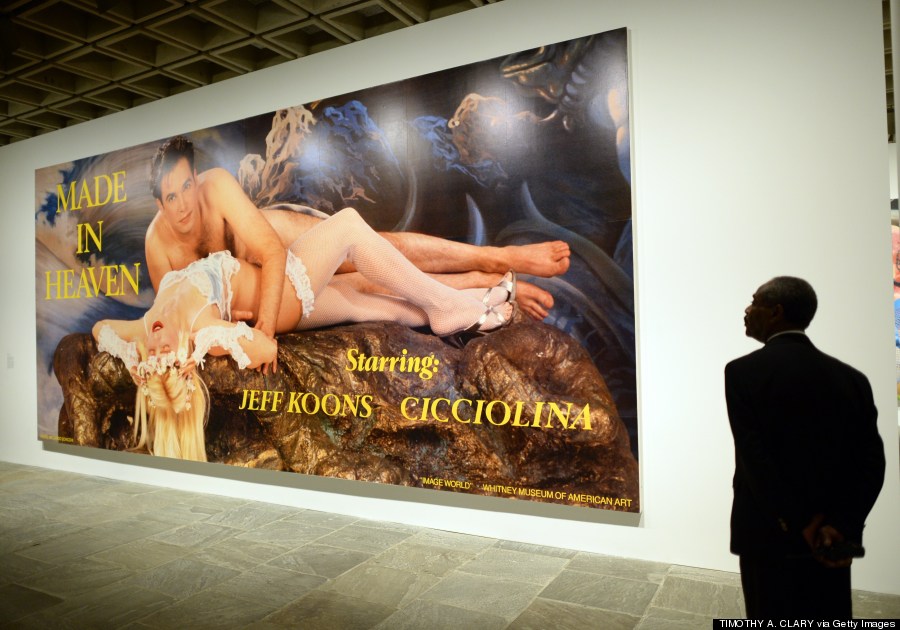 A security guard next to a painting title 'Made in Heaven ' during the press preview of "Jeff Koons: A Retrospective." (TIMOTHY A. CLARY/AFP/Getty Images)
So how does one package this man, and his oeuvre, into a Whitney-shaped retrospective? And how do we navigate the jaded playground, stuffed with pretty little bits of perversion and banality. As always, the experience is riddled with love and hate, disgust and revelry, purification and contamination, knowledge and colossal ignorance. Contradictions, contradictions, contradictions, as curator Scott Rothkopf aptly captures.
"Jeff Koons: A Retrospective" is organized chronologically, for the most part, taking you through the Whitney's soon to be ex-location, floor by floor. As the rooms grow bigger, you push deeper into the career of Mr. Koons, his fascination with inflation and reflection looming larger with every step. What begins with the truly bizarre -- plexiglass cases of vacuums that stand as trophies and tombs of American consumerist past -- lurches forward with healthy doses of surprise and confusion.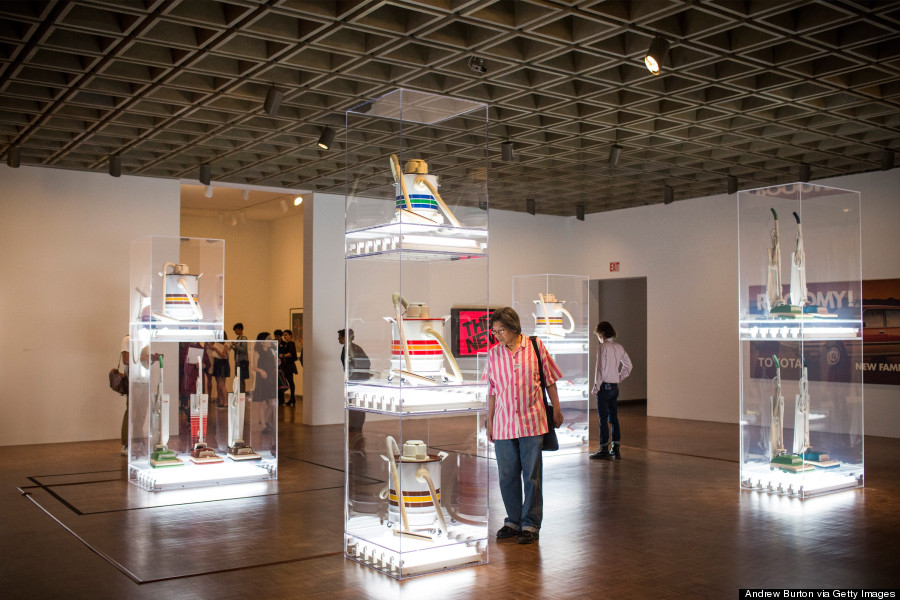 People look at the art work of Jeff Koons during a media preview of his retrospective at The Whitney Museum of American Art on June 24, 2014 in New York City. (Photo by Andrew Burton/Getty Images)
Your gaze meets his "Made in Heaven" series, an indulgent glorification of marital relations with a porn star, and a love so repugnant (if not for its framed appearance, but because we know how it ends) you can hardly stomach the floor. You can become hypnotized by his "Equilibrium" series, those Spalding basketballs resting in perfect peace amidst a sea of distilled water and sodium chloride reagent, for no apparent reason other than that they can.
You can walk the runway of sculptures, ranging from MJ-and-monkey to a headless, topless bather to a horny Pink Panther. Then your own face flashes in front of you as you catch your reflection in any one of his many mirrors. The dog, the kangaroos, the Venus, "Gazing Ball." The gangs all there.
It's not chaotic -- Rothkopf seems to have spared no polished stainless steel component the total treatment. His curatorial prowess is on display as much as Koons' career, and it's a tantalizing victory on the part of the young Associate Director of Programs. Sans chaos, it's just inundation, reminding you of the artist's obvious fixation with desire and novelty. In all forms. Koons turns tchotchkes and grotesque mementos into million-dollar sculptures worthy of the elite.
From reflection to reflection, you're aware of Koons' bravado, and then you're aware of your own distrust of the art world.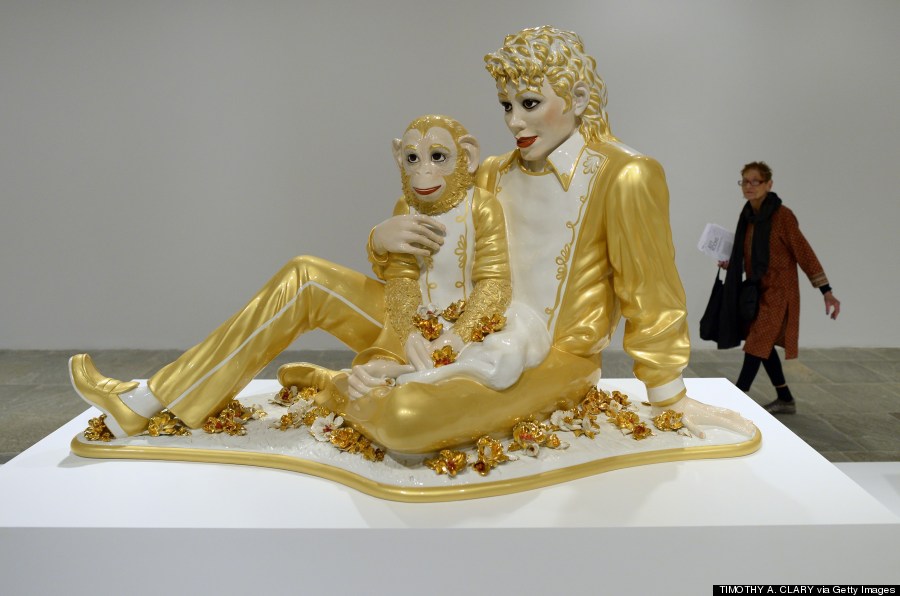 A woman walks past a sculpture titled "Michael Jackson and Bubbles." (TIMOTHY A. CLARY/AFP/Getty Images)
For me, one of his newer objects sums up my ongoing reluctance to love, or hate, Koons. A formidable pile of multi-colored gunks greets you on the last floor, catching your attention with impressively saturated red, yellow and blue, and perfectly crafted edges that look like the never-smooth surfaces of Play-Doh. Something inside me wants to stare at the tall pile, remembering what it feels like to hold the dough in your hand, see its stunning vibrance emerge from color-coded cans and even smell the pungent medium littered about a picnic table.
I'd sink into an adolescent day dream, and inevitably imagine the crumbly material wasn't Play-Doh, instead it was pure pigment, ice cream or feces. The recollection of that smell wakes me up, arouses the "What makes this art?" critic inside me, and reminds me that shiny objects shouldn't always be adored.
And maybe that's why we need Jeff Koons, as De Salvo relished saying. We can hate him or worship him, it doesn't matter. He'll keep on producing mammoth "masterpieces" that bottle up everything that's wrong about lust and consumerism into something that buyers and admirers lust after and consume. Maybe he's pulling a fast one on Steve Wynn and company, and later in his (immortal) life, he'll let us down easy.
Or not. Perhaps he's sincerely captivated by color and form, be it the Liberty Bell or a blow-up Hulk Hogan, and he and his factory of assistants will work until the end of time to convince us of their beauty.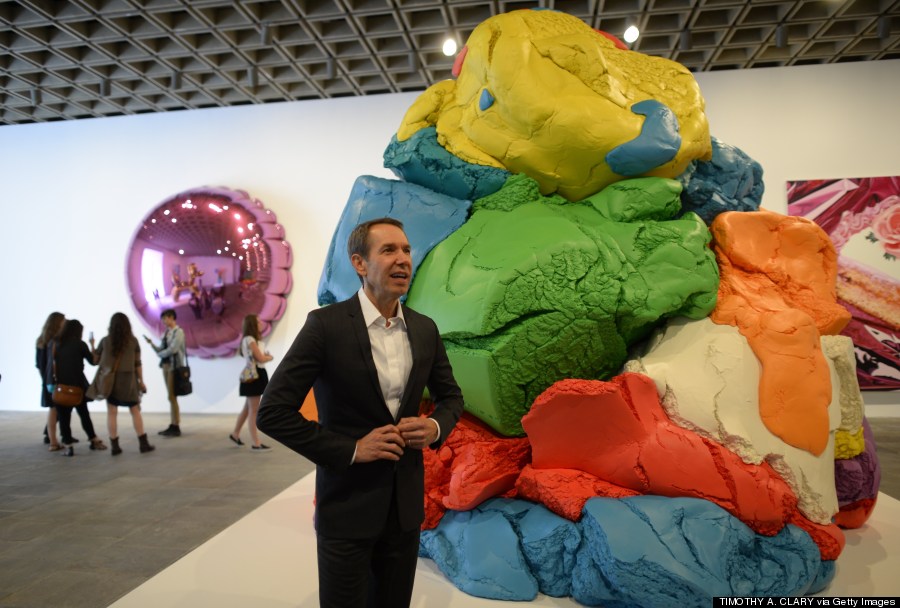 Artist Jeff Koons poses next to his sculpture titled 'Play-Doh." (TIMOTHY A. CLARY/AFP/Getty Images)
If you don't want to stare glut and hubris in the face, don't see this retrospective. If you don't mind peering into the void, letting go of the knee-jerk reaction to loathe and searching for something other than cynicism -- maybe, this mythical transcendence Koons speaks of -- it's worth a visit. I guarantee no returns, or anything less than revulsion, but Rothkopf gets you to ponder the possibility, and in an art world that just doesn't want Koons to succeed (for further reading: general Koons hatred), that's all we can ask for.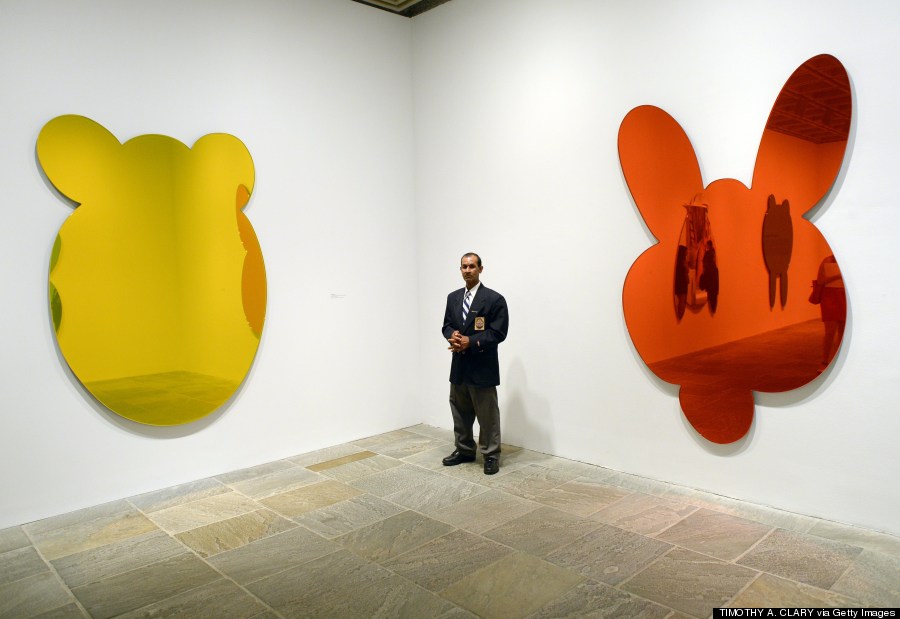 A security guard next to two sculptures during a press preview of "Jeff Koons: A Retrospective." (TIMOTHY A. CLARY/AFP/Getty Images)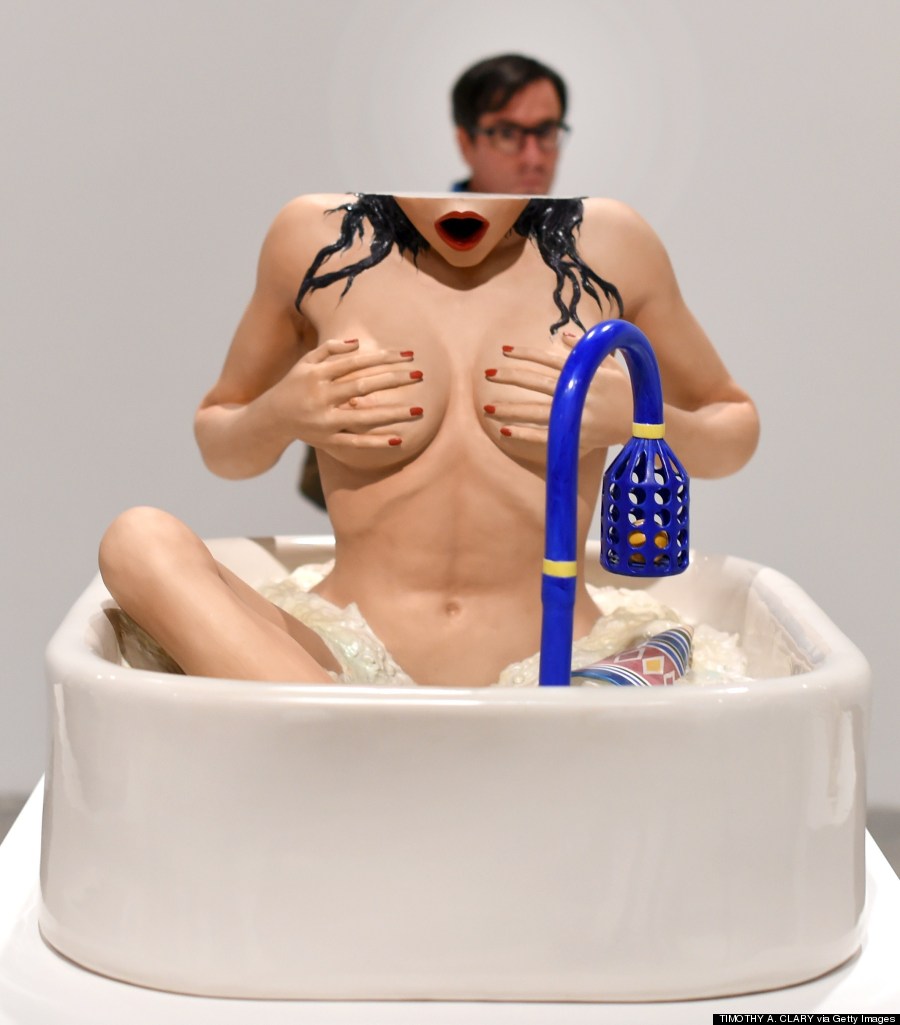 A man walks past a sculpture by Jeff Koons titled "Woman in a Tub" during a press preview of "Jeff Koons: A Retrospective." (TIMOTHY A. CLARY/AFP/Getty Images)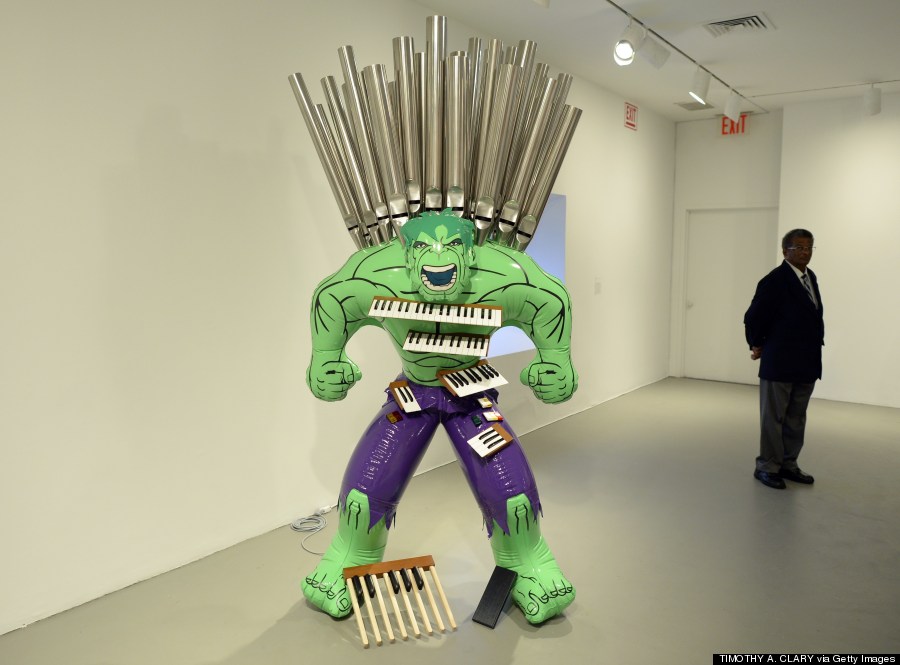 A security guard next to a sculpture titled "Hulk." (TIMOTHY A. CLARY/AFP/Getty Images)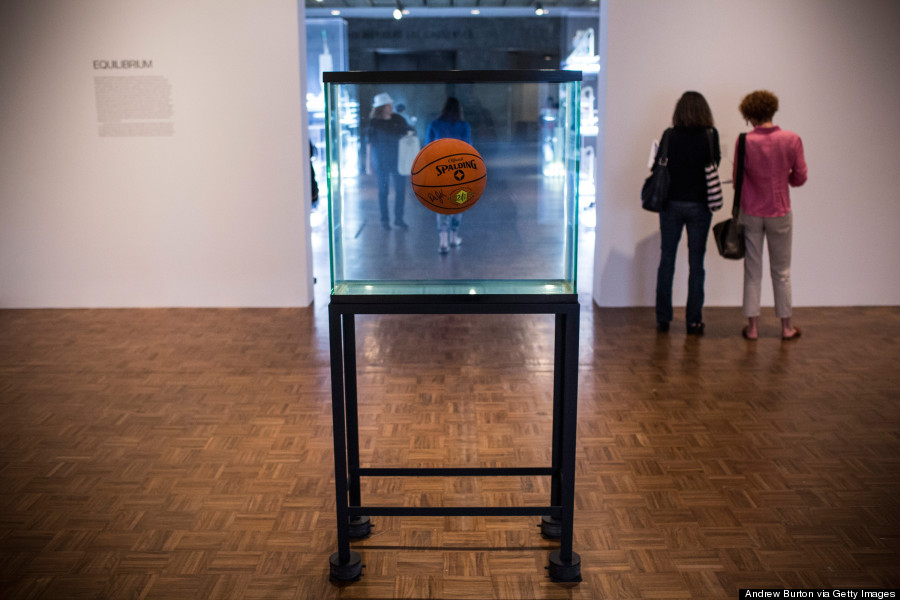 Artist Jeff Koons' piece "One Ball Total Equilibrium Tank." (Photo by Andrew Burton/Getty Images)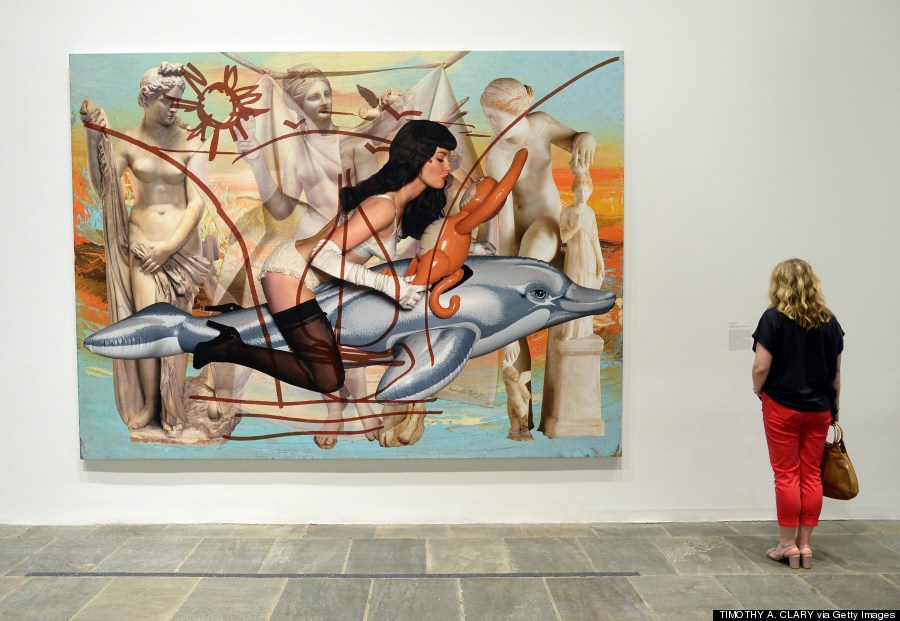 A woman looks at the painting by Jeff Koons titled "Antiquity 3, 2009-11." (TIMOTHY A. CLARY/AFP/Getty Images)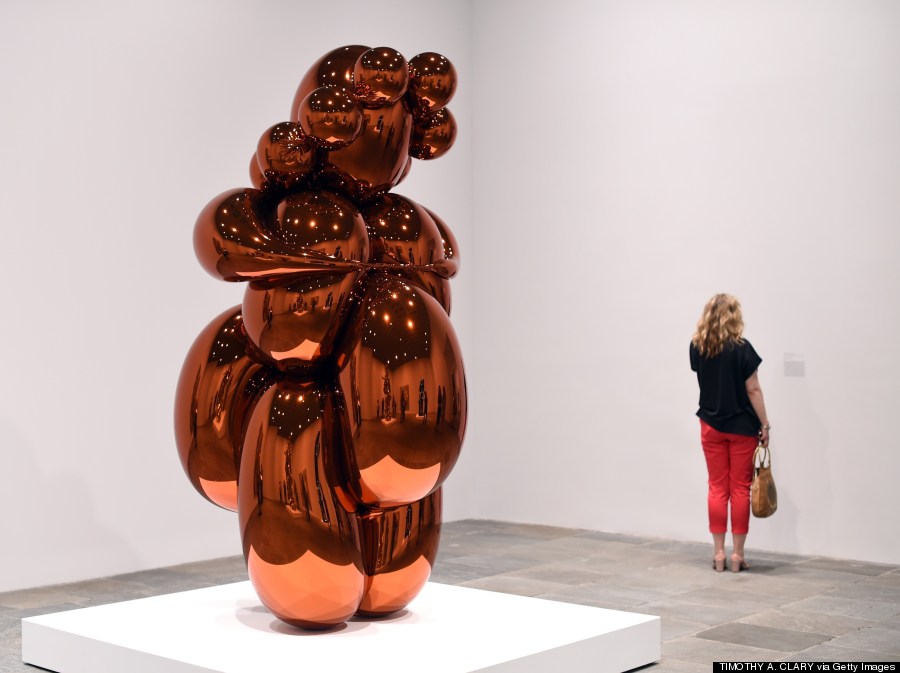 (Photo credit should read TIMOTHY A. CLARY/AFP/Getty Images)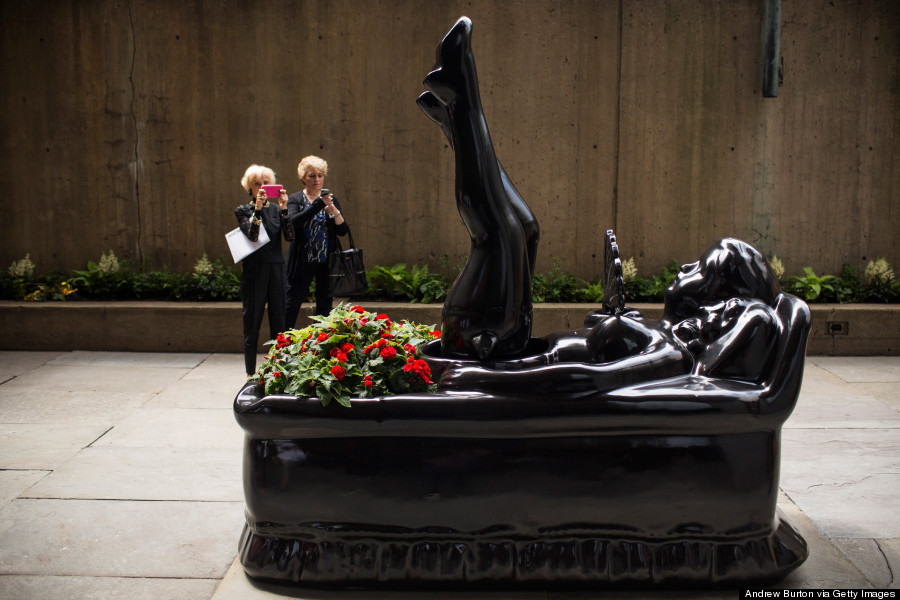 (Photo by Andrew Burton/Getty Images)
Related