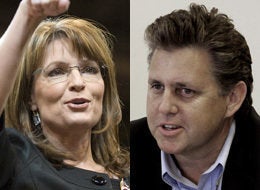 As news of Sarah Palin's $150,000 shopping spree unfolds, The Atlantic reveals that Sarah Palin's personal shopper, Jeff Larson, has an interesting resumé.
Does the name Jeff Larson sound familiar? It should. Larson is the Karl Rove protégé who's a principal in the robocalling firm of FLS Connect (the "FLS" stands for Tony Feather, Jeff Larson, and Tom Syndhorst, all veteran Republican political operatives). Larson's firm is the same one that launched the scurrilous robocalls against John McCain in 2000, and that McCain has now hired to make robocalls connecting Barack Obama to Bill Ayers. He's also well known in Minnesota for leasing his basement apartment at a steeply discounted rate to embattled Republican Senator Norm Coleman. Evidently, Larson also has quite the eye for women's fashion. Even hateful liberals would have to admit that Palin dresses awfully nicely.
Keep reading to see the Schedule F form that lists Larson as the purchaser of, among other things, $75,062.63 in clothes and accessories at Neiman Marcus in Minneapolis.
See a slideshow of Sarah Palin's $150,000 style transformation.
Popular in the Community