Jeff Lewis of Bravo's Flipping Out is realty gold. He is a prized gem, a breakout star for the network because the roles he has played have not, in fact, been "played" at all. Viewers get to see so many different sides to his dynamic personality and he and his costars assure me that it's all real. This upcoming season (Season 10), he stars in the role of dad, parenting a new baby girl named Monroe with his partner Gage Edward. His costar Jenni Pulos says: "The beauty of our show is that it is all authentic and everything gets captured on camera as it happens." My 11 year old snarkily sits over my shoulder as I write this and remarks: "You know reality TV is fake, mom. Puh-lease!!" Harumpff. I tell him I refuse to accept that.
What we've seen and heard on Flipping Out (in previously aired seasons 1-9) are Jeff's unfiltered off-the-cuff remarks, Jeff in work-mode harried and hustling, Jeff as boss focused on the bottom line and barking orders, Jeff taking a step back to express his appreciation, Jeff obsessing, Jeff constantly teasing, joking, baiting and testing the limits of those around him - particularly those he loves.
He is as hilarious as he is...well...difficult at times. Just ask his employee Vanina who hasn't always had it easy (you'll see that in episode 1 of the new season) or his housekeeper of 18 years Zoila Chavez (definitely a fan favorite!).
I spoke to the much-beloved "Bravolebrity" himself for the Huffington Post. Jeff and I discussed parenthood, our mutual admiration of Lea Black (formerly of Real Housewives of Miami, she will also be on this upcoming season of Flipping Out) and what to expect in Season 10.
We start off the new season with you right before Monroe's birth and it is HECTIC. Can you tell me the ways in which fatherhood has allayed some of your anxieties? Conversely, how has being a parent made you more anxious?
There's a lot of stuff - as you know. I find myself running ragged at the weekend. I've never seen so much laundry connected to one person. It's really overwhelming so even though we have help, I'm doing laundry, cleaning, picking up toys and organizing. I can't have this turn into a day care center. I can't do it. I can't live that way! (Laughs) I think I am a little traumatized by my brother because his kids completely take over his house, so I'm trying so hard not to have my house be my brother's house that I'm working double-time!
I understand that challenge of working with people and needing them to meet your expectations, but do you ever look back and say 'I could have taken a softer approach and done things differently'?
Sure. All the time. There are a thousand things I would do differently and I'll think 'I should have taken a breath before reacting,' but there are also a lot of other times I have no regrets about. Two weeks ago I was at a hotel, my room was not ready and no one could give me any answers.All they could do was offer free water and a pass for the pool. I said it wasn't good enough. When I eventually started raising my voice, guess what? My room was suddenly available and not only that, they upgraded it to a suite. In that situation, I found that being nice and polite was not going to work and I had to be obnoxious to get my room. It was going to cut into my evening and so I have no regrets. There are many times when I'm responsible for losing my temper and then I'll have regrets, but in that instance I blame the hotel for making me lose my temper and don't regret having to really speak up the way I did. I don't like to lose my temper because then you are giving up some of your power to the person you're arguing with. I also don't want to lose my shit in front of my kid - that's not the example I want to set, but I do want her to stand up for herself when someone is pushing her around.
There's this balance we are all trying to strike. When to react, how to tone down reactions and when to just let things go.
What about when you tell people 17 times not to do something and then they do it? So, yesterday I lost it. There's this brand new house we just spent a fortune framing. I told the contractors not to cut a single hole...Sure enough, holes are cut after saying multiple times not to cut anything. So now they're afraid of me. Unfortunately, there are times you have to be feared and I absolutely HATE being that person. I'd rather say something once and have people follow those directions. (laughs) Even now, I'm getting upset thinking about that.
We see you working on Lea Black's new Hollywood Hills residence. How did you meet the former RHOM cast member?
As I'm talking to you, I'm actually staring right at her house because she lives across from me. There's no stress for me working with Lea. We have dinner, drinks and go out. She's become a good friend to me. I met her because Jenni invited me to one of her epic summer parties and we totally clicked. She's very friendly and welcoming and we've hung out a lot this summer.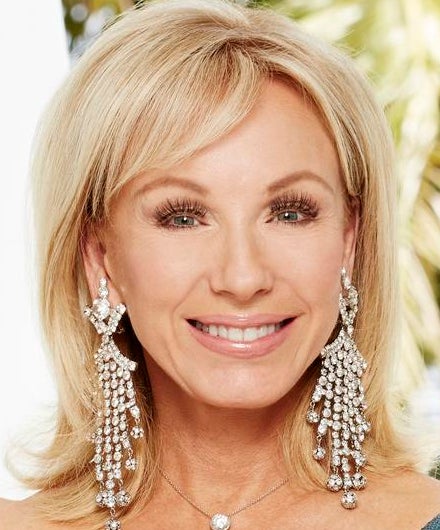 How has fatherhood impacted your career?
In past seasons, you've seen how we had a lot of downtime to mess around and just have fun. Now, unfortunately, I just don't have time. I was always getting involved in people's business in the past - and I'm actually going to lower my voice now because the housekeeper is in the next room - I realize when there's a problem now, I haven't been asking because I just don't have time to intervene. It's because I need to get my work done so I can spend time with my baby before she goes to bed. It really has changed everything. I've also had to become more selective about which clients I take on and I'm working on more of my own projects. Having Monroe as my priority and making sure I spend time with my daughter has also dramatically impacted hiring decisions. The whole business is changing. I am also not home a lot anymore. I'm on job sites and picking up fast food for lunch rather than going back and forth and in and out of the house. That changes the filming process as well and although my daughter is on camera, I don't want the cameras on her 24/7.
My friend Ryan Bailey, co-host of Realizing Stuff with Kara and Ryan (a spinoff of the Emotionally Broken Psychos podcast), wanted to know how Zoila is with Monroe. I know she retired because it's been reported on the blogs, but we don't see that in the first episode. Will we be seeing a dramatic change in her role during this season?
You'll see that Zoila is very active with Monroe during her first 6 months and you can tell there's a continuing negotiation with her work for me. If it were up to me, Zoila would have been here forever and I would have kept altering her role. I came to realize I was holding her hostage and had to make the decision...really...that I needed to let her go...It was hard. I was afraid of what life would look like without her. I know she's happy so that's what I choose to focus on, but I really miss her! She's been in Nicaragua and wants to spend time there with her mom, sisters and children. She was talking about starting and managing a housekeeping business and that would be a whole new life for her. I'm excited for her!
How has Jenni stepped up to the plate since you became a dad?
She is a godparent to Monroe and she really helped me - I mean, thank God! I didn't read books properly or prepare. She knows you use this product, you go here, you do this...She's my baby mentor.
Are there any Bravolebrities you haven't worked with yet, but would like to collaborate with?
This is the first time I've ever talked about it, but I've been talking a lot with Bethenny Frankel. I had met her before the recent Watch What Happens Live With Andy Cohen (WWHL) episode we were on. I had met Kyle for drinks and Bethenny was with her, but we didn't cross paths again until Andy had us both on WWHL twice. We've been talking a lot. She has a passion for real estate, investing, flipping...In fact, she recently brought me something, but it's in The Hamptons and the thing is, I'm really hands-on with my projects and feel I need to be on site. I would have a problem trying to manage something that long distance, but we may work together some day!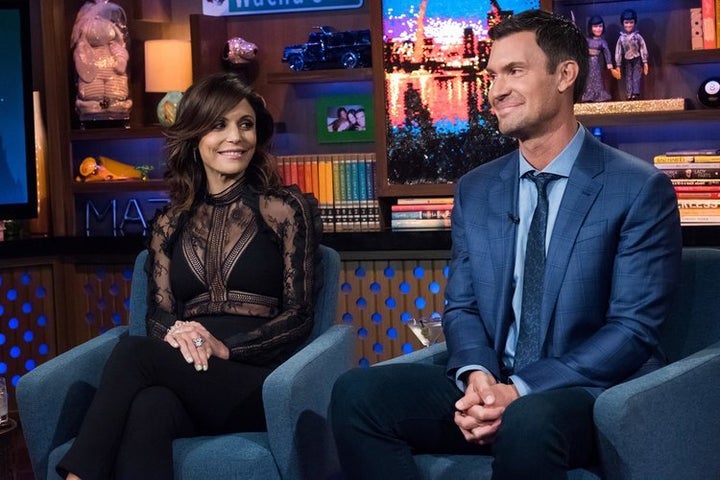 Kari Martin of the White Wine True Crime podcast asked how Gage has been dealing with his moods. There were jokes last season about how he handled his emotions when things got difficult.
Gage is one of the most amazing hands-on dads I've ever witnessed. He's so nurturing and the primary caregiver. I take his lead and he tells me 'get this,' 'get that,' 'do this.' He's so confident and comfortable that I just let him make most decisions. For major decisions, we consult each other, but really he's a natural. I fumble and question things. I think he's a lot better with moods. I'm from a loud family and I'm used to screaming and yelling. He, on the other hand, gets stressed while I'm more lax because kids are going to cry and scream! It took us a solid 7-8 months to adjust to fatherhood and how it's changed our lives and we did have a little trouble with it in the beginning. I was not properly warned by friends!
During the first 6 months I thought I was failing and took it very personally when I couldn't make Monroe happy or stop crying. Seeing your kid happy is all you want as a parent and now that she's happy, I feel like we're succeeding!
Jenni said she thinks this is the best season yet because it encompasses so much and there are so many life changes.
I think it's a really good, strong season and one that people can relate to - especially people with children. I am amazed at the outreach of support. It's almost made us more relatable I think because in the past, all I did was focus on business and money. Being a parent has changed my entire focus at 47. I understand that some times I may have come off as selfish, career-obsessed or narcissistic, but when there's a kid you've got to snap out of that pretty quick. She's not going to allow that. She needs me and she needs my attention right now and that really was the adjustment. I think people who have enjoyed the series from the very beginning - when I was flipping houses - will appreciate how that was a very different Jeff Lewis. I feel that I'm very lucky now that I get to wake up every day and do what I love. Working for other people is very different than working for yourself and I thrive working for myself. I'm also really enjoying the fact that after busting my ass for the first six months of my daughters life, I can make her happy. Until I got the hang of that as a parent, I felt like I was failing. Now that she's happy, we're happy!
Tune in this Thursday August 17th for the premiere of Flipping Out on Bravo, 9/8c.
Related
Popular in the Community