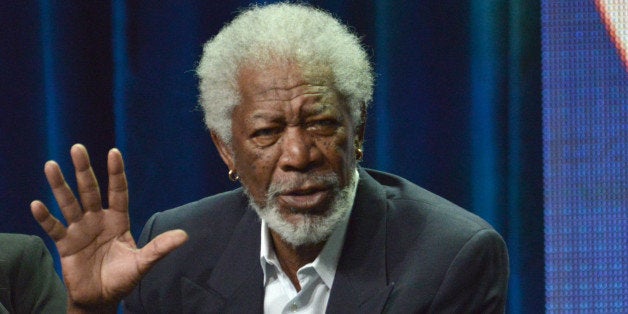 Everyone knows that if you want to really class up your #brand, you've just got to bring in Morgan Freeman and his much-beloved dulcet tones and have him lay down those sensuous but sincere vocal tracks for which he's best known. But what happens if you're some obscure political figure and you're running for governor of Massachusetts and your polling numbers peaked at 8 percent and have steadily slid since? Well, if you're Saturn Partners co-founder Jeff McCormick, you reach for the next-best thing -- Fake Morgan Freeman.
And then you cut an ad that has EVERYTHING. Nelson Mandela footage! Nelson Mandela quotes! "Hey, Jeff! Jeff! Hey! Here's an idea!" said whoever helped McCormick with this. "Let's throw one of those fake, green-band movie trailer things right at the top!" And so they did.
Nelson Mandela once said, "It always seems impossible, until it is done." Since moving to Boston with $800 in his pocket, Jeff McCormick helped build successful companies, like Boston Duck Tours, and Constant Contact, creating thousands of jobs. Now, as the outsider running for governor, Jeff McCormick is the only candidate willing to fight the status quo. Sometimes, an opportunity for change can seem impossible. But for Jeff McCormick, that's the greatest opportunity there is.
This isn't Fake Morgan Freeman's first time at the rodeo. Back in 2010, an ad from "Friends of [Wisconsin Gov.] Scott Walker," attacking his opponent, Tom Barrett, was released, featuring Fake Morgan Freeman doing voiceover. As Abe Sauer reported at the time, the agency that produced the ad said that "there was no conscious decision to use the talent because he sounded like Morgan Freeman, we chose him because he always does a great job of delivering a message because he is a very talented announcer." By "talent," they probably meant, "sounds a lot like Morgan Freeman." Chances are, the idea got in their head because the ad had to do with a promise Barrett had made about sewage, and someone remembered Freeman narrating Andy DuFresne's crawl through "a river of shit" from "The Shawshank Redemption."
So Fake Morgan Freeman has been around the block a few times. (And campaigns that use Fake Morgan Freeman in the state of Wisconsin are undefeated! Fun fact!) Jeff McCormick's campaign, however, marks the first time that Fake Morgan Freeman has been asked to draw an explicit comparison between ending apartheid and starting a duck boat tour business.
Why would McCormick do this? You could argue he'd done it to curry favor with the voters. Or, maybe make a few friends among political elites. Me, I think he did it just to feel normal again, if only for a short while.
Calling all HuffPost superfans!
Sign up for membership to become a founding member and help shape HuffPost's next chapter
BEFORE YOU GO
PHOTO GALLERY
A History Of Terrifying Campaign Ads