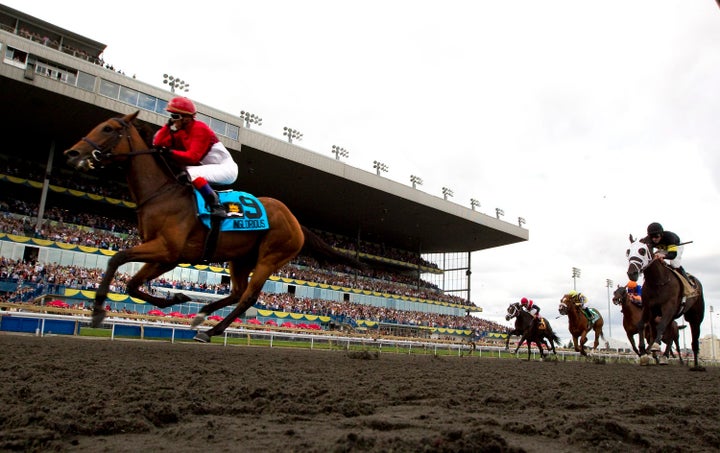 WASHINGTON -- Sen. Jeff Merkley (D-Ore.) is turning up the heat on Senate Minority Leader Mitch McConnell in the deficit debate, highlighting the Kentucky Republican's support for a special interest tax subsidy benefiting the horse racing industry and opposition to any sort of tax increase in the budget negotiations.
Democrats have been going after the GOP's refusal to raise taxes in the budget negotiations by highlighting a slew of tax breaks for the wealthiest Americans, such as the ones going toward horse racing, sometimes called the "sport of kings." McConnell has publicly stated his interest in pursuing a larger tax reform package that would address tax breaks, but he has said he would be against including any tax increases as part of a debt deal.
Merkley dubbed the tax break the "Bluegrass Boondoggle" in a speech on the Senate floor on Thursday, saying: "As long as these tax subsidies are preserved, the richest and best-off will remain in the winners' circle, while working families don't even get a chance to compete."
"Now, there's no doubt that closing this loophole alone isn't going to solve our deficit problem. But it is a good place to start," Merkley added. "Because otherwise we're going to cut $126 million from Head Start, or $126 million from Medicare for our seniors or programs that help retrain laid-off workers."
Merkley was just one of several Democratic senators to put pressure on the Republican Party Thursday. Senators Chuck Schumer (D-N.Y.), Barbara Mikulski (D-Md.) and Dick Durbin (D-Ill.) also took to the floor, speaking out against tax breaks for yacht owners, jet subsidies and overseas jobs.
McConnell's spokesman Don Stewart said he had no comment on Merkley's remarks, instead pointing The Huffington Post to the senators from the two other states that participate in the Triple Crown.
"Have you called the Maryland and New York senators? You know the Triple Crown takes place in three states, right?" Stewart said. "McConnell doesn't typically issue remarks every time a freshman senator speaks on the floor."
The offices of the New York and Maryland senators did not immediately return a request for comment.
Popular in the Community