Sen. Jeff Merkley (D-Ore.) circulated a memo to his Democratic colleagues on Thursday outlining the history of the use of the so-called nuclear option to change Senate rules, countering Republican charges that adjusting rules by a simple majority vote would be unprecedented.
"The notion that changing Senate procedure with a simple majority vote is 'changing the rules by breaking the rules' is an absolute falsehood," reads the memo, which was provided to The Huffington Post. "Indeed, the Senate appears to have changed its procedures by simple majority ... 18 times since 1977, an average of once every other year."
Merkley, who pressed for an end to the silent filibuster during Senate talks earlier this year, is working with Senate Majority Leader Harry Reid (D-Nev.) to push Democrats on invoking the nuclear option to prevent Republicans from using the filibuster to obstruct President Barack Obama's nominations to cabinet and agency positions.
The Huffington Post's Ryan Grim reports:
One key difference this time is that the rules change would not apply to judicial nominees. Senate insiders say that Democrats lack the votes to change the rules for judges, but agency nominees are an easier sell. The president was elected, goes the argument, and has earned the right to choose his own staff, free of a filibuster. If Republicans want to pick the White House staff, then they should win the election and occupy the White House, the argument concludes. Judges, on the other hand, are a separate branch of government and are appointed for life. To underscore their reasoning, Democrats on Thursday released a compilation of video clips of Republicans such as McConnell (below). "I've been a proud guardian of gridlock myself," said McConnell in 2005, "but it never made sense for executive branch appointments."

"I've gotten every impression that Reid and leadership are determined this time to do it," said one aide advocating for reform."
Reid raised the issue on the Senate floor Thursday, squaring off with Minority Leader Mitch McConnell (R-Ky.) in a heated exchange.
"No majority leader wants written on his tombstone that he presided over the end of the Senate," McConnell said. "Well, if this majority leader caves to the fringes and lets this happen, I'm afraid that's exactly what they'll write."
"I don't care who's elected, whether it's Jeb Bush or Hillary Clinton or Joe Biden, that person shouldn't have to go through what we've gone through," Reid said of Republicans' use of the filibuster.
Read Merkley's full memo below:
Before You Go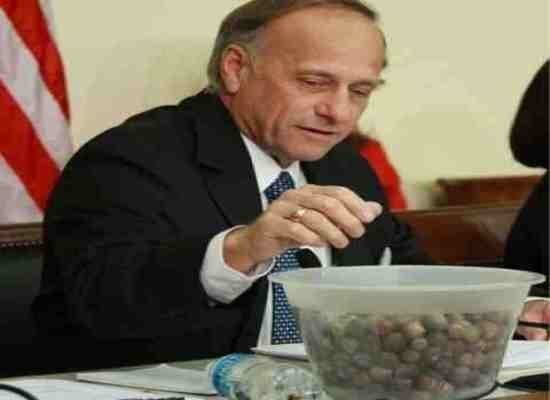 More Crazy Examples of Congressional Theatrics
Popular in the Community