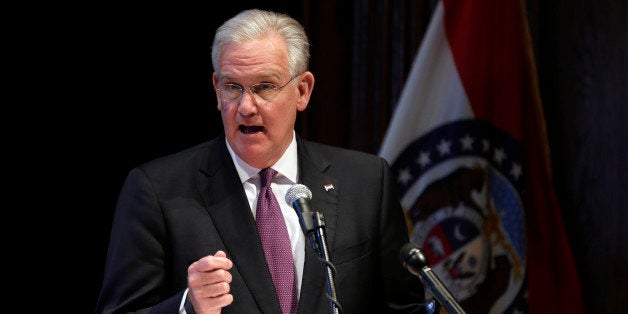 Missouri Gov. Jay Nixon (D) on Friday commuted the life sentence of a 61-year-old man who has been jailed two decades for marijuana offenses.
The governor's action makes Jeff Mizanskey eligible for parole -- an option he didn't have under the terms of his life sentence. Mizanskey was sentenced as a "prior and persistent drug offender" under Missouri's three strikes law, which was repealed last year.
"In the case of the commutation, my action provides Jeff Mizanskey with the opportunity to demonstrate that he deserves parole," Gov. Nixon said.
All three of Mizanskey's offenses involved marijuana. He was given a life sentence after a conviction for attempting to sell about six pounds of pot in a 1993 police sting operation.
"Gov. Nixon has stepped up to the plate in granting Jeff his freedom," said Tony Papa, media relations manager for Drug Policy Alliance who himself was sent to prison for a first-time drug offense. "All too often, governors have nixed the idea of using their clemency powers. But in this case, Nixon has righted a horrible wrong that was made in Jeff's case -- the life sentencing of a man for non-violent drug offenses."
David Owen, communications director for the Missouri Department of Corrections, told The Huffington Post that a parole hearing date for Mizanskey would be "set sometime this summer."
REAL LIFE. REAL NEWS. REAL VOICES.
Help us tell more of the stories that matter from voices that too often remain unheard.
BEFORE YOU GO
PHOTO GALLERY
27 Reasons Why The U.S. Shouldn't Lead The War On Drugs